(UPDATE: American Express has clarified the cash-back categories for this card. Cardmembers earn cash back at U.S. stand-alone supermarkets, U.S. stand-alone gas stations and select major department store.)
The Blue Cash Preferred Card is one of the new Blue cash back credit cards from American Express that offers a whopping 6% cash back on purchases at supermarkets.
American Express introduces a new card that will most likely receive plenty of buzz and attention as Blue Cash Preferred from American Express has one of the most stellar cash back programs.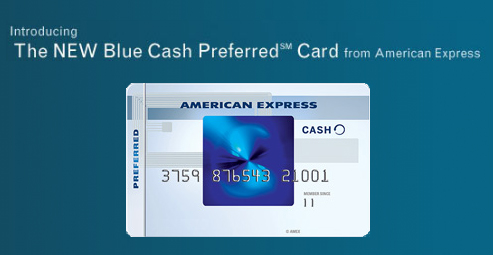 American Express Blue Cash Preferred Card Details
The big brother of Blue Cash Everyday, the Blue Cash Preferred Card delivers cash back at a rate that would pique the interest of consumers who prefer cash back on their purchases, especially when they're picking up the groceries.
Get $100 bonus cash back after spending $500 in the first 60 days.
0% Intro purchase APR for 6 or 12 months; variable APR of 17.24% to 21.24% thereafter.
Earn 6% cash back at supermarkets, 3% at gas stations and department stores, and 1% on everything else.
Annual fee of $75.
Cardholders can earn unlimited cash back, which may be redeemed for statement credit in increments of $25 or for gift cards and merchandise.
American Express implemented a referral program where Blue Cash Preferred cardmembers can refer new customers for the card and receive $75 for a successful referral.
Card Analysis
The Blue Cash Preferred Card is an upgraded version of the Blue Cash Everyday Card, which has lower cash back rates but no annual fee.
Spend $1,250 per year on groceries and you would have recouped the cost of the $75 annual fee…
The $75 annual fee is the price of having a higher cash back rate for purchases at supermarkets, gas stations, and department stores, which can accelerate the process of earning back the cost of the annual fee. Frequent shoppers at these locations would draw the most benefits from this card.
Spend $1,250 per year on groceries and you would have recouped the cost of the $75 annual fee – that's a little over $24 per week. Or, you can refer a new customer to sign up for the Blue Cash Preferred Card – worth $75 in reward dollars.
It would be ill-advised for a Blue Cash Preferred cardmember to carry a balance on 17.24% to 21.24% APR (and don't forget the annual fee) when the cash back earnings won't compensate for the interest charges.
Evaluate your spending habits and annual purchases to estimate your possible cash back earnings before applying for the Blue Cash Preferred Card.
Simon is a research analyst for MyBankTracker. He is an expert on consumer banking products, bank innovations and financial technology.
Latest posts by Simon Zhen (see all)
Find the best bank account for you now.
See how much you can save in just a few steps.