You fill out a credit card application, but how certain are you that you'll be approved for a new card? A new online tool from CreditKarma.com aims to take the guesswork out of that process.
The tool, called Credit Card Statistics, offers consumers credit card information based on more than 5 million credit card customers to give them an accurate way of sizing up their own creditworthiness against others. The tool offers information on credit scores, credit limits, current balances and credit limit utilizations—a standard used to determine a consumer's credit score.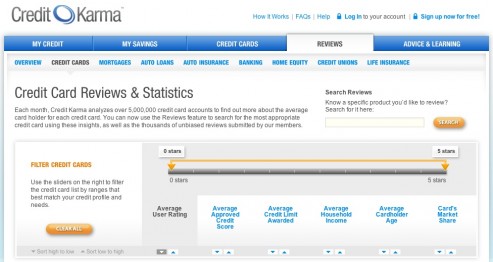 See How Other Credit Card Holders Stack Up:
The way consumers can take advantage of this tool is simple: basically, if you're looking to apply for credit card X, you'll now be able to see statistics from a range of customers that use that card to see what your chances are for being approved.
The company's CEO Ken Lin said in a statement that one of the aims of the tool is to encourage credit card applicants to boost their credit scores before applying for a card. Or, for consumers that have excellent credit, the tool can also be used to negotiate better rates on credit card products during the application process.
Consumers Struggle with Credit Card Debt
While CreditKarma's tools will provide some much needed clarity for those looking for a credit card, it's arguable whether or not it came out at a good time for consumers. According to the company's own statistics, credit card debt in the United States decreased 18 percent year over year to $6,285, while 19 states beat the national average. The cause? With an unstable job market continues to place more and more pressure on consumers to live within their means.
CreditKarma.com's August numbers also showed that credit scores around the country had dropped three points nationally from August 2010 to 665. The states with the highest credit scores included the California (683), New Jersey (682), Massachusetts (681) and Hawaii (681). The states on the lower end of the spectrum included Oklahoma (648), Kentucky (643) and Louisiana (643).
Would you use tool to help you find a credit card? Let us know in the comments section.
Find the best bank account for you now.
See how much you can save in just a few steps.