Joining the lower echelons of airline credit cards is the Citi Platinum Select AAdvantage World MasterCard, which falls short of matching the competitive features available by other airline cards. With the exception of a blast of bonus miles, only one perk makes it worthwhile for loyal American Airlines customers to sign up for this card.
At the publishing of this review, the Citi Platinum Select AAdvantage World MasterCard is offering a whopping list of bonus perks for new cardmembers.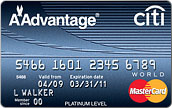 Spend $750 in the first 4 months of account opening and you'll earn 30,000 AAdvantage bonus miles. Hit the $5,000 spending mark within the first 6 months and get an additional 10,000 miles.
Additionally, make an American Airlines flight purchase in the first year and get a $100 statement credit.
Here the other notable features of the card:
In the first year of membership, earn 2 miles for every $1 spent on eligible American Airlines purchases and 1 mile per $1 spent on everything else. Afterwards, earn 1 mile for every $1 spent on purchases.
No blackout dates on award travel through American Airlines, American Eagle, and AmericanConnection.
No preset spending limit as long as you pay in full each month the amount that exceeds your revolving credit limit.
Fly using 7,500 fewer AAdvantage miles with Reduced Mileage Awards.
The Citi Platinum Select AAdvantage World MasterCard has $85 annual fee, which is waived for the first year of cardmembership.
Cardmembers can earn a maximum of 100,000 AAdvantage miles (bonus miles excluded) per calendar year. The miles may expire unless they're redeemed or earned on American Airlines, American Eagle, and AmericanConnection carriers.
Card Review
At first glance, the initial bonus miles and statement credit are the most attractive aspects of the Citi Platinum Select AAdvantage World MasterCard. Outside of these new cardmembership perks, there is little that shines in the long term.
If you are a frequent American Airlines traveler, one standout perk is the reduced mileage redemption program. The list of destinations that qualify for the 7,500-mile reduction will change every quarter, which may give a reason travelers to alter their trip locations.
Other airline cards such as the United MileagePlus Explorer Card and the Southwest Airlines Rapid Rewards Plus Card will award 2 points/miles per dollar spent on the respective airlines' ticket fare with no cap to rewards earnings.
The Citi AAdvantage card only offers that rewards rate for the first year and an annual rate applies. Meanwhile, the APR and annual fee are typical for airline cards.
If you prefer a card with better rewards and airline flexibility, the Chase Sapphire Preferred card would be a superior choice as it offers 2 points per dollar spent on travel and dining with a 7% annual points bonus.
Otherwise, the Citi Platinum Select AAdvantage World MasterCard is good only for anyone who flies with American Airlines will plans to regularly take advantage of the Reduce Mileage Award travel perk.
Of course, you may also consider picking a new favorite airline with a more enticing travel credit card.
Find the best bank account for you now.
See how much you can save in just a few steps.