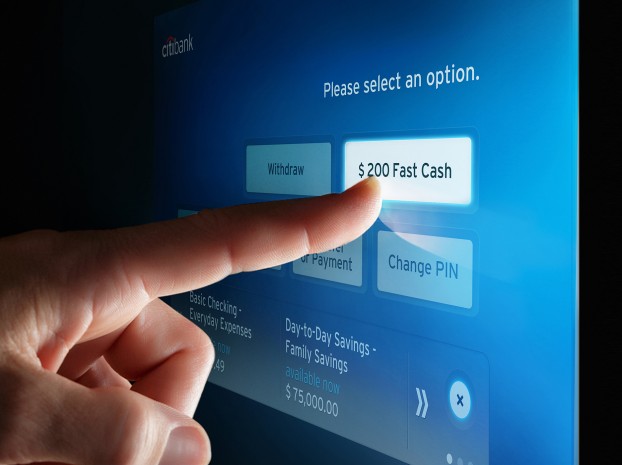 Citibank plans to launch a new ATM interface that would simplify and expedite the trips to the ATM. In addition to some enhancements, the new ATM experience borrows from the cleaner design elements often found with mobile and tablet banking applications.
"We spent a lot of time with our customers and asked them what they wanted from their ATM experience, said Mark Gilder, director of distribution strategy at Citibank. "They asked us to streamline the efficiency of their visits to the ATM. So now, everything is faster and a little easier to get to."
Start saving money in under a minute.
See how much you can save in just a few steps.
Get Started
The new ATM experience will launch nationwide by the end of February. The features that are found in existing Citibank ATMs, such as email receipts, will be available in the new ATM experience.
Customers will find a few new enhancements to ATM functionality.
Firstly, customers will be able to set their preferred language. And, they can configure the amount for the "Fast Cash" withdrawal option, which can speed up future ATM visits.
Another feature allows customers to pull up their account balances with a tap, so that they know how much they have as they're navigating other ATM screens.
It will also be easier to navigate through various ATM screens as intuitive shortcuts have been added and unnecessary prompts have been removed. In general, there is a more modern design to the overall ATM interface.
The team that redesigned Citi's website in 2011 was also responsible for redesigning the new ATM experience, Gilder said.
Other ATM changes on the horizon
Citibank joins a long list of banks that have started to transform the roles of ATMs.
Bank of America and other smaller financial institutions have started to test video-teller ATMs, which allow customers to speak to live remote tellers for extended hours. Chase and PNC Bank have introduced ATMs that are capable of dispensing cash in smaller denominations as low as $1.
Citibank is currently testing video-teller ATMs in international markets, including Hong Kong, Singapore, Malaysia and the Philippines.
However, Citibank's customer research hasn't shown a big demand for ATM cash withdrawals in smaller denominations, added Gilder. "But, we're keeping an eye on it."
Related Stories:
How PNC Bank Branches Will Change in 2014
Bank of America to Shutter More Branches, Mobile Banking Grows
Banking Predictions for 2014: Branch Banking, Interest Rates, Mobile Wallets and More
Find the best bank account for you now.
See how much you can save in just a few steps.