Working your way to a good credit score doesn't mean you simply get a pat on the back and a nice hearty "good for you!" from lenders. It also means you're in store for deals that are more favorable than what is offered, on account of your good credit history. Bully to you, person who has previously taken out loans and then repaid them in a timely fashion!
What exactly is "good" credit? It's not a subjective designation by any means, but rather a score between "fair" and "excellent." You can find out your exact credit score through their free report service or by visiting USA.gov.
Having a good credit score changes a lot about your financial opportunities, notably so in the kinds of credit cards you can now get. Hint: they're better than what the average Joe gets. What "better" means, depends on what you're looking for.
Some cards return cash for purchases, rewarding you for your ability to rack up charges and pay them off. Some cards reward frequent travelers with miles and foreign transaction fee waivers. And others are just good if you tend to carry a balance but don't want to be subject to the high APRs put on other cards — and why would you?
Lucky for you, we've done most of the legwork. Here are MyBankTracker's picks for the best good-credit credit cards.
1. Barclaycard Arrival Plus World Elite MasterCard
Apply for this card if: You fly a ton and don't like always paying for it.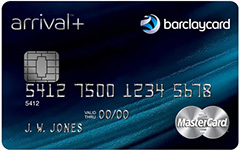 The Barclaycard Arrival Plus World Elite MasterCard is targeted very specifically at frequent fliers, as the big rewards come in the form of bonus miles and deals on trips. If you spend $3,000 in the first 90 days, you get 40,000 points right off the bat — that's enough to redeem for a $400 travel statement credit. Besides that, you get two miles for every dollar you spend.
Keep in mind this card has an annual fee. While the first year of having the card is gratis, after that, you'll get hit with an annual fee of $89.
Pros: Two miles for every dollar you spend
Cons: $89 annual fee, waived first year
2. Discover it®
Apply for this card if: You spend a lot of time abroad.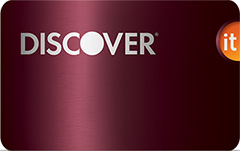 The Discover it® card doesn't have a foreign transaction fee, which comes in handy if you're one of those jet-setter types who prefer travel rewards cards. Foreign transaction fees can exacerbate wallet drain during the already wallet-draining activity that is international travel, and a lack of fees is certainly a welcome aspect of a good-credit credit card. Also, the Discover it® card touts the fact that it is the only card offered to people with good credit that has "100% U.S.-based customer service-anytime, day and night" if you don't like your customer service to be of the outsourced variety.
Discover isn't accepted at as many places as Visa or MasterCard. Also, when that teaser rate ends after 14 months, the APR goes up to 10.99 to 22.99 percent, depending on credit.
Pros: Lack of foreign transaction fees
Cons: Not as widely accepted as most cards
3. Capital One® Quicksilver® Cash Rewards
Apply for this card if: You don't want to be capped on how much cash back you can get.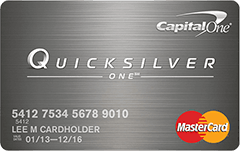 A lot of cards provide cash back, but not as many rewards cards have an unlimited option. The Capital One® Quicksilver® Cash Rewards Credit Card gives 1.5 percent cash back on all purchases.
It also gives a one-time $100 bonus if you spend $500 in the first three months on the card. That kind of perk is why this card makes it on our list of good-credit credit cards. There is also a 0 percent APR on balance transfers until May 2015 to entice you to switch over while you work on paying down any debt and maintaining that good credit of yours.
That teaser rate eventually expires. While borrowing money and paying it back is an excellent way to bolster credit, you certainly don't want to end up with a remaining balance when that zero APR rate finally ramps up after May 2015.
Pros: Unlimited cash back
Cons: Teaser APR expires in 18 months
4. Capital One® Platinum Prestige
Apply for this card if: You often carry a balance.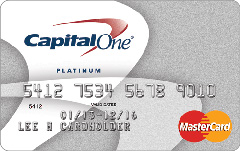 The Capital One Platinum Prestige is ideal for taking care of credit card debt you've accumulated. This card carries zero APR on purchases and balance transfers until November 2015, and after that, it carries a relatively low variable APR between 10.99 and 18.99 percent.
Just make sure to always pay your bill on time. This card's penalty APR is 29.4 percent, which certainly negates the biggest advantage of this card.
Pros: Zero APR on balance transfers for 14 months
Cons: High penalty APR
5. BankAmericard Cash Rewards Credit Card
Apply for this card if: You want to get cash-back after purchasing essentials.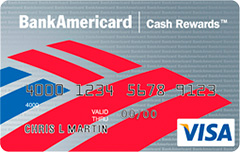 This cash back card, on the surface, doesn't look to be any better than Discover's cash back option. It only returns 1 percent cash on purchases, as opposed to 1.5. However, this card rewards those who buy a large bulk of essentials. And if you like to put the essentials on a card and then pay it off later, this card can be a nice boon.
The BankAmericard Cash Rewards Credit Card pays 2 percent cash on groceries, and 3 percent on gas. If you put these types of purchases on your card, it can be a nice perk that outpaces other cash rewards cards.
The cash reward on gas and groceries is capped at $1,500, so at most, you are getting $45 back on your purchases.
Pros: Cash back on essential purchases
Cons: Bonus cash back amount is capped
Picking good-credit credit cards that are right for your situation just depends on what you want to get out of them. Just remember to pay your bill on time and not go overboard with spending, and you can get some nice perks.
Find the best bank account for you now.
See how much you can save in just a few steps.