How to Switch Banks Without a Hassle
Think switching banks would probably be more trouble than it's worth? Think again. With online banks, switching can be done faster and easier than ever before.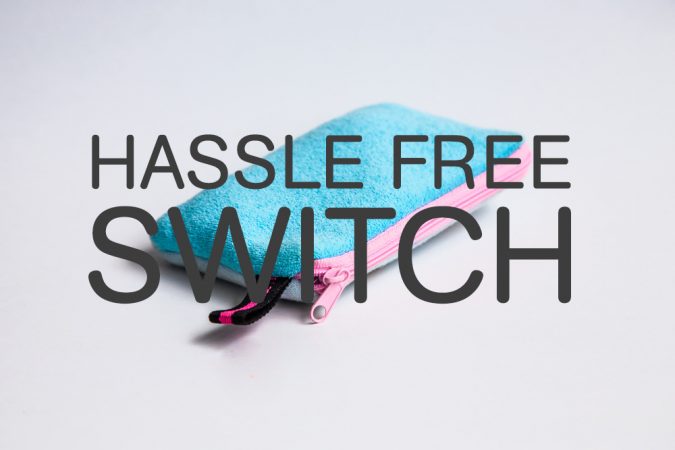 Chances are you've wanted to switch banks before.
Maybe you were charged a large fee for an out-of-network ATM. Maybe you had a problem with your account and customer service was difficult to deal with.
Or maybe you've been disappointed by practically nonexistent interest rates on your savings account.
We've all been there. Choosing the right bank seems as easy as walking to your closest branch.
But in reality, choosing the right bank is more about understanding which bank is going to best serve your individual needs.
That said, once it comes time to make the switch, it might not even seem worth the hassle.
Sure, that other bank has no ATM fees and speedy customer service and high-interest rates, but is that worth the trouble of opening a new account and switching all of your financial data over?
Thanks to online banks, now it is.
It's Time to Take the Hassle Out of Switching Banks
There's a reason this process gets such a bad rap. Years ago, switching banks meant waiting in line at the branch, handing over important identification documents and signing a mountain of paperwork.
Then you had to order new checks and a new debit card, wait for two weeks to even get them, and then shred all of your old paperwork and cards to protect your identity from thieves.
It hardly seems worth the trouble.
Now think about the last time you signed up for a new online product or website.
How long did the process take? Two minutes? After you signed up and explored the website to learn about all the features, how much time passed? Another five minutes?
That's less than ten minutes to sign up for a new online product or website. Shouldn't signing up for a new bank account be that easy?
When it Makes Sense to Switch Your Savings Account
Savings accounts are one of the simplest, most commonly used places people use to store their money.
One of their most attractive features, when compared to other low-risk investments, is that it's very easy to get your money when you need it.
A savings account is about as liquid as an investment can be.
Barring bank failure, you can access your money without meeting any roadblocks.
And of course, even if the bank does go belly-up, FDIC insurance covers all deposits up to a quarter million dollars.
So your money itself earns interest in an essentially risk-free environment.
The problem most people have when it comes to savings accounts is that they open an account at the same bank that houses their checking, even if it makes little sense to do so.
For instance, let's say someone has checking through Bank of America, and by default they open a savings account with them as well.
The problem is, a savings account with Bank of America pays a negligible interest rate of 0.01 percent.
That means if you put $15,000 into a savings there, after a year you will have just made a paltry $1.50.
Pretty much every option out there makes more sense than that.
For instance, if the bank has 2.00% APY on their savings accounts, or 200 times as much.
In this case, it makes a lot of sense to switch banks, and put your savings into an account that will make you more money than the cost of a candy bar.
It's not just about higher rates, though. From a psychological standpoint, opening a savings accounts at a separate institution can also temper the desire to dip into an account that is ostensibly for the purpose of saving money.
When it Makes Sense to Switch Where You Buy CDs
While they don't pay out as much as they did in their heyday, CDs still maintain a high level of popularity with investors who are seeking a higher return than a savings account but don't want to have to check in on their investments constantly.
That is to say, CDs are steady and predictable, and don't require constant checking in.
For its entire life, a CD will gain value at the same slow and steady pace. There can be up to five years between buying a CD and its maturation, and in some cases even longer.
The fact that you only really need to deal with it twice in its history means the convenience factor of having all of one's money in the same place is highly negligible.
The same, of course, can't be said of the market at large. While the stock market can certainly provide nice returns, it is also as erratic as the day is long.
As long as the FDIC keeps insuring banks, which is to say as long as the U.S. government is a functioning entity, a CD will appreciate at the same rate while remaining virtually risk-free.
It's hard to put an exact premium on a good night's sleep, but if there's any worth to that at all, a CD has a lot of value beyond just its interest rate.
It's disadvantageous to buy all your CDs in one place if you plan on building a flexible CD ladder.
Depending on what your goals are, mixing up the institutions you utilize for CDs usually makes more sense than just picking one for every type of CD you plan on buying.
When it makes sense to switch your checking account
Checking accounts are one of the most basic services that banks offer.
If you live in the U.S., a country where nearly 50 percent of people say their favorite place to shop is online and its citizens spend hundreds of billions on the internet, having access to plastic is key.
A checking account is one of the simplest ways to do that.
To be sure, there are alternatives to a checking account that provide some of the same  services, like getting a prepaid card, but a good, basic checking account still makes the most sense.
But of course, some checking accounts make a lot more sense than others.
Not all checking accounts are the same.
Many charge a fee to even keep them open, unless you abide by certain rules like maintaining a minimum balance and/or utilizing direct deposit.
By switching, you can also avoid potentially costly hassles like ATM fees.
In essence then, with a checking account at a large bank like Bank of America, the only advantage you are getting is having a place to store your money that's not under your mattress.
Unless you meet the requirements, you'll have to pay for the honor of having a non-interest earning checking account.
It might make more sense to have checking at a separate institution.
This is especially true if you are considering interest checking in lieu of a bank account that pays out zero returns.
Ally, for instance, pays a 0.10 percent interest on a checking account under $15,000, and 0.60 percent on balances higher than $15,000.
That's 60 times what Bank of America pays on their savings account.
Overall, no matter where you do your banking, the thing to keep in mind is that mixing and matching often makes more sense than doing everything at a single institution out of habit.
And it's not just about rates. By banking with different companies, you could be avoiding costly ATM fees, charges for simply keeping a savings account, or exorbitant overdraft charges.
When it comes to banking, simplicity isn't the key -- getting the best deal is.
How Online Banks Can Solve Your Bank-Switching Problems
It's hard to believe that switching to a new bank online could take as little as ten minutes. But when you consider how many banks exist online only now, it makes a lot more sense.
No more branches. No more tellers or paperwork. Just a simple online portal that allows you to type in your information, upload pictures of your ID, and finish the process with an e-signature.
It doesn't get much easier than that. And when you realize that these banks exist solely for online customers, they should make it that easy.
Online is their bread and butter - and that not only helps you sign up faster, it saves you massive amounts of fees to make up for overhead like branches and in-person employees.
So the question is, what banks exist solely online? And how can you make the switch in ten minutes or less?
Top Online Banks for Switching
Radius Bank
This is a bank to get excited about. Radius Bank released a brand new account called Radius Hybrid.
Why hybrid? Because it gives you the flexibility of a checking account with the high interest rates of a high-yield savings account.
All you have to do to sign up for the Radius Hybrid account is go to their website, fill in the necessary information, upload a picture of your ID, and wait for their response. We tested this out and the whole thing took 7 minutes.
(I've waited in line for coffee for longer than that...)
After you sign up, you'll get an email right away letting you know your application is in process. If they need anything else from you, you'll find out via email (yes to no phone calls!).
Like all banks, Radius is FDIC insured, so your money will be safe with them.
You'll get access to mobile banking, free ATM usage worldwide, Apple Pay with your debit card, a free first order of checks if you need them, easy mobile deposit, and no monthly maintenance fees.
Even better, you can use their Radius Pay a Friend feature - great if you need to split the bill at dinner with friends or go in on a trip together.
Even better if your friends don't want to use a tool like Venmo to do the same thing. Unlike Venmo, your friends don't need an account to collect their funds.
Finally, and this is something that's going to become even more important as data breaches at retail stores continue to happen, your Radius Hybrid account comes with a chip-enabled debit card.
That means your information is far more secure than it would be with a card that doesn't have a micro-chip.
Overall, storing your money in a high yield account is a great way to get your money to work for you.
Why not let it grow at a faster rate when you're not using it? The only downfall of counting on your checking account to bring that high yield is that you might not want such easy access to all of your money.
That's why Radius continues the high yield earnings on the savings side.
You can complete your suite of financial products by signing up for the Hybrid Checking and the High-Yield Savings and enable all of your money to earn high APY on the portion of balances $2,500 and up.
If you're thinking of an online account and you want to earn high interest rates with flexible transactions and features, Radius could be the online bank for you.
Ally Bank
Ally Bank was one of the first to the field of online-only banks and has a reputation to match. Just like with Radius, you can sign up for an account quickly and easily.
Like the Radius Hybrid, Ally offers interest rates above industry standard. Unlike the Radius Hybrid, Ally only offers these rates on a savings account.
That means you can still have access to those high interest rates, but you can't have the same easy access to your funds should you need them.
Other features of Ally Bank are that they are FDIC insured, there are no monthly maintenance fees, you get out-of-network ATM reimbursements of up to $10 per cycle, easy remote check deposit, and the ability to pay friends through their Popmoney feature (which also works with their email address or phone number).
When it comes to online banking, Ally is a solid contender. But if you're looking for the chance to earn high interest on your checking account, Radius has them beat.
Simple
Another big name in online banking, Simple Bank is a great option if you're looking to make the switch. Like their name, Simple prides itself on making every step of the banking process clear, simple, and transparent.
Simple offers all the benefits of an online bank: no maintenance fees, easy mobile deposit, free ATMs nationwide, FDIC insured. What it doesn't offer is high interest rates. If you're looking for an easy to use online bank, Simple is a great option. If you're looking for high interest rates, go with Radius or Ally.
See MyBankTracker Best Savings Accounts Picks here.
Our Pick for the Best Online Bank
There's no question that all three online banks bring a lot of great features to the table. But when it comes to offering the most flexibility at a high-yield interest rate, Radius takes the cake.
We think Radius deserves the top award because there are few limitations to the features they're offering.
You can earn high interest on a checking or a savings or both - and you can do so without the heavy load of excessive fees on your accounts.
With Radius, you don't just get a break on monthly maintenance fees, you also get a break on ATM fees.
Whether you have access to a Radius or Radius-partnered ATM or not, you'll always get reimbursed for any fees you get charged to withdraw money from your Radius account.
What's more, Radius takes a community bank approach to customer service. (Read: personalized assistance the way you need it, when you need it.)
You can reach their customer service via chat, email, or phone, so you'll never be left in the dust if you need help with your accounts.
High interest rates, various account types, little to no fees, and high quality customer service equals the ultimate in banking convenience.
Online Banking is Here to Stay
For far too long, we've believed that we have to deal with long lines, bad customer service, and meager interest rates. Don't you think it's time to take banking back into our own hands?
Switching banks is never a totally painless process, but with online banks you can have a new bank account in minutes.
Not only that, their lack of overhead enables them to give customers higher interest rates and lower fees.
Compare Best Accounts Now
You might also like