My Peer-to-Peer Lending Experience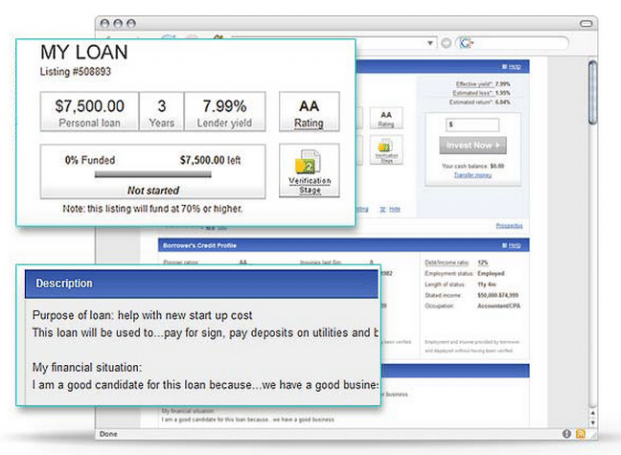 In 2007, I had the opportunity to travel to Sydney, Australia, to speak at an internet marketing conference with only about three weeks' notice.  The conference organizers wanted me to talk about hiring ghostwriters to create information products, since the conference attendees were learning how to start businesses selling ebooks online.
I had two children under the age of 5 at home and was living paycheck to paycheck, but I did not want to miss out on this once-in-a-lifetime opportunity and the potential to explode my freelance writing business.I had been self-employed since the birth of my oldest child in 2002, and since I was married at the time, my income was only used to supplement his earnings.  I did not have great credit and knew I would not be able to get a loan from the bank at that moment to finance the costs of a trip to Australia.  I had just heard about peer to peer lending, and decided to try getting a loan.
My Prosper.com Experience
I figured I was going to need about $5,000 between flights and hotel and other travel related expenses.  My husband would be traveling with me, which meant we needed two (really expensive!) round-trip tickets.  The conference organizers gave us a condo on the Gold Coast to use for half of our stay, and then we would need to stay in a hotel in Sydney during the four day conference.
We tried to pay for as much as we could from our current income and what little bit of money we had in savings – but we still needed about $2,000.  I decided to try getting a loan on Prosper.com and listed the loan request.
I created an account on Prosper and they pulled my credit report.  They said my score was 634 at the time, which was pretty much the limit.  If my score was any lower, I would not have been eligible to make a loan request on the site.  The loan listing would show how many late payments I had made in the past 7 years as well as how many times I had applied for credit in the last 3 years to help investors determine my risk level.
The loan request allows borrowers the opportunity to tell investors why you are requesting a loan.  I explained in detail why I wanted to go to Australia and the potential opportunity it would present for my business growth.  I also put more information about my financial situation in the loan request details – to show what my current monthly expenses were and my average monthly income.  I wanted to paint a complete picture for investors to make their decision.
I chose the highest possible interest rate Prosper.com would allow me to use in the state of NY (14%) to make the return on investment more attractive for peer to peer lenders.
Once the loan was listed, investors were able to review the information and ask me questions about my financial situation or how the money would be used.  Over a period of a few days, people began bidding on my loan.  The amounts offered by lenders varied from $50 all the way to $549 and it took 15 different lenders to fully fund my loan, although my request received 23 different bids.  The only way you can get the money people offer through Prosper.com is to get enough bids to fully fund the amount you request.  For example, if my $2,000 loan request received $1,000 in bids, I would not be able to take a smaller loan of $1,000.
As soon as the loan was fully funded, Prosper did some more research on my financial situation to confirm everything was accurate – and then the loan request turned into an actual 3-year loan.  My loan was for $2,000 and I paid $68.36 per month.  The interest rate was set at 14% (14.89% APR).  From each monthly payment, Prosper kept 1% as the loan servicing fee.
The loan payments were deducted automatically from my checking account.  There was no pre-payment penalty, so I was able to send additional payments whenever I had the money to pay the balance off sooner.
While the interest rate was not great – it was better than what I would have gotten from a bank (if I was even approved for a loan, which I doubt!)  My experience with peer to peer lending was a good one, and I would definitely use this type of lending again in the future.
(Featured image photo credit: Elvert Barnes / Flickr)