Keep Your Family in Shape Without Breaking the Bank
Childhood obesity has been a growing issue among American families. Not only are many health problems associated with obesity, but higher rates of eating disorders, depression and poor body image h...
Childhood obesity has been a growing issue among American families. Not only are many health problems associated with obesity, but higher rates of eating disorders, depression and poor body image haunt children struggling with weight at a young age.  A study conducted by the Centers for Disease Control and Prevention found that obesity disproportionately affected low-income children. MyBankTracker came up with three potential ways families on a tight budget can combat childhood obesity and still keep money in the bank.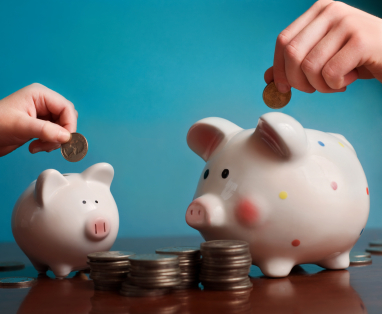 1. Extra-Curricular Activities
Remember those days when you would itch to hear the final bell so you could hop on your bike, gather your friends and go exploring through the neighborhood? Or what about those Saturday mornings when you would run down to the nearest park and start a pick-up game of soccer? Today, young people as a whole have a very different perception of leisurely activities. Video game usage has skyrocketed in the past four years and the average 8-year-old watches 28 hours of television each week. Some ways you can get your kids active: Sign them up for karate classes, a sports team or swimming lessons. Being active is no longer merely a way to socialize: If children are spending hours each day in front of the TV, exercise becomes necessary. Problem is, playing organized sports is costly. Between team membership fees, new uniforms and new equipment, some less-wealthy parents might not be able to foot the bill.
Here is what to do: Make a family effort to bring more activity into your life. Young children watch and learn from their parents and it is your job to set an example. If you don't want to invest in all sorts of sporting equipment that will eventually be tossed aside, you don't have to. Start off small. go for family walks after dinner. You don't have to put pressure on your young child to lose weight — just emphasize a balanced life. If you yourself have struggled with keeping an active lifestyle use these new figures as inspiration and proof your actions can help the avoid future illness for your child. Instead of spending family time at the movies, try hiking in a nature preserve or botanic gardens. As your family becomes more active you can invest in bikes or roller blades. Many stores sell second-hand equipment in good shape for reasonable prices.
2. Healthy Dinners
There is no doubt that fast food is very convenient and always a popular choice among youngsters. The other perk to grabbing a fast food dinner is that it is extremely affordable. Parents who don't have time to cook and don't have the income to go to an organic market often turn to quick, easy and unhealthy foods. Another issue that you may deal with is a picky eater. Many parents are so desperate to get their child to eat that they will feed them just about anything. Okay, you get the point: Healthy food is not the most convenient, cost-effective or tasty option. So what to do?
Honestly, turn to the blog-o-sphere. Many websites and blogs can provide fun, easy recipes that emulate fast food or TV dinner dishes. The biggest thing about starting to cook is setting aside the time. Once you become familiar with recipes it will be easier to multi-task. Look at cooking as another opportunity to spend time together and to teach your child about the importance of healthy eating. As for the expense of healthy food, look into local farmer's markets, where you can find products at a much cheaper rate than the grocery store. Grocery stores that sell organic foods are going to be more expensive so look at the coupon books and promotions going on at your local run-of-the-mill grocery store for affordable deals.
3. Take the Time
Parents who are struggling to keep up with finances often have to take extra hours and shifts at work and sometimes even attend a second job. When you get home, you may be so exhausted that the last thing on your mind is exercising or cooking. This is understandable, but many Americans do not realize that getting your heart rate up even for just 20 minutes a day can increase energy and benefit overall health.
As mentioned before, you are setting an example for your child. Try and find a month in which you can spend active time with your child. Once you have instilled these exercise habits within your child, encourage them to go to the park or gather friends together and start a sports team of their own. Making sacrifices can be tough but worthwhile if your child embraces a healthy lifestyle. Remember back to the simplicity of your childhood — before computer games, video games and TVs were popular forms of passing the time — and get your child to experience the great outdoors.