5 Inexpensive Ways to Create the Ultimate Thanksgiving Dinner on a Tight Budget
On a tight budget and charged with making Thanksgiving dinner? Here are some tips you need to save money and make a fabulous Thanksgiving feast!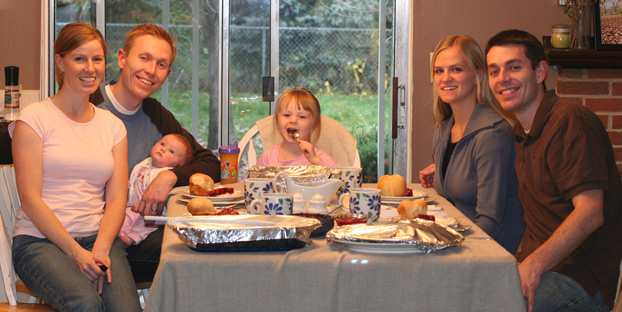 It's that time again -- Thanksgiving, and the expectation of a massive, delectable feast with all of the trimmings -- turkey, ham, casseroles, savory vegetable dishes, pie and more -- are all expected by many.
However, if you're hosting Thanksgiving turkey day on a tight budget and want to spend less and keep costs down, serious planning and preparing is crucial.
Hopefully, you've already started working the cheap turkey deals going on at your local grocery store with their point and other programs based on what you spend or buying certain foods or brands, but look at the details and make sure you're not needlessly spending money just to get a cheap turkey.
Also, consider pooling your resources by shopping with or for family members or friends to boost those points, especially if you're not normally shopping for a big household.
1. Budget and plan a menu
How many guests will you have? How many will reliably bring a dish or more to share? How much do you have to spend, and how much does that break down to cost per serving(s) for each person?
Get a handle on these details and start looking at recipes to figure out which are low-cost, and here are some tips to save on your food purchases.
2. MacGyver your meals and improvise, substitute
Don't buy an expensive ingredient just because a recipe calls for something you don't have, especially if you will only use a little bit of it.
For example, if a recipe calls for a few tablespoons of wine and you're not going to drink the rest of the bottle, diluted (use twice as much water) vinegar (especially balsamic if you have it on hand) or lemon juice, or even a tart juice can make excellent substitutions.
Mayonnaise, sour cream, yogurt and in some cases, and cream cheese (if you're not worried about having a softer product that can be easily stirred), are almost interchangeable, so shop the sales and buy what is cheapest.
This won't work for the cream cheese in cheese cake or anything that is dependent on a specific consistency, but will work for dips, dressings, spreads, and in quiches and casseroles, but keep an eye on the cooking times.
Again, do your homework and see what the cooking folks Internet have to say.
3. Avoid recipes with expensive ingredients
Mayonnaise costs a fortune these days! If a recipe calls for a lot of it, skip it or substitute if possible (keep reading -- I'm getting to that!).
This time of year, grocery stores will lure you in with deals on some items, but they may keep some of the more expensive staples at high prices.
Don't drain your budget on full-price cheeses, bacon, or other ingredients. If the items called for in a recipe aren't on sale -- and at a great price, move on and find something else to make.
It's also important to avoid luxury ingredients, so make sure you understand the ingredients in a recipe before you start buying.
Don't buy everything you need for a recipe only to find out that the last ingredient -- the one you didn't know much about -- costs $25, like truffles, truffle oil, salmon roe or caviar, crème fraiche, confit, or other specialty ingredients.
4. Look for recipes that use the cheapest ingredients
Eggs are very inexpensive and can make a tasty, hearty, savory quiche, egg pie or other egg bake that is appealing to the eye and can bring together some of those other wonderful seasonal vegetables.
Leftovers also reheat well and can be frozen.
Make stuffing yourself with stale bread or corn bread and ingredients on sale instead of buying premade cubes. If you don't want to leave bread out to dry out, put it in the over on the lowest heat setting and toss it around on a big cookie tray every 10 minutes or so.
If any of your grocery stores have a special rack they put out with bread that is about to go stale, check it out. You might find interesting varieties like challah, brioche, or nice, crusty French breads.
If you don't want your stuffing to be entirely bread-based, see what is on sale and get creative -- seasonal mushrooms, shredded carrots, breakfast or even dinner sausage on sale can add zing to stuffing.
Also, scour your cupboards for what you already have or regularly buy, like onions, celery, white or wild rice, quinoa, raisins, dried apricots or prunes, and a whole host of other ingredients can be combined to make a fabulous, one-of-a-kind stuffing.
Be safe and cook it outside of the bird, but don't forget to baste it with those turkey and/or ham juices as they start to form.
Also, take a look at what you have in the freezer. Frozen broccoli, sausage or cured meats, corn, and many other ingredients can taste fantastic in stuffing.
5. Stick to seasonal
Sure, it's trendy and hipster to buy vegetables that are in season, but it can also save you money.
Why?
Because seasonal vegetables usually don't have to be shipped as far as those which are out of season. This also means they are probably fresher than imported foods.
Sure, we all know about corn, cranberries, and pumpkins, but other fall seasonal vegetables include green beans, mushrooms, spinach, okra, all types of squash (that includes the beloved pumpkin!), all types of a class of vegetables called brassicas -- we know these commonly as cauliflower, broccoli, cabbage, Brussels sprouts, kale, broccoli rabe (also known as rapini) and the lesser known -- but delicious -- kohlrabi.
Root vegetables like sweet potatoes, white potatoes, turnips, carrots and beets can also be inexpensive at this time of year. Other root seasonable vegetables include rutabagas, parsnips, and celeriac, also known as celery root. Radishes are another root vegetable in season and very inexpensive, and can be made into a tangy, savory, and even slightly sweet relish or can also be pickled for a tangy side with kick.
Other seasonal vegetables include some that aren't as well-known, so experiment!
Delicious recipes with reviews by home cooks are all over the Internet, so you can't go wrong if you do your homework and see what others have to say.
If you haven't before, travel the world on your table and try some Belgian endive, Chinese long beans, or Jerusalem artichokes.
Other seasonal veggies not usually associated with associated with Thanksgiving or the holidays include tomatillos, arugula, horseradish, chili and other peppers, fennel, and if you're not from the South, okra.
For dessert, pears and apples are also in season, as well as many types of cherries. Key limes, passion fruit, and grapes are also in season, as well as figs.
For the more adventurous, keep an eye out for tart crab apples. You may have a neighbor or coworker with a crab apple tree who would absolutely love to have you take some off of their hands, because the trees produce fruit prolifically, and can be a nuisance when it comes time for that final run with the lawn mower when they're all over the ground. Persimmons, gooseberries, and quince are also seasonal.
Pies are very inexpensive if you do it yourself, and don't be intimidated if you haven't made a pie before.
Any of the top recipes books will have a simple, easy crust recipe, and the Internet is here to help you.