The Wells Fargo Student Loan for Parents
We've heard plenty of horror stories about student loans.
Medical students and law students who, several decades into their (highly lucrative) careers, have not repaid much of their balance. A student who completed just two years of college but was still stuck with thousands of dollars in debt. The graduate who got stuck with a variable APR loan and went through a rate spike.
Wells Fargo is providing parents the option of taking on responsibility for their child's loan. The Wells Fargo Student Loan for Parents is a student loan that the parent is solely responsible for.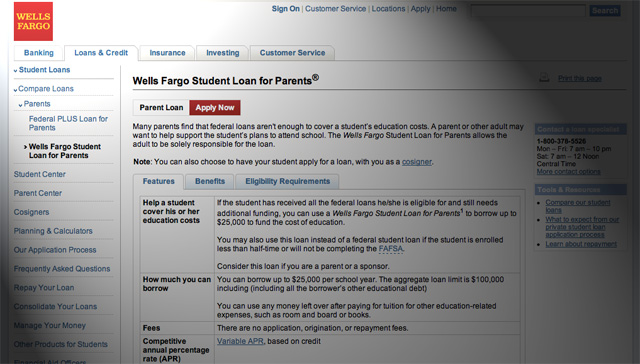 Why Put the Burden On Parents?
According to Wells Fargo's Student LoanDown blog, "the loan can be used by parents who want to help finance a child's education while protecting their future earnings and assets."
If you feel financially secure but don't think your child is prepared to take on the debt associated with funding their education, the Student Loan for Parents could be valuable. Wells Fargo is also marketing the loan to parents who have exhausted their federal loan eligibility but need additional money, according to The New York Times' Bucks blog.
Differences Between Federal Parent Loans and New Loans
Wells Fargo currently underwrites Federal Plus Loans for parents, but because of new laws, will have to stop on July 1. Wells Fargo has created the Student Loan for Parents as a replacement to the Federal Plus Loans, but there are some differences between the two.
The kind of federal loans that run through July 1 offers a fixed rate of 8.5%. The new loans carry a variable APR that could range between 4.25% and 10.74%, depending on the parent's credit history and financial profile. As a comparison, the government provides loans for parents at 7.9% APR. Unlike a federal loan, the Wells Fargo loan is delivered directly to the parent, not the school.
Loan Details
You can earn a 0.25% interest rate reduction by setting up an automatic payment from your checking or savings account. The borrowing limit is $25,000 per year or $100,000 over the course of a student's education.
To be eligible to take out the loan you must be the parent or sponsor of a prospective or current student and a U.S. citizen.
You might also like