Worst Credit Cards in America
It's all in the fine print. Or in the case of credit cards, it's all in the fees, rates, costs and limitations. Two cards featured by Consumer Reports Magazine stole the show as Americas worst cred...
It's all in the fine print. Or in the case of credit cards, it's all in the fees, rates, costs and limitations. Two cards featured by Consumer Reports Magazine stole the show as Americas worst credit cards.
1. First Premier Bank Mastercard
Being the winner of an 'Americas Worst Credit Card' title is nothing to brag about, and with this card's hidden fees it is no wonder the First Premier Bank Mastercard is the worst on the list. According to Consumer Reports, Premier Bank did not learn its lesson when it made the list two years ago, or when it had to sign a $4.6 million settlement with the Attorney Generals office of New York due to deceptive advertising.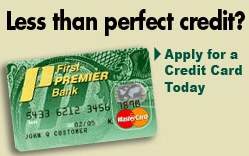 Although the fees change on daily rates and when you visit the product website, they are generally on the high end of what cards usually charge. They include a warning stating that the fees will be assessed before you begin use on your card and will lower the amount of available credit you will have. The card's current processing fee listed on the website is $45 but Consumer Reports stated that this fee can range from $25 to $95 depending on when you visit the website. Just owning the card costs $75: The website advertises something called the "First Year Annual Fee," a one-time payment of $75. Interestingly, there is something also called the "Subsequent Year Annual Fee" at $75 per year. No matter which way you slice it you will end up paying if you choose this card.
When all is said and done, this card has the potential to lead to some extra costs. The APR at the time this article was written was 59.9%, the highest on the 23.9% to 59.9% scale Consumer Reports highlighted. With an APR of 59.9% you could potentially face $170 in fees on a card with a $300 initial limit.
As if the extremely high APR and $75 yearly fee weren't enough, there are all sorts of other fees, such as an $11 expedited payment fee on each payment completed through the company's auto draft service, along with "an unsecured credit limit increase," under which a Credit Limit Increase Fee in the amount of 50% of the amount of the credit limit increase will be assessed to your account. For example: If approved for a $100 credit limit increase, a $50 Credit Limit Increase Fee will be assessed to your Credit Account. Unless you want to hand out free money to Premier Bank, avoid this credit card at all costs. Unfortunately Premier Bank markets other cards that have very similar rates and costs.
2. Platinum Zero Secured Visa from Applied Bank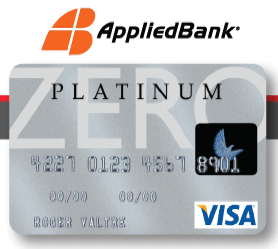 Throwing the word 'Zero' into this card's name doesn't make it any better. Advertised as a card that has zero interest on purchases, zero application fee and zero annual fees, it seems like the perfect deal until the catch.
About six months in, the grace period ends and reality sets in when you are hit with a $9.95 monthly fee adding up to $119.40 per year. There are also some pretty hefty penalty fees. If you make a late payment, go over your limit, have a returned payment or a dishonored check you will be charged $35 for each offense. Based just off the fact that they advertise the card as having no yearly fee yet there is a "monthly maintenance" fee should be the first indicator of deceptive advertising. The website also states that there is no interest accrued on purchases and no grace period provided yet under that it says "If you are charged interest, the charge will be no less than $0.50."
2
How to Find a Good Credit Card
When looking for a credit card you have to think about a few things:
1. How's my credit?
2. What do I plan to use it for?
3. Which rewards are important for me?
A credit card can be a dangerous tool, but having good credit will open up a lot of opportunities. Most credit card companies offer you special offers on their cards. By going to the bank deals#mce_temp_url# section of MyBankTracker you will be able to compare credit cards based on different categories such as Points/Rewards, Cash Bonus and more. Just make sure to read the fine print, check to see if there is a low APR and make sure the card carries no additional maintenance fees.