BB&T Student Checking Account Review
Compare the BB&T Student Checking Account to other student checking options based on fees and features, such as money management tools and ATM fee waivers.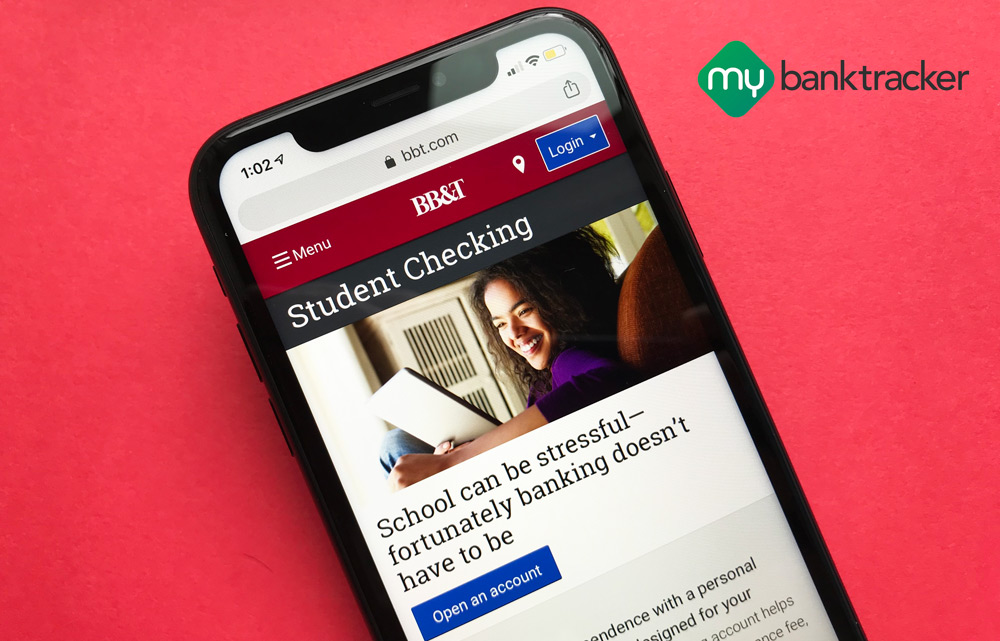 BB&T Bank Student Checking Account
In college, you know that your student checking account will play a key role in your finances during school.
You might consider the BB&T Student Checking account as an option -- not surprising as BB&T is one of the biggest banks.
The best part of the account:
There's no monthly fee.
But, the account does have additional perks that can prove to be very useful to a college student.
Before you open this account, in this review learn all about its fees and features and compare it to the other student checking accounts that you're considering.
Free Access to U by BB&T Money Management Tool
Look:
Your checking account is the hub of your financial life.
Any money that you make or receive from people who are supporting you will be deposited to the account and any bills you have to pay will be paid from the account.
With so many transactions happening in the account, it can be hard to keep track of your balance and how much money you have available.
The truth is:
As a student, you're especially likely to maintain a low balance, making it even more important that you track your checking account balance closely.
To help you stay on top of things, BB&T offers a service called U by BB&T.
The service offers a variety of money-tracking features.
BB&T Student Checking Account Pros & Cons
Pros
Cons

No monthly fee
Built-in money management tools
Out-of-network ATM fee waived twice/month
Mobile banking apps available

Service fees are on the high end
Link to external accounts
One is the ability to link outside accounts to the U by BB&T systems.
That makes it easy to track all of your financial accounts, including credit cards and investment accounts, from one place.
You can view account balances, transactions histories, and more without having to log in to multiple accounts.
You can also use the U by BB&T dashboard to monitor and pay your bills.
The dashboard will show you each bill's due date the balance you owe.
That makes it easy to track how much money you'll be spending on necessary bills each month, helping you make sure you keep enough money on hand to cover those bills.
Budget easier
U by BB&T also comes with a budgeting feature.
Each time you make a purchase you can upload a photo of the receipt.
You can then categorize you're spending so you can track how much money you're spending and what you're spending it on.
That can make it easier to keep on track with your budget.
It also makes it easy to go back and see what you've purchased since you can look at the receipts you uploaded.
Account alerts
Finally, you can keep track of your account by signing up for free account alerts.
These e-mail and text message alerts will notify you when your account falls below a certain balance or when a large payment clears the account.
Get a Savings Account with No Monthly Fees
Students typically don't have a lot of extra money to put towards savings, but that doesn't mean you shouldn't open a savings account.
The problem is that most banks' savings accounts charge monthly fees.
You might be able to avoid these fees with a large enough balance, but that can be difficult for students to manage.
If you have a BB&T Student Checking Account, BB&T will waive the fee on one BB&T Savings Account.
Whether you want to put some extra money aside for emergencies or save towards a spring break trip, having a free savings account can only be a good thing.
Avoid Fees with Overdraft Protection
One of the other benefits of signing up for the free savings account is that you can also sign up for overdraft protection.
Overdraft fees are some of the most common checking account fees you'll see. Any chance to make the fees lower is a chance worth taking.
An overdraft occurs when you try to spend more money than you have available in your checking account.
When it does, your bank might decide to cover the transaction for you anyway.
Banks don't want their customers to spend more money than they have in their account, so the charge a fee when you do. To discourage regular overdrafts, the fee can be quite hefty.
BB&T charges $36 for each overdraft.
If you have a BB&T Savings Account, you can sign up for overdraft protection.
If you would overdraft your checking account, money will instead be moved from your savings account to your checking account, automatically.
The fee for this service is only $12.50, and there is a maximum of one overdraft transfer fee per day. This can save you a lot of money if you wind up overdrawing your account.
Two Free Transactions at Other Banks' ATMs Each Statement
BB&T operates a network of thousands of fee-free ATMs for its customers to use. Most of these ATMs are concentrated in the states that BB&T serves.
However, students are notoriously busy people.
They have to balance classes, studying, homework, clubs, social time, and possibly a part-time job. You might have trouble finding time to get to a BB&T ATM that you can use.
Most banks will charge a fee if you try to use another bank's ATM. Plus, most ATM owners will charge a fee when you use their ATM if you don't have an account with them.
That makes it a double-whammy of fees that can see you paying $5 or more to make one withdrawal.
Luckily:
BB&T understands how busy students are, so it waives the fee for the first two ATM transactions you make at other banks' ATMs each statement.
The usual fee is $3, so you can save $6 a month with this feature.
Monthly Fees
There is no monthly fee to keep the BB&T Student Checking Account open.
No matter your account's balance or how you use it, there will be no maintenance fee.
BB&T does charge paper statement fees if you decide to receive statements in the mail. You can easily avoid these fees by signing up for electronic statements.
Other Fees
The most common checking account fee is the monthly maintenance fee.
Overdraft fees are also common, but those aren't the only fees that you can be charged.
You should be aware of the other fees that may be charged on your checking account, such as:
BB&T Student Checking Account Fees
| Type | Fee |
| --- | --- |
| Monthly Maintenance Fee | $0 |
| Non-BB&T ATM | $3 (waived twice/month) |
| Overdraft Fee | $36 |
| Returned Item | $36 |
| Stop Payment | $35 |
| Deposited Item Returned | $12 |
| Domestic Wire Transfer (incoming) | $15 |
| International Wire Transfer (incoming) | $15 |
| Cashiers Check | $10 |
Convenience
Your checking account serves as the hub of your financial life.
You want to make sure the account is easy to use and offers the features that you need.
The good news is that the BB&T Student Checking Account offers the convenience features you'd expect from a checking account.
You can use the bank's website or app to view your balances, transaction history or make transfers.
You can also use the account to set up automatic transfers. This can be good if you want to save money each month towards a trip or paying for next semester's books.
An automatic transfer will move money from your checking account to your savings account each month without you needing to do anything.
You can also make deposits on to your checking or savings account directly by uploading a photo of a check.
BB&T also offers standard features such as online bill pay to help you avoid the annoyance of writing checks to pay your bills every single month.
What Happens When You Graduate?
You won't be a student forever, which means you won't get to keep the BB&T Student Checking Account forever.
When you graduate or turn 24, whichever is sooner, your account will automatically convert to another type of checking account.
BB&T will look at your account balance and activity to determine whether it should convert to a Bright Banking or Fundamentals Checking Account.
The Fundamentals Checking Account carries a $5 fee that cannot be waived but has low minimum balance requirements.
The Bright Banking Account has a $12 monthly fee, but it can be waived by receiving $500 in direct deposits or maintaining a $1,500 balance.
You should plan ahead for what to do when you graduate.
Depending on your needs and whether you are moving, you might want to close your account entirely and open a new one at a new bank.
How Does It Compare?
The Checking Account is the most common type of bank account in the US. That means you have a lot of options to choose from when you're opening a new account.
When you're looking for a new checking account, don't just consider national bank chains.
Local community banks can offer better deals that meet the needs of local customers.
Credit unions tend to be very customer-focused because they are owned by their customers.
Online banks offer low-fee accounts with high interest rates.
All in all, consider the following factors when comparing student checking accounts:
ATM and branch access for the student and parents
Online and mobile banking features
What happens after graduation
Conclusion
The BB&T Student Checking Account's main draws are its lack of fee and fee-free ATM use.
While these are good benefits, there is little else to draw people to the account.
Most online checking accounts offer fee-free ATM use and no monthly fees while offering other useful features and paying interest.
If you like having the option to visit a bank branch, the BB&T Student Checking Account isn't a bad choice.
Otherwise, you should look into online checking accounts.
Compare Best Accounts Now