Compare Radius Hybrid vs. Bank of Internet Checking Accounts
Compare the free interest checking accounts from Radius Hybrid, Bank of Internet, and Ally Bank to see which online bank offers the best rates and lowest fees.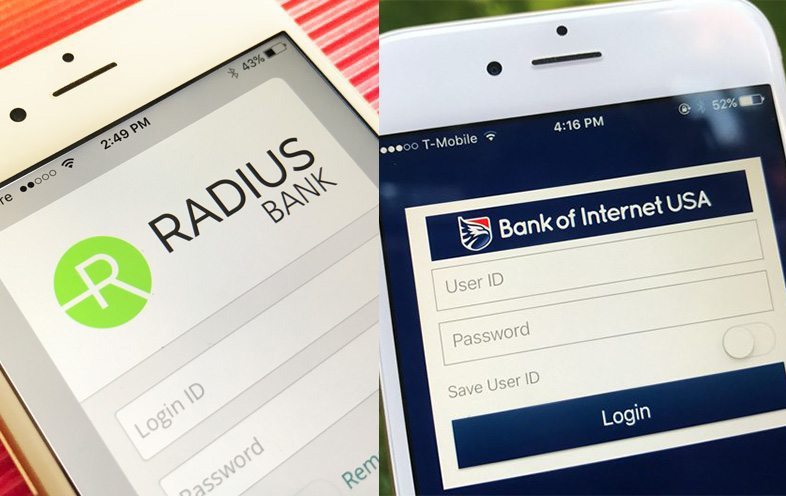 When it comes to checking account options, there's a lot to like about online banks.
Not only do online banks tend to charge fewer fees for checking than their brick-and-mortar competitors, but they can also offer more perks for their customers. That includes things like interest on checking deposits and debit card rewards.
But which online bank reigns supreme in the checking account ranks? Read on to learn how three of the top online checking options compare.
About the Banks
The Radius Hybrid Checking account is a free interest checking account that offers a competitive annual percentage yield on deposits.
This account is offered by Boston-based Radius Bank. It comes with all the features and benefits you'd expect in an online checking account. It takes just $10 to open and there's no ongoing minimum balance requirement.
Bank of Internet USA is based in San Diego but its Rewards Checking account is designed for anyone who wants to get more from their bank
This account pays a generous APY on checking deposits and you also a chance to earn cash back purchase rewards. Those benefits are enhanced even further by no monthly maintenance fee or initial opening deposit.
Ally Bank Interest Checking is another free interest checking option.
The Interest Checking account is just one of many banking products Ally offers. There's no minimum deposit to open your account and an Ally customer service rep is always standing by to offer help 24/7.
Curious about how these three compare side-by-side? This table breaks down each account's high points.
Overview: Radius vs. Bank of Internet vs. Ally
| Account | Radius Hybrid | Bank of Internet Rewards Checking | Ally Interest Checking |
| --- | --- | --- | --- |
| Monthly fee | No | No | No |
| Earns interest | Yes | Yes | Yes |
| Mininmum initial deposit | $0 | $0 | $0 |
| Branch & ATM network | Use any ATM with unlimited fee refunds | Use any ATM with unlimited fee refunds | 43,000 Allpoint ATMs and Use any ATM with $10 in fee refunds/month |
| Mobile apps | iOS and Android | iOS and Android | iOS and Android |
Which Bank Offers the Highest Interest Rates?
If you're looking for an interest checking account, getting the best APY may be a priority. But, you do have to balance that against things like monthly fees, additional checking rewards or perks and account access.
All three of these online banks offer competitive yields on checking. The rates are in the rate of what you'd get with a high-yield savings account.
Out of the three, Bank of Internet USA has the best rate but you have to meet certain conditions to qualify. Specifically, you have to have monthly direct deposits totaling $1,000 or more and make a set number of debit card purchases each month.
Ally's rate is tiered. The higher your balance, the more interest you can earn. Radius Bank offers one flat APY but again, there's a catch. You have to maintain a minimum balance of $2,500 or more to earn interest on your checking deposits.
As you're looking at the different APYs, it's important to know what you have to do to qualify for those rates.
If you can't meet the monthly direct deposit and debit card purchase requirements at Bank of Internet USA, for example, Radius Bank or Ally may be the better choice.
Interest Checking With No Monthly Maintenance Fee
When you open a checking account at a traditional bank, one thing you may have to deal with is a monthly service or maintenance fee.
Some banks will waive the fee when you meet certain requirements. For example, you might be able to avoid the fee by scheduling a recurring direct deposit or keeping an average daily balance in your account.
Online banks usually charge these fees less often. In fact, all three of the online banks included here have no monthly maintenance for their checking accounts.
That's a good thing because the less you pay in fees, the more of your money you get to hold onto. But, these accounts aren't completely fee-free.
What about ATM fees?
An easy way to get nickel and dimed with a checking account is by paying excessive ATM fees. Compared to traditional banks, online banks tend to give customers more bang for their buck in the way of savings on ATM fees.
At Radius Bank, for example, Hybrid Checking customers can use any ATM in the world fee-free. Radius Bank doesn't charge a fee for using another bank's ATM.
All foreign ATM fees charged by other banks for cash withdrawals are automatically reimbursed at the end of each statement cycle. That doesn't include foreign transaction or exchange fees, however.
Ally customers can access their checking accounts at any ATM in the Ally Bank network fee-free.
The bank also offers reimbursement of foreign ATM surcharges. Unlike Radius Bank, however, it's not unlimited. Fee reimbursements are capped at $10 per statement cycle.
Bank of Internet USA checking customers also enjoy unlimited domestic ATM fee reimbursements. That puts it and Radius Bank slightly ahead of Ally but Ally does have a broad network of fee-free ATMs, which we'll dive into a little later on.
Overdrafts, wire transfers and checkbook fees
Online checking accounts typically have minimal fees but that doesn't mean they're fee-free. All three of the accounts included here charge fees for things like overdrafts and wire transfers. Some also charge a fee to order checks for your account.
In terms of the overdraft, both Radius Bank and Bank of Internet USA charge $25 for insufficient funds and returned items. At Ally, this fee is $20.
Bank of Internet USA can charge up to three of these fees each day, while Ally charges only one. Radius Bank charges a daily overdraft fee of $5 per day once your account is overdrawn for five days or more.
Wire transfers can be a convenient way to send or receive money but they'll cost you at all three banks. At Radius Bank, for example, the fee ranges from $10 to $40, depending on whether the transfer is incoming or outgoing, domestic or international.
Ally doesn't charge anything for incoming domestic wire transfers but you'll pay $20 for an outgoing domestic transfer.
Ally doesn't offer international wire transfer services. Incoming domestic and international wire transfers are free at Bank of Internet USA but outgoing transfers carry a fee of $35 or $45.
Your first order of checks is free at Radius Bank. After that, you'll pay a fee to reorder, based on the design. Standard checks are included at no charge with an Ally Bank Interest Checking Account.
Bank of Internet USA doesn't offer free checks unless you've got the Golden Checking account.
The table below offers a look at the most important fees to consider as you compare accounts.
Radius vs. Bank of Internet USA vs. Ally: Checking Fees
| Fee | Radius Hybrid | Bank of Internet USA Rewards Checking | Ally Interest Checking |
| --- | --- | --- | --- |
| Monthly Maintenance Fee | $0 | $0 | $12 |
| Out-of-Network ATM Fee | $0 (all other ATM fee refunded) | $0 (all other ATM fee refunded) | $0 (ATM operator fees refunded up to $10 per statement cycle) |
| Overdraft Fee | $25 | $25 | $25 |
| Overdraft Protection Transfer Fee | $0 | $0 | $0 |
| Returned Item | $25 | $25 | $25 |
| Deposit Item Returned | $8 | $10 | $7.50 |
| Stop Payment | $25 | $35 | $15 |
| Incoming Domestic Wire Transfer | $10 | $0 | $0 |
| Incoming International Wire Transfer | $10 | $0 | $0 |
| Cashiers Check | $8 | $10 | $0 |
Online and Mobile Banking Access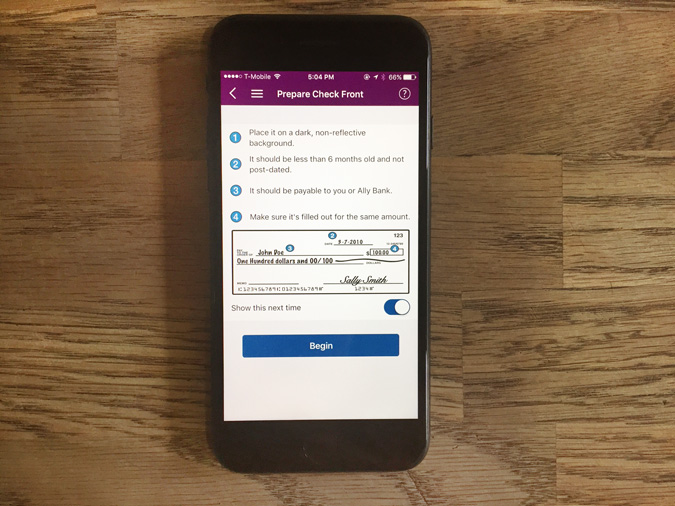 Scheduling bill payments
Initiating ACH transfers between your checking account and an external checking account
Viewing your electronic statements
Setting up customized checking account alerts
Making mobile check deposits
There are limits on how much you can deposit via mobile check. Those limits are outlined in this table:
Mobile Deposit Limits: Radius vs. Bank of Internet vs. Ally
| Radius Hybrid | Bank of Internet | Ally Bank |
| --- | --- | --- |
| All customers: Up to $5,000 daily, or $50,000 over a period of 10 business days | All customers: Check limit is $10,000, the daily limit is $10,000, and the rolling 30-day limit is $50,000 | All customers: Up to $50,000 in a single day; however, up to $250,000 every 30 days |
All three banks also let you send and receive money quickly without having to pay a fee for a wire transfer. At Radius Bank, you can use the Pay a Friend service to send money to friends and family instantly from a phone or tablet.
Ally partners with Zelle to allow checking customers to send funds quickly, while Bank of Internet USA offers free person to person transfers with Popmoney. All three services allow you to send money electronically the same day without a fee.
Final Verdict: Which Online Checking Account Is Right for You?
Choosing from these three online interest checking accounts hinges on what you value most.
For example, if you want to get the highest APY possible, Bank of Internet USA may be the most appealing. It also doesn't hurt that this account lets you earn cash back when you spend.
But if you don't need any extra bells and whistles, Ally or Radius Bank could work just as well. Any time you're shopping for a new checking account, remember to weigh the fees, the interest you might be able to earn and any extra benefits the account offers.
Compare Best Accounts Now
You might also like