First Republic Bank ATM Rebate Checking Account 2023 Review
Learn about the details of the First Republic Bank ATM Rebate Checking Account, which offers unlimited ATM refunds, and compare it to online checking accounts.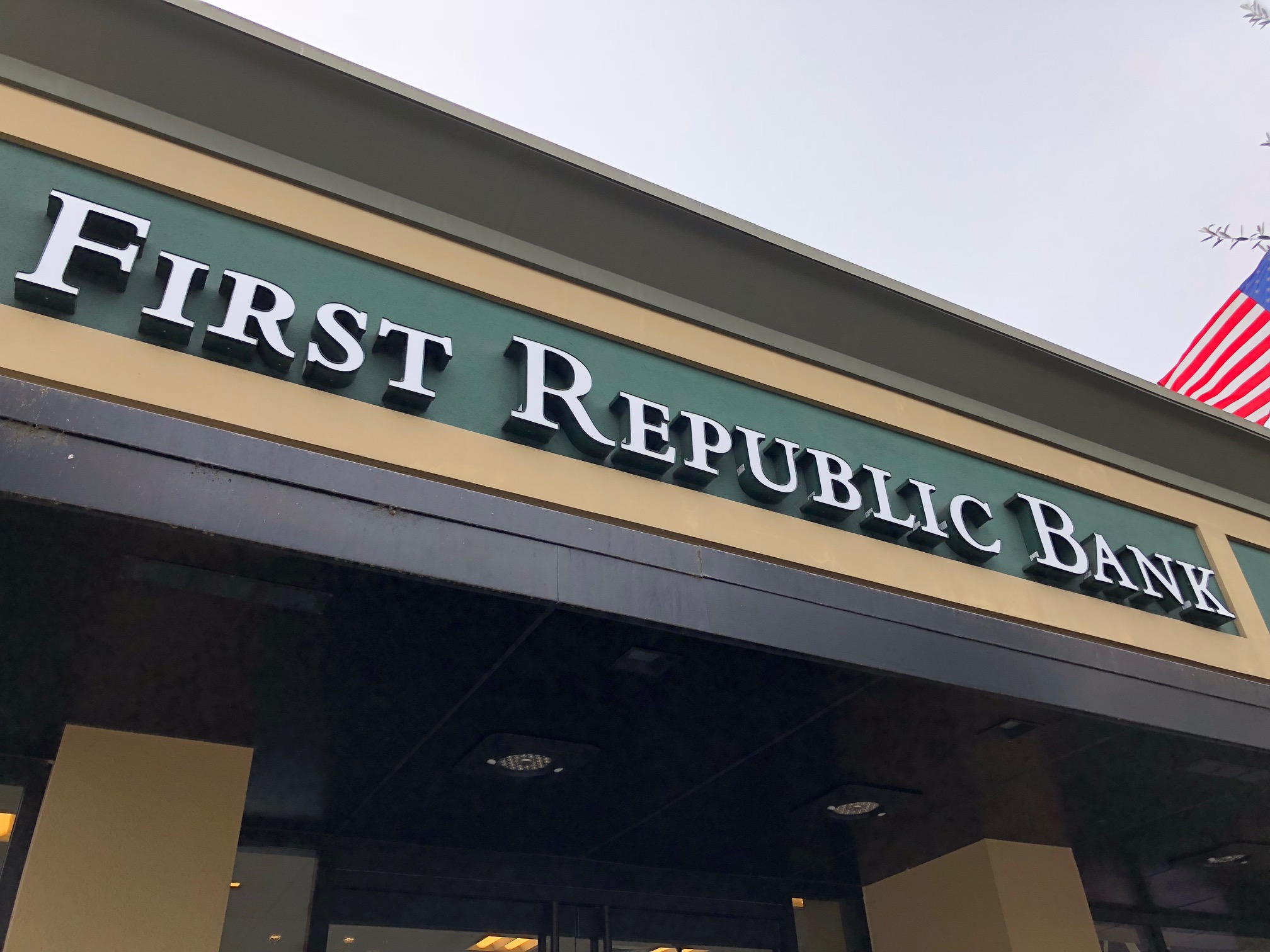 First Republic Bank
First Republic Bank is a bank and wealth management company offering a generous selection of checking products to accommodate the diverse needs of its customers.
Not all checking accounts are created equal.
For that matter, if you're constantly on the move and need a checking account that can keep pace with your lifestyle, First Republic Bank's ATM Rebate Checking might be up your alley.
In this First Republic Bank ATM Rebate Checking Account review, we'll compare rates, fees, and services to other national and online banks.
Here's a look at several account features to help you make a decision.
Get Back What You Pay in ATM Fees
First Republic ATM Rebate Checking Account Pros & Cons
ATMs let you withdraw cash whenever you need it. Sometimes, however, you're nowhere near your personal bank when you need money.
Using another bank's ATM often results in expensive fees. A standout feature of First Republic's ATM Rebate Checking is that you can avoid these fees at virtually every ATM. And not just those in your city, state, or country — but worldwide.
Here's how it works: Use a non-First Republic ATM, and First Republic will rebate fees you're charged by that ATM's service provider. The bank credits this rebate to your account at the end of each monthly statement cycle.
This makes for hassle-free travel. Just pull up to the first bank you see, take out your cash, and continue with your trip.
Complimentary First Order of Personal Checks
Who doesn't like a freebie? Another benefit of the ATM Rebate Checking account is that the bank will give you a complimentary first order of checks.
Understandably, you might pay your bills online or use a debit card for most purchases. But sometimes, cash or debit card isn't an option and you have to write a check. So it helps to have some checks in your possession.
If you rarely write checks, there's a good chance that your first order will last for years to come.
Avoid Costly Overdraft Fees
Accidents happen. So at some point, you might forget to record a transaction or make a budgeting error. This can result in not having enough funds in your checking account to cover a transaction.
First Republic understands that mistakes happen. To help you avoid an overdraft, the bank offers two ways to protect your account.
You can apply for an overdraft line of credit and link this account to your checking. If you have insufficient funds to cover a transaction, funds from the line of credit are used to avoid an overdraft.
Or, sign up for overdraft protection and link a First Republic savings account with your checking account. To prevent an overdraft, funds from your savings account automatically transfer to your checking account.
Use Your Visa Debit Card Anywhere
As previously mentioned, a key feature of this checking account is the ability to access ATMs worldwide without a fee. But the ATM benefits don't stop there.
Your ATM card also functions as a debit card, so use it wherever Visa is accepted. Book a plane ticket or a hotel room, eat out, or go shopping. With a debit card in your wallet, you don't have to carry cash which can be lost or stolen.
As a bonus, you'll enjoy 24/7 fraud monitoring with your card and receive alerts if there's suspicious activity with your account.
Earn Money With a Checking Account
Interest rates are more commonly associated with savings accounts, but also available with many checking accounts.
Interest checking is perfect if you're looking for another way to grow your money.
First Republic's ATM Rebate Checking gives you an opportunity to earn interest, but the bank's rate is low in comparison to what other banks give its customers for similar accounts.
Nonetheless, something is better than nothing. If you normally keep a large balance in your checking account, it only makes sense to get an account that pays you money.
Keep in mind, however, this account only pays interest on minimum daily balances of $3,500 or more.
Opportunity to Waive the Monthly Fee
Bank maintenance fees vary by financial institution, with some banks charging as little as $10 or $15 per month for a checking account.
The ATM Rebate Checking account also charges a monthly fee. If you open this account, be prepared to shell out $25 a month for the maintenance or service fee.
This is slightly higher than what some banks charge its customers. However, you can avoid this fee by keeping a minimum average balance of $3,500.
Understand that the minimum average balance doesn't mean that your account can never drop below $3,500. This is an average of your end-day closing balances in a given statement cycle.
To calculate your average balance, take the sum total of your closing balances at the end of each business day, and then divide this figure by the number of calendar days in the statement cycle.
If there's a day where your balance was greater than $3,500, this may compensate for days when your balance was less than this amount.
Before you open an ATM Rebate Checking account, know that this account requires a minimum opening deposit of $500. This is a little steep in comparison to checking accounts that have minimum opening deposits between $25 and $100.
Other Fees to be Aware Of
Unfortunately, a monthly maintenance or service fee isn't the only fee to worry about when opening a checking account.
Banks charge its customers a variety of fees. So it's important to know what you're signing up for, or else it could feel as if you're getting nickel and dime from every direction.
Some fees you might expect, whereas others can come as a surprise. Other bank fees include those for overdraft protection if you choose to link a savings account or a line of credit to your checking account and avoid insufficient fund fees.
If you take advantage of this service, First Republic charges a $3 fee for each overdraft protection transfer.
In the event that you lose your ATM or debit card, there's also a $5 fee to get a replacement card. Keep in mind that there's no fee for your first ATM card replacement.
As far as other free services go, there's also no fee for incoming wire transfers.
First Republic Bank ATM Rebate Checking Account Fees
| Type | Fee |
| --- | --- |
| Monthly Maintenance Fee | $25 |
| Non-First Republic ATM | $0 |
| Overdraft Fee | $30 |
| Returned Item | $30 |
| Stop Payment | $30 |
| Deposited Item Returned | $10 |
| Domestic Wire Transfer (incoming) | $0 |
| International Wire Transfer (incoming) | $0 |
| Cashiers Check | $10 |
Simple and Convenience Online/Mobile Banking
You lead a busy life, and it is essential to have a checking account that can accommodate your hectic schedule. The truth is, most people don't have time to sit in bank lines. They need a simple, fast way to manage their finances.
The ATM Rebate Checking account is designed for people like you. It can make your banking experience a more enjoyable one.
Aside from getting your complimentary first order of checks, the bank also offers online and mobile banking features to simplify your financial life.
Whether you're managing your checking account from a desktop or a mobile device, you can view and access your account 24 hours a day, seven days a week.
Pay bills, transfer funds, check your history, plus you can link and view any accounts that you have at other financial institutions. This way, you always have a clear overview of what's happening with your personal finances.
Deposit checks through your mobile device with the click of a few buttons. The mobile app even maintains a record of other deposits you've made through your devices.
In addition, use online and/or mobile banking to locate ATMs when you're on the go, send secure messages to First Republic, and manage your alerts.
The mobile deposit limit is quite generous at:
$25,000 per check and $25,000 per day
Compare Other Products Before Opening an Account
Checking accounts might serve the same purpose, but each account is different.
With that being said, don't rush the selection process. Make sure you shop around and see what different banks -- especially online banks -- offer before making a decision.
When shopping for any checking account, keep an open eye for key features.
Does the bank offer any unique or special perks?
Does the ATM/debit card come with a rebate or rewards program?
What's the minimum deposit to open an account?
What's the monthly maintenance fee, and what are requirements for avoiding this fee?
Does the checking account earn interest?
Final Word
The ATM Rebate Checking is a unique account considering how you can access just about any ATM and not pay a fee.
This feature alone makes this account an excellent choice for those who travel often and find themselves always on the hunt for an ATM.
This account isn't really the best choice if you don't maintain a large balance in your checking account.
You won't earn any interest on your deposits unless you keep $3,500 in the account. Likewise, you'll pay a monthly fee if you're unable to maintain this amount as a daily average. Plus, you need $500 to open the account.
Maybe you don't travel often and feel that you won't benefit from ATM Rebate Checking. Or perhaps you know you won't qualify to earn interest and avoid the monthly fee.
If so, you might consider an online checking account that offers these same perks -- many of which do not have a balance requirement to earn interest.