HSBC Advance Checking Account 2023 Review
Learn all the details about the HSBC Advance checking account, which is a mid-tier option for people who want more convenience and better checking benefits.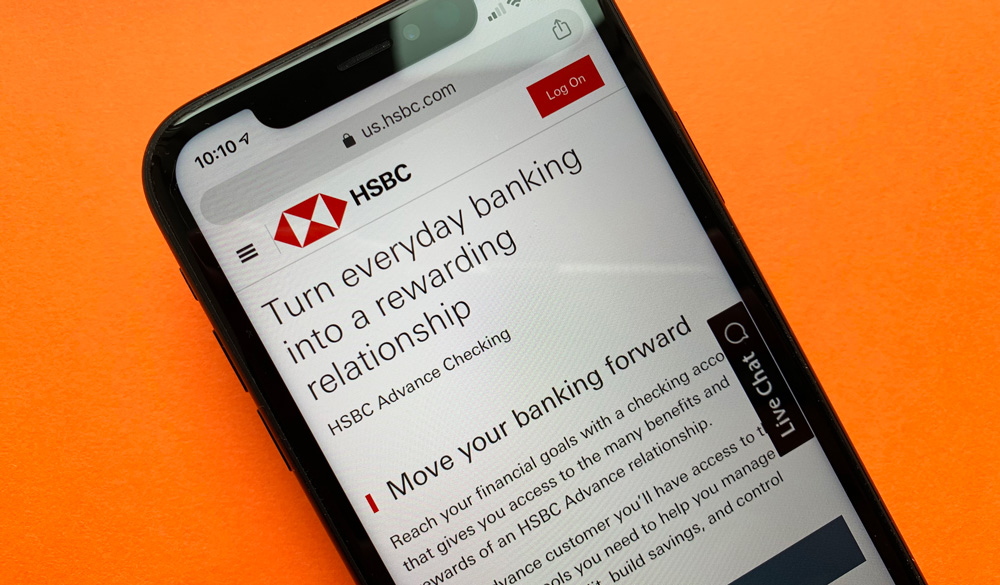 HSBC Advanced Checking
HSBC is one of the largest banking and financial services in the world. The bank serves over 38 million customers in 67 countries.
It's an ideal choice if you seek a bank with a global presence, especially in Europe, Asia, the Middle East, North America, and Latin America.
Its HSBC Advance checking account provides features and services that are considered upgrades from your typical basic checking account.
It is designed for customers who keep larger balances in their checking account and who prefer the convenience offered by the various account benefits.
In this HSBC Advanced Checking review, we'll compare rates, fees, and services to other national and online banks.
Here is an in-depth look at what you can expect with an HSBC Advance checking account to see if it is the right option for you.
Global No-Fee ATMs
HSBC Advance Checking Account Pros & Cons
Those who travel internationally know the hassle of getting their hands on cash.
For this matter, it's often easier to travel with a credit card that doesn't charge a foreign transaction fee.
You should be able to use a debit or ATM card at an international ATM to withdraw funds, but your bank can charge expensive fees for these transactions.
A standout feature of the HSBC Advance checking is the ability to use most ATMs around the globe without paying withdrawal fees. No ATM fees is a benefit of having a relationship with a bank that has branches around the world.
Keep in mind that foreign currency conversion rates may still apply, so plan well.
Limited ATM Fee Reimbursements
Accountholders also receive an HSBC Advance debit MasterCard. This can be used wherever MasterCard is accepted worldwide. Not only can you use this debit card for purchases, it also functions as an ATM card.
Along with the perk of accessing ATMs in another country without paying a fee, HSBC will also give you up to four ATM rebates per month. The bank credits your account when you use your debit card at a third-party ATM.
Unfortunately, this benefit doesn't apply in the state of New York. Remember this before using a third-party ATM in this state.
As a warning, if you use your debit MasterCard overseas for purchases, foreign transaction charges may apply. The foreign transaction fee is 3 percent of the transaction amount.
Use a Line of Credit for Overdraft Protection
Overdrawing your bank account can be a costly mistake. Overdraft fees vary by bank, with some banks charging their customers around $36 per overdraft.
When you open an HSBC Advance checking account, you can opt into Select Credit to help prevent overdrafts. This is a personal line of credit that can be used for overdraft protection.
The line of credit is subject to credit approval. But if approved, the bank links the line of credit with your checking account.
If you use your debit card or write a check and you don't have cash in your account to cover the transaction, funds from the line of credit automatically transfer to your checking account to cover the purchase.
If you're approved for Select Credit, you can also pull cash from the credit line on an as-needed basis, up to your credit limit. Common uses for a line of credit include debt consolidation, home improvements, vacations, and medical expenses.
Secure Online Features and Free Checks
Regularly monitoring your account is an excellent way to catch suspicious activity early. Also, you'll know exactly how much is in your account so that you don't overspend and incur overdraft fees.
Opening an HSBC Advance checking account gives you access to mobile and online banking. You can check your account activity from your computer or laptop anytime, anywhere. Or, monitor your account directly from your mobile device. Use this feature to transfer money, deposit checks, send secure messages, and pay bills.
Paying bills online is fast and convenient, and it also saves a stamp. But even if you prefer online bill pay, sometimes you might need to write a check.
Are you on the hunt for low-cost, simple checks for those times when cash or a debit card won't suffice? Another perk of opening an HSBC Advance checking is that you'll receive free checks on select styles.
Keep a Sizable Balance and Avoid Monthly Fees
Monthly maintenance or service fees are typical with many checking and savings accounts.
The monthly maintenance fee with an HSBC Advance checking is $25. This is comparable to what you'll find at other banks offering similar services.
Some basic checking accounts don't charge a monthly fee. But in most cases, these accounts don't offer a lot of bonus features like interest checking or ATM fee refunds.
With an HSBC Advance Relationship, the bank will waive the monthly fee if:
You maintain a combined balance of $10,000 in all your HSBC accounts, or
You maintain a balance of at least $5,000 in combined accounts, and have at least one recurring direct deposit from a third-party bank once per month
There's no minimum deposit required with an HSBC Advance checking.
So don't feel as if you have to open an account with such a large sum of money. Just know that the monthly fee applies if your account balance doesn't meet these minimums.
Grow Your Balance With Interest Checking
The HSBC Advance checking does earn interest. Unfortunately, this rate is low and comparable to what many other brick-and-mortar banks pay their customers.
The minimum account balance to earn interest is $5, and there aren't tier rates. Therefore, the interest rate remains the same whether you have $5 in your account or $10,000.
Other Fees to Watch For
Monthly service fees and charging loan interest are two ways that banks make money. But these aren't the only ways.
They also make money by charging accountholders different fees. HSBC is no exception, so make sure you're aware of common fees before opening an account.
For example, you'll pay a $35 insufficient funds fee if you overdraw your account. The good news is that the bank doesn't charge a fee when an account is overdrawn by $10 or less at the end of the business day.
If you opt into Select Credit and use this service for overdraft protection, there's a $10 per day fee each time you take advantage of the service. Here's an overview of the account's most pertinent fees:
HSBC Advance Checking Account Fees
| Type | Fee |
| --- | --- |
| Monthly Maintenance Fee | $25 |
| Non-HSBC ATM | $0 |
| Overdraft Fee | $35 |
| Stop Payment | $30 |
| Deposited Item Returned | $10 |
| Domestic Wire Transfer (incoming) | $12 |
Other HSBC Checking Options
If you're interested in becoming a HSBC banking customer, but aren't sold on this checking account, check out other additional checking account options also offered by this bank:
HSBC Choice Checking
The HSBC Choice Checking account is designed to offer convenience and value. It's easy to apply for and offers all the necessities a consumer needs in a checking account.
You can open one of these accounts online with just $1. Or, you can open an account at a branch with no minimum deposit.
HSBC offers Select Credit with the Choice Checking Account. This is an optional personal line of credit you can use as overdraft protection. This account does come with checks, although they're not free. You'll pay a fee for checks, which varies based on the style you choose.
You can also access and manage your account with online and mobile banking. You can do things like:
Check your balance
Review transaction history
Schedule transfers between HSBC accounts
Schedule online bill payments from checking
Add money to your account with mobile check deposit
The HSBC Choice Checking Account has a $15 monthly maintenance fee, but there are two ways to get around paying it:
Set up a qualifying direct deposit into your account; you only need one direct deposit per month to avoid the fee, or
Maintain a $1,500 minimum balance in total combined balances across your HSBC checking, savings and investment accounts
Here are the main fees of the account:
HSBC Choice Checking Account Fees
| Type | Fee |
| --- | --- |
| Monthly Maintenance Fee | $15 |
| Non-HSBC ATM | $2.50 |
| Overdraft Fee | $35 |
| Stop Payment | $30 |
| Deposited Item Returned | $10 |
| Domestic Wire Transfer (incoming) | $15 |
| Cashier's Check | $12 |
---
How It Compares Nationally
If you never maintain a large balance in a checking account, you might not put much effort into finding an account with a higher interest rate.
But if you do maintain a high balance in checking, you owe it to yourself to compare checking accounts. This ensures you're earning more. If not, you could miss out on hundreds of dollars worth of interest.
Compare interest rates when shopping for a checking account. And then weigh potential interest earnings with the monthly maintenance fee. The least amount of fees you pay, the better.
If a bank charges a high monthly maintenance fee and little interest, it's as if you're paying the bank to be a customer. Shop around and you'll likely find an attractive interest checking account from a bank that doesn't charge a monthly fee. Or the bank may waive this fee under certain conditions.
As you compare fees, also keep an open eye for banks that don't charge ATM fees or offer ATM fee reimbursements.
Final Verdict: Is This the Right Account for You?
The HSBC Advance checking is worth consideration if you travel internationally.
Particularly if you're looking for a way to access ATMs without paying costly fees. It's also an excellent account if you enjoy freebies. These include free checks and ATM rebates. It's also a contender if you want the opportunity to earn cash by referring friends and family.
Unfortunately, this account has a low interest rate. So don't expect significant growth, even if you maintain a large account balance.
If you're able to maintain $5,000 or $10,000 in combined account balances to avoid the monthly maintenance fee, you're aiming for the account perks -- not the interest earnings.
Keep in mind that an online-only bank might not give as many perks as this account. You have to narrow down what features are most important to you and then base your decision on this.