HSBC Choice Checking Account 2023 Review
Learn about the HSBC Choice checking account to see if the fees and features compare to the other checking account options available.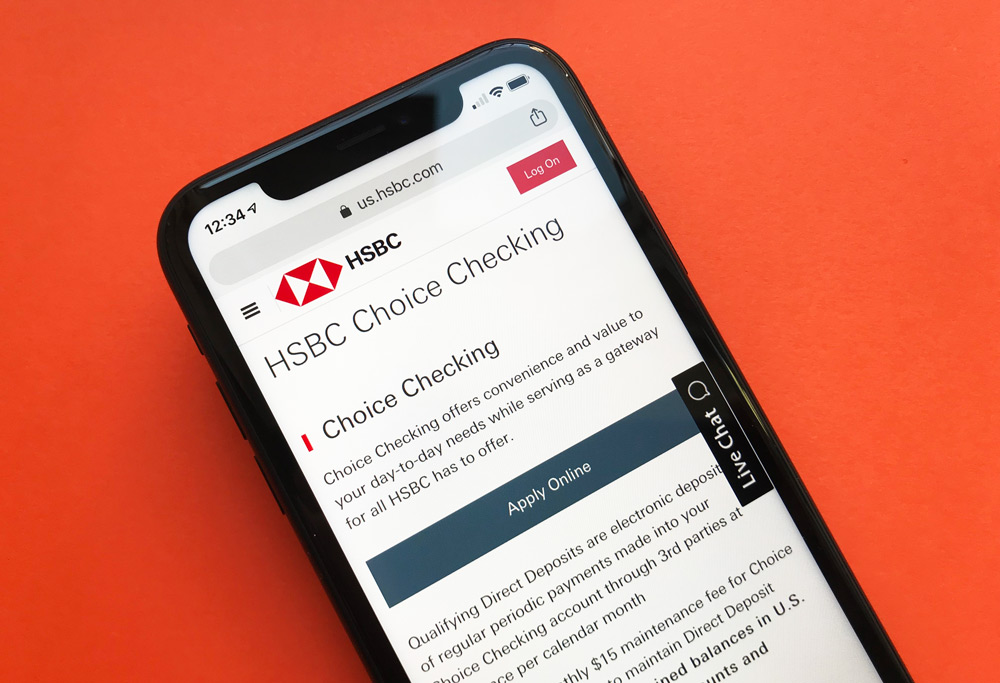 HSBC Choice Checking
If you need a checking account, you may be on the fence about choosing an online bank versus a brick-and-mortar.
HSBC's Choice Checking Account offers the features you'd expect from traditional checking, with online banking access.
HSBC is a global bank with 3,900 offices in 67 countries worldwide.
In the U.S., HSBC has branches in California, Connecticut, Delaware, Florida, Maryland, New Jersey, New York, Pennsylvania, Virginia, Washington State and Washington, D.C.
The Choice Checking account is designed to offer convenience and value.
It's easy to apply for and open one of these accounts online with just $1. Or, you can open an account at a branch with no minimum deposit.
But what makes the Choice Checking Account special? And why should you consider it over other checking account options?
Read on to learn if HSBC's Choice Checking Account is right for you.
In this HSBC Bank checking account review, we'll compare rates, fees, and services to other national and online banks.
Easily Avoid a Monthly Maintenance Fee
HSBC Choice Checking Account Pros & Cons
Maintenance fees can be a pain if they drain away your checking account balance.
The HSBC Choice Checking Account has a $15 monthly maintenance fee. But, there are two ways to get around paying it.
First, you can set up a qualifying direct deposit into your account. You only need one direct deposit per month to avoid the fee.
The other way to avoid the maintenance fee is by meeting the minimum balance requirement.
The minimum balance needed is $1,500 in total combined balances across your HSBC checking, savings and investment accounts.
Sign-Up Bonus
Get a $200 Welcome Deposit for eligible new customers who open an HSBC Choice Checking account with qualifying activities. Limited time only.
Open your new HSBC Choice Checking account online by March 31, 2021; and
Deposit a minimum Qualifying Balance of $1,500 or more in New Money in combined checking and savings accounts within 30 calendar days of account opening; and
Maintain at least the minimum Qualifying Balance for 90 calendar days from the date you deposited the minimum Qualifying Balance.
You will automatically receive the $200 Welcome Deposit in your new HSBC Choice Checking account approximately eight weeks after completing all qualifying activities. It's that simple.
Worldwide HSBC ATM Access
One of the most important features to have in a checking account is ATM access. The wider the ATM network, the easier it is to manage your money and get cash when you need it.
HSBC's ATM network covers over a dozen countries, and most locations charge no withdrawal fees.
The expansive global ATM network is great if you travel regularly, and you don't want to always have to rely on a credit card. You can use your HSBC Debit Mastercard to check your balance, make transfers or withdraw cash.
There are no fees ever for transactions completed at U.S. HSBC ATMs.
Just remember if you're withdrawing cash abroad you may pay a conversion fee if you're getting foreign currency. And, some ATMs within the HSBC network may charge an additional service fee for withdrawals.
If you're using a non-HSBC ATM, you'll pay $2.50 per transaction, plus any fees the other bank charges.
Get Optional Overdraft Protection for Checking
Overdrawing your account can get expensive if your bank charges overdraft or non-sufficient funds fees.
The best way to avoid those fees is by keeping track of your balance and spending. But it's also helpful to have a backup plan in case your balance dips into the red.
HSBC offers Select Credit with the Choice Checking Account. This is an optional personal line of credit you can use as overdraft protection.
Your credit limit can range from $1,000 to $10,000. There are no annual fees, cash advance fees or check transaction fees to use Select Credit.
But, it's not free.
A variable APR applies when you use your line of credit for overdrafts. This APR is similar to what you'd pay with a credit card.
There's also an overdraft fee for Select Credit transactions. The fee can be up to $10 per day, and it's only waived for HSBC Premier relationship customers.
That $10 fee is less than the $30 to $40 fee banks can charge per transaction for overdraft but that's still money you'd rather hang on to.
Bottom line, Select Credit is a nice feature to have in a pinch but you'll want to add up the cost before using it as overdraft protection.
Can You Earn Interest With This Account?
Interest-bearing checking accounts give you a little something extra for maintaining a balance.
Earning interest on checking is a nice perk but it's not one you get with the Choice Checking Account. 
Other Choice Checking Account Fees
Aside from the maintenance fee, there are a few other fees to know about with Choice Checking.
HSBC Choice Checking Account Fees
| Type | Fee |
| --- | --- |
| Monthly Maintenance Fee | $15 |
| Non-HSBC ATM | $2.50 |
| Overdraft Fee | $35 |
| Stop Payment | $30 |
| Deposited Item Returned | $10 |
| Domestic Wire Transfer (incoming) | $15 |
| Cashier's Check | $12 |
The biggest of these fees to watch out for is the non-sufficient funds fee. HSBC can charge up to three of these overdraft fees per day, which can really add up.
One positive: there's no additional extended overdraft fee if your account is overdrawn for a longer period of time.
Other HSBC Checking Options
If you're interested in becoming a HSBC banking customer, but aren't sold on this checking account, check out other additional checking account options also offered by this bank:
HSBC Advance Checking
HSBC Advance Checking account provides features and services that are considered upgrades from your typical basic checking account.
It is designed for customers who keep larger balances in their checking account and who prefer the convenience offered by the various account benefits.
A standout feature of the HSBC Advance checking is the ability to use most ATMs around the globe without paying withdrawal fees.
The monthly maintenance fee with an HSBC Advance checking is $25. However, the bank will waive the monthly fee if:
You maintain a combined balance of $10,000 in all your HSBC accounts, or
You maintain a balance of at least $5,000 in combined accounts, and have at least one recurring direct deposit from a third-party bank once per month
There's no minimum deposit required with an HSBC Advance checking, and you can earn interest, although at a low rate, with this account.
We've highlighted some of the main fees of the account:
HSBC Advance Checking Account Fees
| Type | Fee |
| --- | --- |
| Monthly Maintenance Fee | $25 |
| Non-HSBC ATM | $0 |
| Overdraft Fee | $35 |
| Stop Payment | $30 |
| Deposited Item Returned | $10 |
| Domestic Wire Transfer (incoming) | $12 |
How Convenient is the HSBC Choice Checking Account?
There are several ways to use and manage the HSBC Choice Checking Account.
This account does come with checks, although they're not free. You'll pay a fee for checks, which varies based on the style you choose.
You can also access and manage your account with online and mobile banking. You can do things like:
Check your balance
Review transaction history
Schedule transfers between HSBC accounts
Schedule online bill payments from checking
Add money to your account with mobile check deposit
You'll need the HSBC Mobile Banking app to use mobile deposit. There are daily and monthly limits on how much you can deposit.
For Choice Checking customers, the daily limit is $3,000; the monthly limit is $5,000. You can deposit as many checks as you want, as long as you don't go over those limits.
Only checks drawn on U.S institutions can be added with mobile deposit. You can't deposit traveler's checks or international checks.
There are no fees for using mobile check deposit. But, be aware that it can take several business days for checks to be credited to your account and available to use.
How It Compares Nationally
HSBC's Choice Checking is just one checking account option. It's always good to compare other checking accounts to see what features or benefits they might offer.
We've included some additional checking accounts to consider here. As you look for a checking account, remember to think about:
The fees you'll pay for the account
Whether the checking account earns interest and if so, how much
The minimum deposit required to open an account
The minimum balance requirements, if any
Monthly maintenance fees and what your options are for avoiding them
Other checking fees, such as overdraft and non-sufficient funds fees
Whether overdraft protection or an overdraft line of credit is available
ATM access and ATM fees
Online and mobile banking access and features
Mobile check deposit limits
Whether checks are included or if you'll have to pay for those separately
FDIC insurance for your account
It's also a good idea to consider what else the bank offers to help you manage your money.
A savings account or money market account, for example, might be important if you need a place to save your emergency fund. You might want to look into high-yield CDs if you're saving for a longer term goal, like a down payment for a home.
Once you're ready to buy, you'll likely need a mortgage. Check to see if the bank you're considering offers rate discounts for having a checking account.
You could also look for discounts on rates if you're getting a personal loan or line of credit. And if you're in need of a credit card, you'll want to see how the rates, fees, and rewards compare to credit cards offered by other banks.
Final Verdict: Is HSBC Choice Checking a Good Place for Your Money?
The HSBC Choice Checking Account might be one to consider if you just need a basic checking account with no extra frills. This account is also good if you travel internationally and you want to be able to hit the ATM at your convenience.
On the other hand, the HSBC Choice Checking Account lacks some of the extras you can often find with online checking accounts.
For example, there are online banks that offer high-yield interest checking or unlimited ATM fee refunds.
The monthly maintenance fee is also a potential drawback. While you have two ways to get around it, a fee-free online checking account may look more attractive if you don't want to risk triggering the maintenance fee.
At the end of the day, an online checking account could give you more bang for your buck in terms of features. And some online banks may offer a wider ATM network as well.
What you have to decide is whether you're comfortable sacrificing the convenience of branch banking. If you don't think you'll need to visit a branch to manage your checking account, you may want to look into what online checking has to offer.