Ally Bank vs. Radius Bank Checking Account Review
Radius Bank just launched the Radius Hybrid checking account that could beat Ally Bank for having the best online checking account. See the analysis here.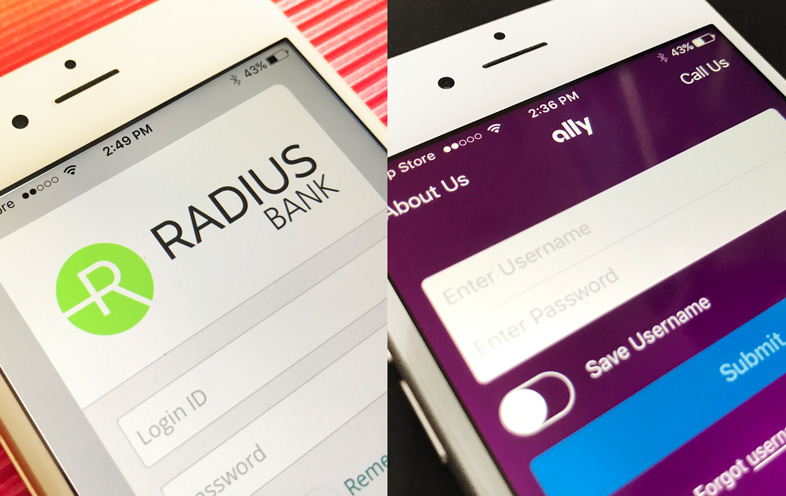 Radius Hybrid was designed with the idea of being the sole account that would take care of your checking and savings needs, so you could technically use the account strictly for just checking or just savings. But, it is just much smarter to use it for both. Going forward, I'll refer to it as a checking account, but just remember that was created as a hybrid account.
For these two online checking accounts, I reviewed the following key factors:
Radius Hybrid vs. Ally Checking
| Factors | Ally Bank - Interest Checking | Radius Bank - Radius Hybrid |
| --- | --- | --- |
| Monthly fee | $0 | $0 |
| ATM access | Unlimited ATM fee refunds | Unlimited ATM fee refunds Cash and check deposits on NYCE ATM network |
| Overdraft policy | $9 overdraft fee Free overdraft protection transfer | $33 overdraft fee Overdraft line of credit (17.99% APR) Free overdraft protection transfer |
| Mobile banking | iOS and Android apps | iOS and Android apps |
| Customer service | 24/7 customer and live chat support | Phone: Mon - Fri: 8:30 AM - 9:00 PM ET Sat - Sun: 9:00 AM - 1:00 PM ET Live chat: Mon - Fri: 8:30 AM - 5:00 PM ET **Last Thursday of the month: 8:30 AM - 4:30 PM ET |
Monthly fee
Neither checking account charges a monthly fee. For many people who struggle with avoiding the monthly fees on typical checking accounts from big banks, this may already be a win. Fortunately, it doesn't stop there -- these online checking accounts offer much more. Just rest well knowing that you don't have to jump through hurdles to avoid a fee.
Winner (Monthly fee): Tied
Interest rates
Both online checking accounts will pay interest on your money. It's already a great perk because most other basic checking accounts don't pay any interest.
Ally's checking APY rate isn't too attractive for balances under $15,000 (which is more than I would keep in a checking account). For balances of at least $15,000, however, the interest rate is much more respectable APY.
Radius Hybrid offers an interest rate policy: only the portion of your account balance that is more than $2,500 will earn an attractive APY. Therefore, the best way to maximize this rate is to have a large account balance.
At the $15,000 rate tier for Ally's checking account, Radius Hybrid will provide an effective APY, which is higher than Ally's APY. I'm going to have to give this one to Radius Hybrid
Winner (Interest rates): Radius Hybrid
ATM access
Access to ATMs is` critical to people who use online banks -- it's their only way of getting cash. Luckily, both online checking accounts offer the best level of ATM accessibility you could ask for: use any ATM in the country for free because they'll refund all ATM fees paid out of your pocket.
However, Radius Bank has a major advantage over Ally when it comes to deposits. Radius Bank is partnered with the NYCE ATM network, which has ATMs that accept cash and check deposits for free on behalf of Radius Bank. I really like this feature because of many online banks, such as Ally, are not able to accept cash deposits. Radius Bank has a partnership to make up for this common shortcoming of other online banks.
Although cash deposits may not be frequent transactions, it's nice to know that you have it hand, which is why Radius Hybrid takes the edge in this category.
Winner (ATM access): Radius Bank
Overdraft policy
Overdraft fees are some of the most expensive fees that you can pay when using a checking account. According to MyBankTracker research, the average overdraft fee at the top 10 U.S. banks is $35.20.
Ally Bank is already a great deal with an overdraft fee of $9. And, if you link the account to another Ally account to cover the missing funds, there is no overdraft protection transfer fee.
Radius Bank also has no overdraft protection transfer fee when using a linked Radius account, but its overdraft fee is an alarming $33. The bank makes up for that pricey fee by offering an overdraft line of credit, which essentially means that you borrow the overdrawn amount for a little bit of interest.
I called customer service and found that the interest rate on the overdraft line of credit is 17.99%. It may sound scary, but it is still much cheaper than a $33 overdraft fee -- a $100 overdrawn amount will cost just $1.50 in interest after 30 days.
The overdraft line of credit is an attractive feature, compared to a flat overdraft fee, so Radius Hybrid is better with regards to overdraft policies.
Winner (Overdraft policy): Radius Bank
Mobile banking
Without physical branches, online and mobile banking are the lifelines for online bank customers. Mobile banking takes precedence not only because of the rising adoption of smartphones but also because mobile banking apps are getting more and more capabilities to simplify account management.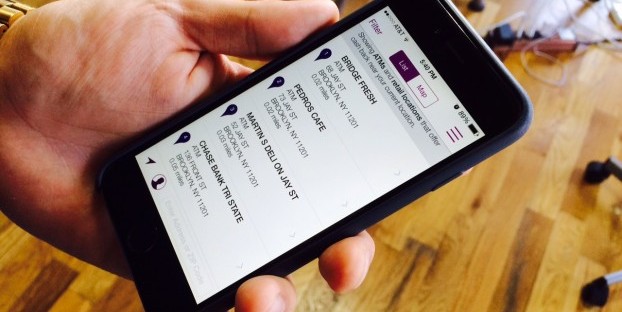 Ally Bank's mobile app will find any ATM near you because you aren't paying ATM fees.
Although Radius Bank and Ally Bank provide mobile banking apps for both iOS and Android devices, their features differ:
Ally vs Radius Bank mobile banking
| Mobile feature | Ally Bank | Radius Bank |
| --- | --- | --- |
| Mobile platforms | iOS and Android | iOS and Android |
| Bill pay | Yes | Yes |
| Mobile check deposit | Yes | Yes |
| External fund transfers | Yes | Yes |
| Person-to-person payments | Yes | No |
| ATM locator | Yes (any ATM) | Yes (Radius ATM and Banking Centers) |
As you can see, both online banks have similar mobile banking features, but Ally also offers personal payments right from its mobile app (Radius Bank doesn't offer any method of person-to-person payment at the moment). Furthermore, I noticed that Radius Bank's mobile apps only look for Radius locations while Ally's mobile app will locate any nearby ATM, which is much more useful since you're not really paying ATM fees anyway.
Not only can Ally's mobile apps do more, they also just look better, so Ally takes this one.
Winner (Mobile banking): Ally Interest Checking
Customer service
It's a no-brainer to say that customer service has a significant impact on the banking experience -- just look at the customer reviews on MyBankTracker! I find comfort in knowing that someone is ready to assist me when I need help, especially when it comes to my money.
Radius Bank's customer service phone hours are very lenient, since they're available until 9 p.m (ET). Even on weekends, they're around until 1 p.m. (ET). They also have a live chat during typical business hours on weekdays.
Ally Bank's level of customer service is much better -- you can speak and chat with a live representative 24 hours a day, seven days a week.
Winner (Customer service): Ally Interest Checking
VERDICT: Radius Hybrid
It looks like Ally Bank's Interest Checking just got dethroned. Ally Bank, the second largest U.S. online bank, is a trusted name in the banking world and many people will continue place great value on that position. The account is still great, but Radius Hybrid is just better right now.
With better policies on interest rates, ATM access and overdrafts, Radius Hybrid has a lot going on, and they are all beneficial to banking customers. As a big fan of keeping finances simple, I like that it can really be the only bank account that you need because it is a great savings account also being an outstanding checking account.
Compare Best Accounts Now
You might also like