Simple Bank Checking Account Review
If you are looking for a banking option with no fees, you might want to consider Simple bank checking account. Learn all the account features and compare to the other online banks.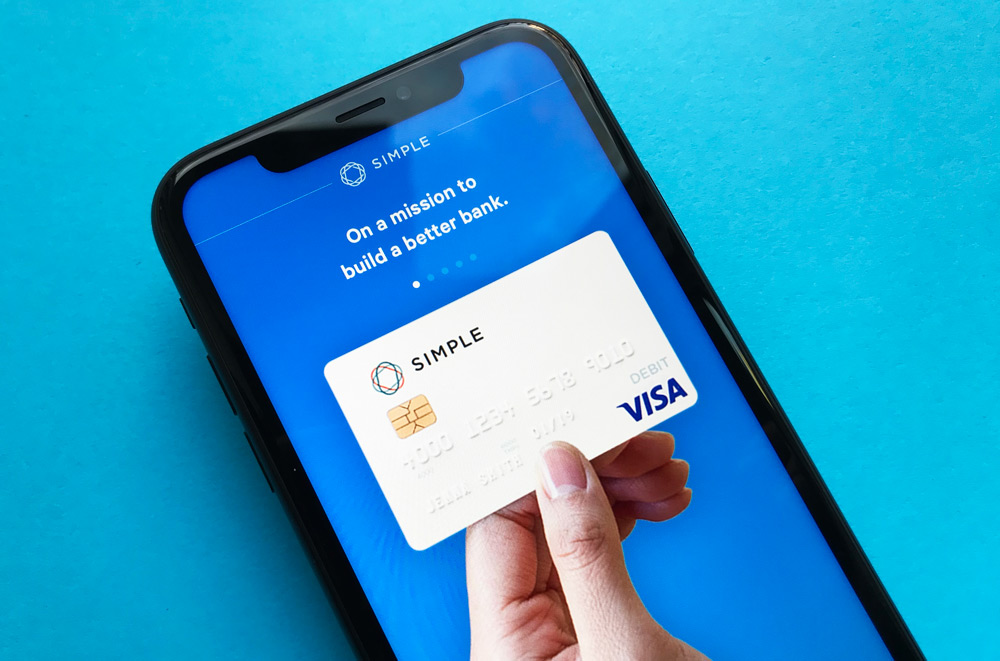 Simple Checking Account App
There is no shortage of banks to choose from when it comes to selecting a checking account.
However, because of the sheer number of options available, you might find the process overwhelming and outright confusing.
Often times you not only have to determine which bank will provide the services you need, but you also have to consider how much it will cost you to leave your money with that particular bank.
Between monthly fees and other bank fees that might be attached, you could find yourself paying quite a bit for your banking services.
Fortunately, there are increasingly more options to choose from, with banks and financial institutions that focus on making the process not only more convenient but also less expensive.
If you are looking for a less stressful banking option with no fees, you might want to consider banking online with a Simple bank account.
A Simple account, partnered with The Bancorp Bank and BBVA Compass, offers everything you need in an account with a lot less stress than traditional banking options.
In this Simple Bank Checking Account review, we'll compare rates, fees, and services to other national and online banks.
No Fees, Save Money, and Other Simple Checking Account Features
One of the most notable things about a Simple account is there are no fees.
While most traditional banks have strict minimum requirements or monthly fees just to have a checking account with them, Simple has none.
This means no monthly fee, and no requirements to waive a monthly fee, as well as no ATM fees and no overdraft fees. P
lus, there's no minimum deposit requirement to open an account, so you can get started whether you have $10 or $10,000 on hand.
Other notable features of a Simple account to consider
Mobile banking
Because Simple is an online checking account you can expect convenient features such as mobile banking.
This gives you access to features such as photo deck and direct deposit, Visa debit card, external account linking, and instant transfers to other Simple customers.
Because Simple is an online checking account you can expect convenient features such as mobile banking.
This gives you access to features such as photo deck and direct deposit, Visa debit card, external account linking, and instant transfers to other Simple customers.
Safe-to-Spend
This feature accounts for your future bills and budgets and gives you an idea of just how much money you have to spend.
This can help you avoid overspending or using funds that you'll need later, plus it works with the Goals feature to help you save money.
Goals
Simple also offers features to help you set goals and save money.
For instance, you can set an amount you want to save by a particular date and the Goal feature will automatically deduct money from your Safe-to-Spend balance each day.
This means you no longer need a separate budget or savings app.
ATM Access: How Much Does it Cost to Withdraw Your Money?
With online banking, you might be wondering if it's a big hassle to get your money when you need it.
Fortunately, you can withdraw your funds from an ATM just as you would with a traditional bank account.
With a Simple account, there are no ATM fees.
If the ATM charges a fee, you will be responsible for that, but unlike other banking systems,
Simple won't charge you for withdrawing your funds from an ATM. And, this is whether you are using an ATM within the BBVA Compass ATM network or not.
Earning Interest from an Online Checking Account
With many other banks, you can only earn interest on certain types of accounts or when you meet a particular requirement.
Simple accounts not only do not charge any fees, but your account also earns interest.
Because most traditional banks charge a monthly fee and do not offer the opportunity to earn interest on your balance, there's a pretty good chance that your checking account can end up costing you quite a bit of money.
Instead, a Simple account allows you to actually earn money, without it costing you a monthly or annual service fee.
The interest rate you earn from a Simple account is variable and currently about the same as the rate you'll get with other large banks.
The biggest difference, however, is that the Simple account doesn't charge monthly fees or have any extra requirements to meet to earn the interest.
Simple Account Pros & Cons
Pros
Cons

Market-leading checking rate
Great mobile experience
No minimum opening deposit
No monthly maintenance fee
Access to Allpoint surcharge-free ATM network

No paper checks
No physical locations
Out-of-network ATM surcharges not refunded
Simple vs. Other Competitive Online Checking Accounts
To give you an idea of how the Simple checking account stacks up against others, we'll look at and compare it to some of its top competitors.
Capital One 360 Checking
Because it's part of Capital One, this online checking account might be more popular than some of the others.
The Capital One 360 Checking account is the most similar to the Simple account, as there are no additional fees except for minor fees like the NSF fee.
Your balance with this account also earns interest, and you might be able to earn more interest with this account, depending on your balance.
Otherwise, this checking account is almost identical to the Simple account.
Axos Bank Rewards Checking
One of the downfalls of accounts like the one with Axos Bank Rewards Checking, is that it isn't as well-known as some of the others which can lead consumers to feel less confident in banking with them.
However, the Axos Bank checking accounts are just as safe as any of the others. This account also allows you to bank online without paying any extra fees.
It also stands apart from the other bank accounts because it provides exclusive cash back offers when you use your debit card.
You earn interest on your balance when you receive monthly direct deposits totaling $1,000 or more, or use your Axos Bank Visa debit card at least 10 times per month.
TIAA Bank Checking
If you're looking for a high interest rate, the TIAA Bank Checking boasts a rate that is 15x the rates other banks offer.
However, one primary drawback of this account is that there is a $5,000 minimum to open an account.
There is a basic checking option that only requires a deposit of $25, but you also have to maintain a minimum daily balance of $25 in order to avoid paying a monthly fee of $5.
With the Yield Pledge Checking option, there is no monthly fee, but you do need to deposit at least $5,000 to open the account.
Final Verdict: Who the Simple Checking Account is For
Online banking is becoming an increasingly popular option for people who want to bank without the hassle of extra fees and complicated tiers.
The Simple checking account is ideal for people who can use the helpful Goals and Safe-to-Spend features without paying any extra fees.
Plus, you can get started with Simple without worrying about having a particular amount of cash on hand to get started.
One of the only downfalls of the Simple account is that while it does allow you to earn interest on your balance without any extra fees or minimum requirements, it does pay one of the lowest rates when compared to other online accounts.
Granted, it's still in line with the top traditional bank rates, but if you're looking to earn the highest interest rate from an online bank, there are other options.
However, for a convenient, no-fee online checking account option, Simple is one of the best.
When it comes to saving money and earning money from a checking account, it's definitely one you should consider.
Compare Best Accounts Now
You might also like