Simple vs. Chime Bank: Which Account is Better for You?
Compare the bank accounts by Simple and Chime Bank, including their fees, ATM access, and money management features that help you track spending and save.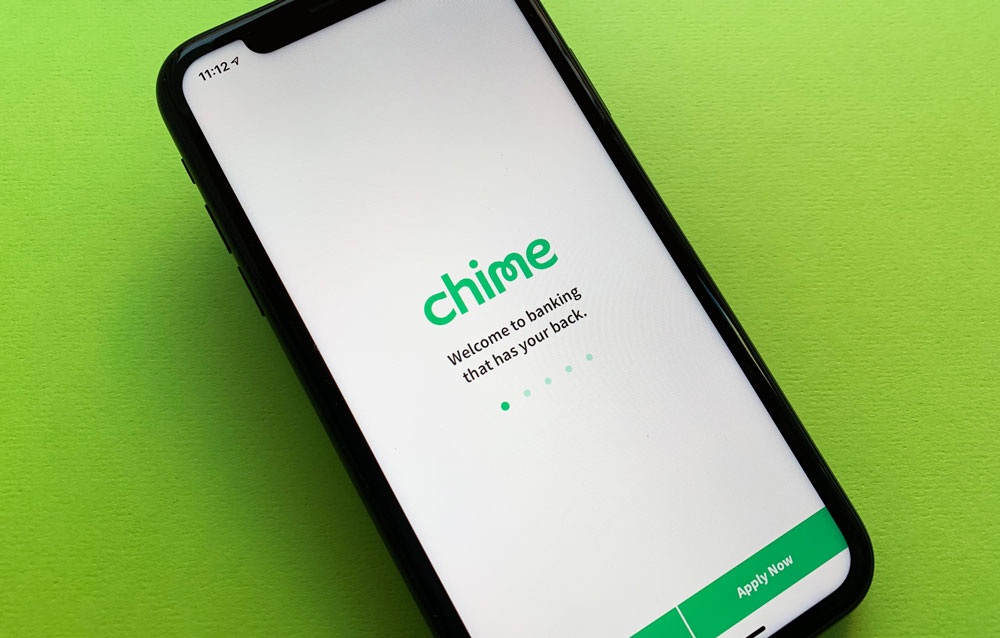 Mobile-focused banks or financial services companies are changing the traditional banking model. Instead of heading to a branch, they let you manage your money completely online.
It gets better:
Fees are usually fewer while the money management features are plentiful.
Simple and Chime are two such popular companies you might consider for a non-traditional bank account.
But which one is the right mobile-only bank for you?
To help you decide, we've compared them head-to-head based on their features, fees, and overall user experience.
Quick Comparison
Any time you're looking for a new bank account, the first thing you probably want to know is what you're getting.
Simple vs. Chime
| | Simple | Chime |
| --- | --- | --- |
| Monthly fee | $0 | $0 |
| Check-writing ability | No (use free online bill pay) | No (use free online bill pay) |
| Ways to fund account | Direct deposit, electronic funds transfers, mobile check deposit, and mailed check deposits | Direct deposit, electronic funds transfers, mobile check deposit, and cash deposits via Green Dot network of retailers |
| Interest rate | 2.02% APY | 0.01% APY |
| ATM fee | $0 (ATM operator surcharge may still apply) | $2.50 (ATM operator surcharge may still apply) |
| ATM network | 40,000 Allpoint ATMs | 38,000 MoneyPass and Visa PlusAlliance ATMs |
| Overdraft fee | $0 | $0 |
| Account management | Track goals, budgets, and ability to spend | Automated Round Up savings program and early direct deposit access |
| Mobile app platforms | iOS and Android | iOS and Android |
For an in-depth look at Simple and Chime, we break down the key features from each account.
Simple: All About Money Management
Simple literally keeps your account options simple by offering just one: a checking account.
The key features of Simple checking accounts include:
A Simple checking account is much like any other basic checking account, with one exception. You can't write paper checks or send e-checks.
If you need to write a check, you can use Simple's Payments feature. You schedule a payment and Simple cuts a check from your account. The bank then mails it to the payee for you.
What makes Simple stand out is its focus on total money management. Simple's mobile app is designed for banking and budgeting.
Setting goals
If you have something specific you want to save for, the Goals Account feature can help.
With this feature, you set a target amount to save and a date for hitting your goal. Then you set up an automatic recurring deposit to your Goals Account.
Now:
The Goals Account isn't a savings account.
It's more of a reserve account to hold your money until you plan to use it. Simple keeps it separate from the rest of your balance so you don't spend it accidentally.
You can set a goal for just about anything, including the creation of an essential emergency fund for unexpected expenses. You can view your savings through the app so you always know how close you are to your target.
Note: You can earn a very high interest rate when you move $2,000 or more from your Simple Checking Account to a Savings Goal.
Easy expense tracking
Keeping tabs on your expenses is a big part of budgeting.
You need to know what you're spending to make sure you're not going over-budget.
The Expenses feature makes that easier.
How?
You tell Simple which expenses are recurring each month.
Simple automatically sets aside money in reserve each payday so you're not scrambling to pay bills when they're due.
Just like Goals, you can track expenses through the app to see what's coming up.
The idea is that by saving for bills automatically, you can focus on spending the rest of your money.
If you're splitting expenses with someone, you can use a Simple Shared account to each chip in your share.
Safe-to-Spend
The Safe-to-Spend feature tells you how much you can afford to spend at any given time.
The actual amount is based on your total available balance, minus any money that's allocated to Goals or payments. The feature updates in real-time so you always know exactly what you have to spend.
That's helpful for staying on-budget.
If you want to go out to dinner with friends or take a spontaneous weekend trip, you can see instantly whether it's doable.
Analyze your finances
Another great budgeting feature is the option to categorize expenses and generate reports.
You can add photos, notes and hashtags to individual expenses.
Charts and graphs show you how spending breaks down monthly. You can also search transactions using custom labels, hashtags, keywords or by merchant name.
All of that lets you really dig into your spending and see where your money is going. 
Chime: All About Automatic Savings
Chime offers two types of accounts: Chime spending account and savings account.
The spending account is a deposit account that comes with:
Visa debit card access
Direct deposit
Mobile check deposit
Fee-free mobile payments to friends and family
Free ATM withdrawals at over 38,000 fee-free ATMs
Apple Pay, Google Pay and Samsung Pay support
Instant transaction alerts and balance notifications
FDIC-insured protection
The ability to send paper checks by mail
A cool feature included with Chime Spending Accounts helps with fraud prevention.
If your debit card is lost or stolen, you can disable it with a simple swipe in the Chime mobile banking app.
Automatic savings
Aside from a spending account, you can also open a Chime Savings Account. Chime makes reaching savings goals easier in two ways.
First, there's the Save When You Spend feature.
Every time you make a purchase or pay a bill with your Chime Visa debit card, the transaction is rounded up to the nearest dollar. The Round Up difference is transferred from your spending account to your savings account.
Second, you can save when you get paid. Chime members can automatically transfer 10% of every paycheck straight to their savings account on payday.
So do you get a great APY with a Chime Savings Account?
Not exactly. The APY is much lower compared to what you could earn with Simple.
Get paid earlier with direct deposit
Another feature Chime touts is direct deposit. You can get paid up to two days early, which is convenient.
Enrolling is easy too.
When you open a spending account, Chime gives you a prefilled form you can give to your employer to set up direct deposit for your paycheck.
Send (and receive) money for free
The Pay Friends feature lets you send money instantly to friends, family or roommates from your Chime Spending Account.
There are no fees to send money with Pay Friends.
All you need is an email address or phone number for the person you want to send money to.
If a Chime member sends you money, you can access it instantly. That's a difference from other payment apps that require you to transfer money to another bank account before you can use it.
How Do the Fees Compare?
If you want to avoid high banking fees, Simple and Chime both fit the bill.
Neither bank charges:
Monthly maintenance fees
Overdraft fees
Minimum balance fees
Debit card replacement fees
ACH transfer fees
Additionally, Chime Bank doesn't charge any foreign transaction fees if you use your debit card outside the U.S.
Simple charges up to 1% of the transaction amount for foreign debit card transactions.
Basically, Simple and Chime both try to keep banking as cost-friendly and straightforward as possible.
ATM Access
Both Simple and Chime are partnered with ATM networks that can provide widespread access to surcharge-free ATMs. 
Simple members can access their accounts using Allpoint ATMs -- more than 40,000 locations nationwide. Meanwhile, 
Chime has a network of 38,000 fee-free ATMs through MoneyPass and Visa Plus Alliance. 
So:
Customers won't pay any fees as long as they stick to ATMs in their respective partnered networks.
But, the key difference lies in out-of-network ATM access.
Simple doesn't charge a fee for using an out-of-network ATM.
Chime does, however, charge $2.50 for out-of-network ATM and over-the-counter withdrawals.
Note: Owners of the out-of-network ATMs can also impose a surcharge. Neither Simple nor Chime offers ATM fee refunds.
Both apps offer an ATM locator feature so you can easily find a machine when you need one.  
Mobile Banking
Our review has already covered the most important mobile banking features Simple and Chime offer. This is general recap of what the mobile apps provide.
Simple gives you:
Goal Accounts
Safe-to-Spend
Simple Expenses
Expense tracking
Mobile check deposit
Paycheck direct deposit
Instant in-app transfers to Simple customers
Third-party payment app integration
Debit card blocking
Transfers between Simple accounts and external bank accounts
Paper checks by mail
With Chime Bank, customers enjoy:
Automatic savings
Fee-free mobile payments
Direct deposit
Simple transfers between accounts
Paper checks by mail
Between the two, Simple is a little more feature-heavy.
But, that reflects Simple's emphasis on budgeting and banking being two sides of the same coin.
Which One Should You Choose?
The best way to answer this is to think about what you want most from a mobile-only bank.
Are you focused on tracking where your money goes?
If so, Simple might be the better choice if you want to get a clear picture of your money, from spending to saving. It eliminates the need to use a separate budgeting app to manage your finances (unless of course, you just really want to).
Having trouble building savings?
If so, Chime has an automatic savings program that could help you reach your goals with fewer speed bumps.
Free trials
Remember:
Since both Simple and Chime are free, the best solution may be to try them both.
That way, you get a feel for which one best fits your banking needs.
Compare Best Accounts Now
You might also like