SunTrust Student Checking Account Review
Learn everything you need to know about the student checking account from SunTrust Bank and compare it to similar options from other banks.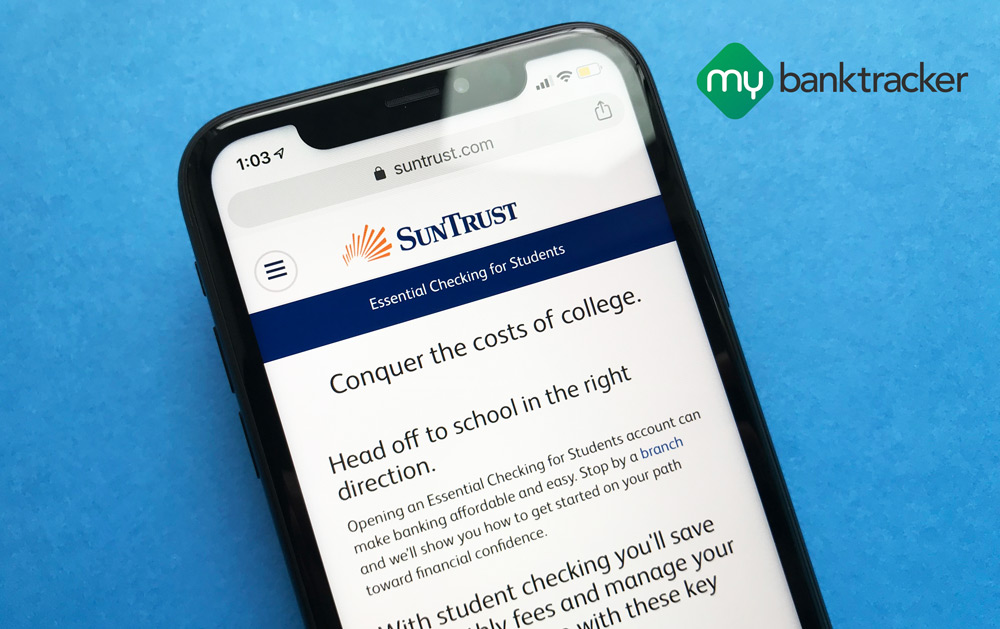 Suntrust Bank Student Checking Account
You or your child (if you're a parent) needs a checking account while in college -- its a vital financial hub during school.
On your search for a student checking account, SunTrust Bank could have come up as an option.
Possibly, it is near the college campus and/or home.
The bank offers the Essential Checking Account for Students, which is SunTrust's basic checking account with a fee-waiver clause for students.
Generally, most student checking accounts will do the trick.
But, before you go straight to opening this account, in this review learn about its fees and features to see if it's the best student checking option for you.
No Monthly Fee for Students
SunTrust Bank Student Checking Account Pros & Cons
Pros
Cons

No monthly fee for students
Widespread branch and ATM access
Easy personal payments
Mobile banking apps available

Service fees on the higher end
Doesn't earn interest
The most important part for students:
There is no monthly fee to keep the SunTrust Student Checking Account.
Again, the account is identical to the SunTrust Essential Checking Account which charges a $7 monthly maintenance fee.
SunTrust gives students a fee waiver for as long as they are a student in high school or college, for a maximum of five (5) years.
However, there is a $3 paper statement fee which may be charged each month.
You can avoid this fee by signing up for electronic statements.
Other Fees
Monthly maintenance fees are the most common type of fee you'll have to pay on a checking account.
However, there are other fees that the bank might charge.
Some of the fees that may apply to the SunTrust Essential Checking Account are detailed below.
SunTrust Student Checking Account Fees
| Type | Fee |
| --- | --- |
| Monthly Maintenance Fee | $0 |
| Monthly Paper Statement Fee | $3 |
| Non-SunTrust ATM | $3 |
| Overdraft Fee | $36 |
| Overdraft Protection Transfer Fee | $12.50 |
| Returned Item | $36 |
| Stop Payment | $36 |
| Deposited Item Returned | $12.50 |
| Domestic Wire Transfer (incoming) | $15 |
| International Wire Transfer (incoming) | $25 |
| Cashiers Check | $8 |
Zero Liability for Unauthorized Use of Your Debit Card
When you open your SunTrust Student Checking Account, you'll receive a free debit card.
You can use this card to manage your account at ATMs, making deposits and withdrawals while you're on the go.
You can also swipe the card at stores to make purchases, letting you avoid the need to carry cash.
Look:
The convenience of using a debit card can come at a price. Your debit card provides a direct line of access to your checking account.
That can be dangerous if the card falls into the wrong hands.
As a student who may have limited funds, you can't afford to lose your money (even temporarily).
Making matters worse, debit cards offer much fewer consumer protections than credit cards.
It could take days or weeks to get the money returned to your account.
Fortunately...
SunTrust wants its customers to feel comfortable when they use their debit card. That's why it offers a zero-liability guarantee for debit cardholders.
So long as you take "reasonable care in protecting your card" and promptly report the loss or theft, you will not be held liable for the charges.
Free Person-to-Person Transfers with Zelle
Here's the deal:
Students are likely to need to send money to others -- usually in small amounts.
The good part is...
SunTrust Bank gives account holders access to Zelle, a free person-to-person transfer system that lets you send money electronically.
You can send money to someone even if they haven't set up Zelle yet. All they need is an account at a bank that uses Zelle.
You can access Zelle through your phone or through a computer by logging in to the bank's website or app. When you open Zelle, you'll be prompted to enter the recipient's phone number or e-mail address. You won't need to know anything about where they bank or what accounts they have.
Once you've chosen who you want to pay, you'll be asked to enter the amount you want to send.
Hit send, and the recipient will be notified that they have a transfer waiting.
If they've already set up Zelle, the money will be removed from your account and arrive in theirs within three business days. Often, the process is even faster.
If they haven't used Zelle before, they'll be asked to set it up.
Once they have, the transfer will go through and the money will arrive a few days later.
Get 25 Starter Checks and 50% Off Your First Order
Even though Zelle is a great way to send money to people, sometimes you need to use a check.
SunTrust gets you started by offering a free package of 25 starter checks when you open your SunTrust Student Checking Account.
You can use those checks to pay bills, give money to friends, or set up direct deposit at your part-time job.
If you go through your full set of starter checks, you can get 50% off your first full order of checks. The discount also applies to customized and personalized checks.
Good ATM Coverage in the Southeast
SunTrust Bank is primarily focused on serving the Southeastern United States and Washington D.C. If you go to college in the area, you'll have easy access to most of the bank's 2,160 ATMS.
If you leave the Southeast, you'll have more trouble finding ATMs that you can use for free. You might find yourself having to use another bank's ATM, which will get costly quite quickly.
If you have to use another bank's ATM to check your balance or make a withdrawal, SunTrust Bank will charge you a fee. You'll pay $3 for each transaction at another bank's ATM if you're in the US. If you're outside the U.S., you'll pay a $5 fee per transaction.
These fees are on top of any fees charged by the ATM's owner. You could wind up paying as much as $10 or more just to make a withdrawal.
You should try not to rely on being able to visit an ATM if you're in an area without much SunTrust ATM coverage.
Convenience
The SunTrust Student Checking Account offers the convenience features you've come to expect from a checking account.
You get free access to online and mobile banking when you open the account, letting you manage every aspect of your account while on the go.
You can view your account balance, transaction history, and any transactions you've scheduled for the future.
You can also use your phone or the bank's website to make deposits and set up instant or scheduled transfers. It's entirely possible to manage the account from your phone or computer without ever visiting a branch.
The online banking portal also gives you free access to bill payment service.
You can use the service to pay your bills without having to write out and mail checks every month. Just enter the company you need to pay and how much money you owe it. SunTrust will handle the rest.
Perhaps the least convenient aspect of the account is its minimum deposit requirement.
You have to make a $100 minimum deposit to open the account. Getting that amount of money together might be difficult, so you might have some trouble getting the account open.
What Happens When You Graduate?
When you graduate or when five years have passed from the time the account was opened, the account will automatically convert to a SunTrust Essential Checking Account.
This account carries a $7 fee unless you can meet one of the following requirements:
Make 10 banking transactions in a statement cycle
Receive $500 in direct deposits in a statement cycle
Maintain a $500 minimum daily balance for a statement cycle
How It Compares
The checking account is the most common type of bank account in the United States. That's good news for you because it means you have a lot of accounts to choose from when you need to open a new student checking account.
However, it can be easy to get overwhelmed by all the options available.
When you're comparing student checking accounts, fees are the first thing to look at. You want to make sure that you won't pay any common service fees. If the account does charge a monthly fee, make sure that you can meet the fee-waiver requirements each month.
Other things to consider when comparing student checking accounts are:
ATM access
Online and mobile banking features
Easy ways to deposit and transfer funds (for parents too)
What happens after graduation
Conclusion
All-in-all, the SunTrust Student Checking Account is an average checking account without any truly significant features.
Most students can consider an online checking account that is permanently fee-free and offers other benefits such as a national network of fee-free ATMs.
Compare Best Accounts Now