How to Boost Credit Card Rewards to Fund a New Account
Many banks offer sign-on bonuses for opening a new checking or savings account. Using a rewards credit card to make your initial deposit is an easy way to double your benefits. We explain how this can be done.
With competition so fierce, banks routinely run new account promotions to attract customers. Instead of handing out free toasters, banks use the lure of free money to get people to make the switch.
If you've got a new rewards credit card that also offers a sign-up bonus if you meet the spending requirement, you may be able to kill two birds with one stone by using it to deposit money into a new bank account. MyBankTracker breaks down how to do it and what you need to watch out for along the way.
Funding that New Account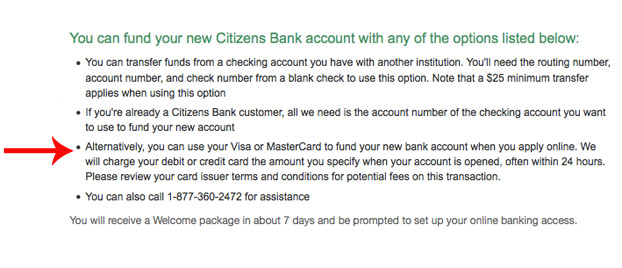 There are a few different ways you can use your rewards card to transfer money into a new account, depending on which bank is involved and how you open the account. At Citizens Bank, for instance, you can have your initial deposit charged directly to your Visa or MasterCard when you open a new account online. Bank of America allows credit card transfers to a checking or savings account to be set up as a direct deposit.
A third option is to use a balance transfer check to add money to your account. You simply write it out for the amount you want and deposit it in your account the same as you would any other type of check. Finally, you can take the card to the bank and have the teller process a cash transfer manually.
Tip: Make sure that you're using a balance transfer check, not a cash advance check to make your deposit. Taking a cash advance usually means paying higher interest and fees on the money.
Before you whip out the plastic to add money to a new bank account, you'll want to make sure any bonuses you're getting are really worth it. Taking a look at what the bank is offering as well as what you'll get from using your card can tell you whether it's the right move.
$700 Bonus Example
For example, let's say you recently signed up for a Barclaycard Arrival Plus™ World Elite MasterCard®, which pays double miles on every purchase. To get a 40,000 mile bonus, you'll need to spend $3,000 in the first 90 days after opening your account. The card offers a 0 percent APR for the first 12 months on any balance transfers you make within the first 45 days.
Now, assume that you find a checking account that offers a $200 bonus when you deposit $5,000 in the first 60 days. You use a balance transfer check to deposit the full $5,000 from your Barclaycard Arrival Plus™ World Elite MasterCard® to the account. That means you automatically qualify for the 40,000 mile bonus, plus another 10,000 miles since you get double rewards on each purchase.
Altogether, that comes to $500 in rewards, plus the $200 in free cash you're getting from the bank. As long as you pay the balance on the card off before the promotional rate ends, you've basically snagged an extra $700 without costing yourself a dime.
Purchase VS Cash Advance
Every bank is different when it comes to how credit card transfers to a checking or savings account are processed. If your future bank codes these transactions as a purchase, you're good to go and you shouldn't have to worry about getting hit with extra fees for using your card.
On the other hand, if the bank treats the transfer as a cash advance, moving the money from your card to your account is going to cost anywhere from 3 to 5 percent of the total transaction, not worth it.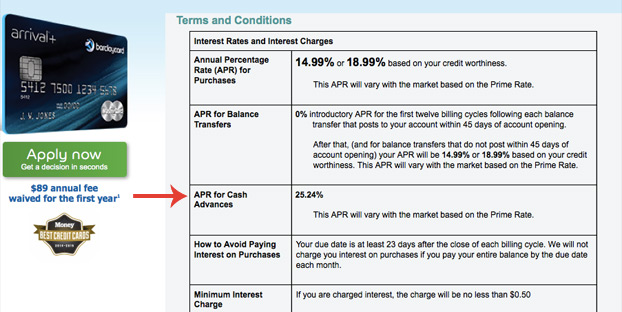 If you look at the previous example with the Barclaycard Arrival Plus™ World Elite MasterCard®, it becomes easier to see how much a cash advance can really cost you. If the bank decided to code the transaction as a cash advance instead, you wouldn't be eligible to earn any regular or bonus miles and you'd be charged a cash advance fee of 5 percent, which comes out to $250.
In that scenario, using the card to fund the new account would actually cost you $50 in the long run. Not only that, but you'd also pay an APR of 25 percent on the money, which makes it even more expensive.
It wouldn't hurt to ask your credit card company to reduce your cash advance limit to $0 if possible before attempting to fund a new account with the card.
To help you identify which of the major banks allow new account funding with a credit card and how these transactions are processed, we've compiled the information into an easy-to-digest table.
Credit Card Transfers Counted as Cash Advance
| Bank Name | Credit Card Funding Allowed for New Accounts | Maximum Deposit for Credit Card Funding | Treated as a Cash Advance |
| --- | --- | --- | --- |
| Bank of America | Yes | $250 | Yes |
| BB&T | Yes | Varies based on your card limit | Results may vary based on the card |
| Capital One 360 | No | NA | NA |
| Chase | Yes | $500 | Results may vary based on the card |
| Citibank | Yes | Varies based on your card limit | Results may vary based on the card |
| PNC Bank | Yes | Varies based on your card limit | Results may vary based on the card |
| SunTrust | Yes | $100 | Results may vary based on the card |
| TD Bank | Yes | $5,000 | Yes |
| US Bank | Yes | $500 | Deposits from US Bank credit cards are treated as a purchase, results may vary when using other cards |
| Wells Fargo | Yes | Varies based on your card limit | Yes |
The Fine Print is Key
If you've found a bank that offers a nice bonus and allows credit card funding for new accounts, don't rush to add money until you're read over all the details. For instance, it's becoming increasingly common for banks to require a qualifying direct deposit as a condition of getting a bonus so you'll need to make sure you're able to set one up once you've opened on account.
The other thing to look out for is the minimum balance requirements. Unless you're going with an online bank, you'll typically be required to keep a certain amount of money in your account, either on a daily or monthly basis, in order to avoid a triggering a minimum balance fee.
If you're only opening the account to get the bonus and you're not planning to use it, you could end up in trouble if the bank piles on monthly maintenance fees. These can push your account into the red, which means you're also looking at additional overdraft charges.
Final thoughts
Using a rewards credit card to fund a new account for the bonus is a really simple way to get more mileage out of your card but only if you know what the are rules going in. Otherwise, you're only going to be costing yourself money unnecessarily.