Banking Goes Mobile Despite Concerns on Security
With 23% of mobile phone user's activity performing mobile banking in the US, it has become an important venture not only for the banking industry, but the cellular companies as well. For consumers it's safe to say adapting this form of banking will take time, but as more users begin to leverage their phone for financial needs, ensuring we are doing so safely is the right step to success.
The Street posted an informative article today that educates consumers on what is available to them now and what they should be aware of as they begin their journey into mobile banking. Currently Bank of America® and Citibank are in the forefront of offering cellular access to your bank accounts.
Each bank took a different approach, with Bank of America® leveraging WAP technology, by designing a mobile website that is accessible on pretty much all cell phones. For you iPhones and iPod Touch users they chose to even create a separate application (downloadable from the APPs store on iTunes). Citibank took a different approach requiring their users to download special software by signing up at your nearest branch or online.
Earlier we spoke of cellular companies, and among them we see AT&T leading the group by providing similar mobile banking programs for a number of banks: 1st Bank, American First Credit Union, Arvest, Bancorp South Carolina First and Mercantile Bank, SunTrust, Synovus and Wachovia.
Whenever using these services, make sure to monitor your Data Plan. Not all services offer unlimited data transfer like the iPhone. Check with your service provider before you begin mobile banking.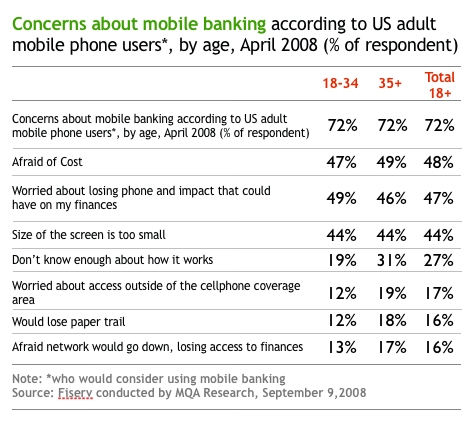 The chart above shows the concerns US mobile users have with banking on their phone. Trust us when we tell you the Banks are worried to. Security is at the upmost importance and companies like Symantec are constantly working to make sure that the cellular banking information you send and receive is safe.
The Street ends their article with a great point for those who currently do or are considering starting their mobile banking experience – "making sure to have a secure password every time you try to log in to your account. There are some online banks that actually scramble the position of on-screen letters and numbers so that no one can accurately copy your keystrokes from a distance."
MyBankTracker would like to hear about any of our readers experience with mobile banking, by posting your comments below.
Ask a Question