My Bank Tracker launches widget "Best bank rates 1.0"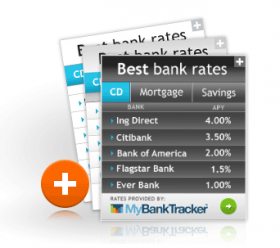 My Bank Tracker is excited to announce the launch of their brand first "Best Bank Rates 1.0" widget. Users can add the widget to their web or blog pages to keep up with the latest bank rates.
The widget is customizable to your standards and preferences. Bank rates are updated automatically. No need to check-in or retrieve new rates! Top rates include CDs, mortgages and savings. To add this new dynamic feature to your pages click here.
Ask a Question