Obama Reigns Supreme in a Decisive Victory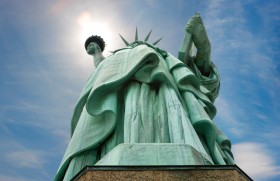 How Does America and the Rest of the World Take It?
As his former rival, conceding defeat aptly puts it, "The American people have spoken, and spoken clearly." After a long and hard-fought campaign, the final votes are in; Sen. Barack Obama, a 47-year old first time senator from Illinois, emerges victorious as the country's 44th president. Change, as many of his supporters would like to believe, has indeed come to America.
Speaking to an audience of about 125,000 in his hometown Chicago, he said, "…Americans have sent a message to the world that we have never been just a collection of red states and blue states. We have been and always will be the United States of America."
In a decisive final tally of 338 electoral votes for him to John McCain's measly 141, this day marks a defining moment for African Americans, with Obama being the first black president in the history of the US. Not only that, the Democrats now hold the majority for both the House and the Senate, just falling short of a 60% "supermajority" they had hoped to achieve. All in all, it is a day of jubilation for Democrats and especially, Obama followers.
When the confetti is swept away, and the resounding roars of victory eventually die down, the question remains, however: what really has newly-elected Obama won himself into?
The change that has been his battle cry from the very beginning, will be sorely put to test in the next few weeks even as he is bound to start his term still in about 2 and a half months. Change, that many people dare to hope, will come sooner than later.
The fact that people have more confidence in him to be able to see the country through the present crisis is one of the main reasons why Obama was able to clinch the presidency, and convincingly at that. Surveys show that half of the voters thought that the economy was in a poor state, and he got two-thirds of those voters. Moreover, eight out of ten voters were apprehensive that the current state of the economy would also affect their personal finances and families, and Obama managed to get the votes of almost 60% of these people.
Translating this vote of confidence into actual economic acceleration however, is easier said than done. The past few months have seen America go into a dire financial crisis – one, in fact, that hasn't been seen for the last 70 years.
Pages: 1 2
Ask a Question