Michigan Recession Continues to Deepen Reports Comerica Bank's Michigan Business Activity Index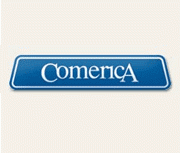 Comerica Bank's preliminary September Michigan Business Activity Index fell 1 point, to a level of 85. The Index is currently 1 point below August's revised level of 86. September's advanced figure is the lowest level in 14 years. Compared to a year earlier, the September Index is down 9 points on balance. Over the first nine months of 2008, the Index has averaged 4 percent below the average for all of 2007.
"Even before the worst of the credit crunch slammed the national economy, our index shows the Michigan economy contracting again in September," said Dana Johnson, Chief Economist at Comerica Bank. "With most national numbers worsening dramatically in October, the drag on the Michigan economy almost certainly will get more intense over the next several months, particularly given the emerging cutbacks in the Michigan-based auto sector."
The Michigan Business Activity Index equally weights nine, seasonally-adjusted coincident indicators of real economic activity. These indicators reflect activity in the construction, manufacturing, and service sectors as well as job growth and consumer outlays.
Ask a Question