Bank of America & JP Morgan Chase: Two Giants Floating Atop Financial Crisis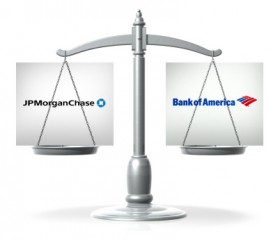 Bank of America® and JP Morgan Chase — two of the US' top banks, and now both in the limelight.
Aside from having equally received a huge chunk of the $700 billion government bailout plan, $25 billion each to be exact, the two banks have also been rather busy lately expanding their respective financial empires with a series of takeovers and mergers involving no less than once-mighty names in the banking and investments industry: Bear Stearns and Washington Mutual, Countrywide Financial and Merrill Lynch.
While apparently both B of A and JPMorgan smell a good deal a mile coming, this still begs the question: Who got the better deals? And more importantly, which bank is better poised to face the seemingly worsening economic situation?
Banking Facts and Figures
Bank of America® (NYSE: BAC)
Bank of America®'s company profile is impressive, to say the least. Along with Citigroup and JPMorgan Chase, it ranks as one of the largest banks in the US by assets, and has over 6,100 branches spread out in 30 states from coast to coast.
The bank also boasts of an extensive range of services starting from its Global Consumer and Small Business Banking (GC&SBB) division, which is the company's largest division, dealing mainly with consumer banking and credit card services. Bank of America®'s GC&SBB organization comprises over 5,700 branches and 17,000 ATM's across the country, and accounts for more than 50% of the bank's total revenue.
Its corporate business, the Global Corporate and Investment Banking (GC&IB) group, offers mergers and acquisitions advisory, underwriting services, capital markets, and sales and trading in fixed income and equities markets.
Similarly, with its investment banking division, Global Wealth and Investment Management (GWIM), B of A offers asset management for both individuals and institutions. Its client portfolio includes 98% of the Fortune 500 companies in the US and 79% of the Global Fortune 500. As a matter of fact, it was ranked among the 10 largest US wealth managers in 2005.
Its recent acquisition of investment institution Merrill Lynch which is known for its extensive retail brokerage network should strengthen Bank of America®'s investment banking and brokerage business outside the US and help realize its goal of being one of the top investment banks worldwide.
JPMorgan Chase & Co. (NYSE: JPM)
Far from being outdone, JPMorgan Chase currently holds the distinction of being the largest banking institution in the United States by deposits and market capitalization with almost $2.0 trillion in assets, and is also one of the oldest financial services companies operating in the US today.
Just like Bank of America®, JPMorgan Chase's history is dotted with mergers and acquisitions, before it achieved its current name from the year 2000 merger of two huge financial institutions, Chase Manhattan Bank and JP Morgan & Co.
The company now serves millions of consumers in its US retail banking division and credit card services, which continue to use the Chase brand. On the other hand, the JPMorgan brand is used by the Investment Bank as well as the Asset Management, Private Banking, and Private Wealth Management divisions, catering to prominent corporate, institutional and governmental clients.
JPMorgan's highly-publicized takeover of once the largest savings and loan bank in the United States, Washington Mutual Savings Bank in Sept. 2008, served to further beef up its consumer business, with WaMu's more than 2,200 branches which are located in areas where JPMorgan was virtually non-existent: California and Florida.
Recent Developments
Despite general worries of the US economy's dire state, both Bank of America® and JPMorgan Chase found perfect opportunities to further establish themselves as the country's premier banks by taking over financial institutions that have been hit hardest by the credit crunch.
Bank of America® set the wheels in motion with its acquisition in January 2008 of Countrywide Financial, one of the country's largest mortgage lenders but one of the first to succumb to the subprime mortgage crisis. The deal was closed at $7.16 per share or $4.1 billion, just one third of Countrywide's tangible book value at that time.
JPMorgan Chase followed shortly in March 2008 by acquiring financially besieged Bear Stearns, the fifth-largest investment bank on Wall Street, for a song. While the initial $2 price per share was later revised to $10 per share, considering that Bear shares were valued at $70 per share just a few days earlier, JPMorgan still closed the deal at a basement-bargain price.
JP Morgan also made history in late Sept 2008 by taking over Washington Mutual in a $1.9 billion deal – a huge discount from the initial $8 per share it offered to WaMu earlier in March, which the latter refused at that time.
Just days earlier, on Sept. 15, news of Merrill Lynch's selling itself off to Bank of America® in a $50 billion all-stock transaction also generated much buzz in the financial industry, especially so soon after Lehman Brothers' filing for bankruptcy.
On hindsight however, what appears to be as much of a surprise as Merrill Lynch's failure, is the fact that despite the investment house's obvious financial distress, Bank of America® actually paid a premium to Merrill's book value – a move that many view as totally unnecessary (they could have waited a day or two to make a killing), and without the Fed's backing at that.
This move by B of A makes the Merrill transaction an obvious exception from the other three mergers. On a positive note however, the deal is still to be concluded sometime in 2009. Since this is an all share deal, and with stocks continuing to plummet, the actual transaction value could go much lower than the original $50 billion price by that time.
To the Victor Goes the Spoils
With the recent mammoth acquisitions of the two banking giants and the Treasury's not-so-subtle backing, Bank of America® and JPMorgan Chase are definitely geared up for the long haul. By building up on areas where they can do better, both have managed to make priceless moves to entrench themselves as forerunners in the financial industry.
While there emerges no obvious victor as of the moment, JPMorgan appears to have gotten the greater advantage in its recent acquisitions.
But don't count Bank of America® out just yet. Bank executives are confident that in time, the hefty price tag that came with the Merrill Lynch deal will pay itself off.
Well, we would all find that out too…in time.
Ask a Question