HSBC vs. ING: A 'Direct' Comparison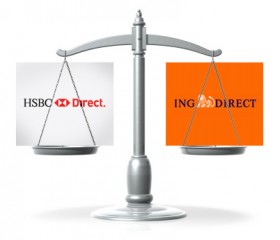 The Top Online Banks Just a Click Away
Online or internet banking is not a new concept to many people nowadays. While some are still more comfortable with the brick-and-mortar banks, a growing number of consumers today are also adapting to the more convenient method of handling one's finances which is through online banking.
Plus, an online bank ideally offers higher yields and lower fees because it is able to do away with overhead expenses normally maintained by the traditional bank. Everything is transacted online, through the phone, or by mail.
Two banks in particular, ING Direct and HSBC Direct have lorded it over other virtual banks in terms of customer base and overall client satisfaction.
ING Direct has been one of the forerunners in the virtual banking industry, having started operations since the year 2000. Backed by parent company ING, a global financial institution, ING Direct serves over 6 million clients in the US and has 15 million more clients in over 50 countries all over the world.
HSBC Direct on the other hand, is a fully-owned subsidiary of the HSBC Group, which boasts of 10,000 offices in 82 countries spread out across Europe, in the Asia-Pacific region, the Americas, Middle East and Africa.
Rates, Products and Services
ING Direct offers various savings accounts and investment options to suit the needs of the average consumer. The more popular of ING's products are the Orange Savings which currently offers 2.75% APY, the Electric Orange, an interest-earning checking that could give 1% to up to 3.25% APY depending on the account average balance, and the Orange CDs which is offering up to 4% APY for a 12-month investment.
Aside from these, ING Direct also offers stocks and investment options, business savings accounts and CDs, and mortgage loans.
HSBC Direct as well, offers an array of pretty much standard products and services. The bank has classified its products into four major categories: Online Savings Account, Online Payment Account, Online CD Account and Credit Cards. HSBC right now offers a rate of 3% APY for its Online Savings Account, 2.25% APY for the Online Payment Account and 4% APY for a 6-month Online CD Account.
HSBC or ING?
The question as to which is the better online bank has spawned a number of interesting discussions over the internet. Both banks have already a steady following of clients, most of whom have their own reasons for staying with the bank of their choice.
In some aspects, the two are evenly matched up. ING and HSBC both do not require minimum balance requirement, charge no fees, and take about the same time in bank account transfers.
On other features though, one may tend to pull ahead of the other.
High Yield vs. Customer Service
The best thing about HSBC Direct is that it consistently offers higher yields than that of ING. With rates currently at 3.00% for HSBC and 2.75% for ING, HSBC would definitely score points with consumers who are continually shopping around for the best options for their everyday funds and hard-earned savings.
Longtime patrons of ING Direct on the other hand, are very comfortable with its superior customer service – an aspect that can make many clients look beyond the lower interest rate and give ING their vote of confidence.
Other services
Clients also claim that opening an account with ING Direct is a simple process that requires only basic info gathering and identity verification. With HSBC on the other hand, the procedure is much more tedious and requires the client to wait for his passwords which are sent through the postal service. Quite ironic for an online bank; but this is of course, done for security purposes.
Being online banks, websites and online banking user interface also count for a great deal with bank costumers. In this regard, ING also emerge as the better choice, with its user-friendly and straightforward interface. HSBC however, claims the upper hand when it comes to ATM service with its extensive network of bank-owned ATM machines.
Final thoughts
So, who should get the consumer's vote? Ultimately, the choice would always boil down to what the client looks for in a virtual bank. While choosing the one with a higher rate for investment returns may be a no-brainer for some, there are others who would still go for the bank with the better "personality" regardless of the slight difference in earnings.
It's all up to you: HSBC Direct or ING Direct?
Ask a Question