Take Advantage of Year-End Tax Tips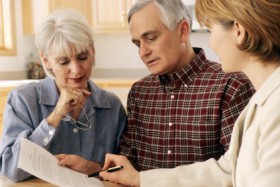 In the 1966 Beatles song of the same name, the "Taxman" matter-of-factly lists his fees:
If you drive a car, I'll tax the street.
If you try to sit, I'll tax your seat.
If you get too cold, I'll tax the heat.
If you take a walk, I'll tax your feet.
So far, our seats and feet have yet to be taxed, but this may be cold comfort come next spring when you find out what you owe to the IRS. To lessen some of your upcoming tax burden for 2008, take these proactive steps before the end of the year:
Donate to Charity
In addition to helping those in need during this lean holiday season, making a charitable donation before the end of 2008 lets you claim additional deductions on your taxable income. You'll need to itemize on your taxes in order to obtain the benefits of these deductions. If you plan to make a cash, credit card or check donation, hold on to your receipt. Come tax time, you'll be required to document any deductions from charitable gifts. If you donate items such as clothing or toys, deduct their fair market value on your taxes as well. Be aware, however, that any amount over $500 is subject to strict listing requirements.
You can also donate appreciated stock you've owned for at least a year. Doing so will double your tax benefit, allowing you to escape a capital gains tax on appreciation as well as deduct the full market value of the donated stock. Even better, you won't pass the taxes onto the charity receiving it.
If you're able to donate $5,000 or more but haven't decided where it should go, you can put off this decision until 2009 or later and still get a 2008 deduction by starting and adding to a donor-advised fund by December 31. Donor-advised funds should be set up by your financial services planner and will allow you to deduct this year's fund contributions on your tax return. In addition, you can contribute to this fund using cash, mutual funds, stocks, bonds or real estate.
Sell Off Losing Stocks and Prepay Some of Your Bills
If your stock portfolio proved to be a stinker this year, sell the losers in order to prevent paying capital gains taxes on stocks that have appreciated (earned you money) in 2008. If none of your stocks increased in value this year, you can still use up to $3,000 of these stock losses to offset regular income.
Another good idea, courtesy of TurboTax.com, is to prepay some of your early 2009 bills before the end of 2008 in order to include them as deductions on your tax return. For example, pay off an upcoming mortgage payment or schedule a doctor's appointment or medical procedure not covered by your insurance before the end of the year.
Take Advantage of Limited-Time Tax Breaks
Due to the economic downturn, the government has extended some recently expired tax breaks through 2009. These include a college tuition deduction for up to $4,000 and a write-off for teachers and aides who purchased out-of-pocket classroom supplies for up to $250. These deductions can be taken regardless of whether you itemize. Another extended tax break is for itemizers only, allowing taxpayers the choice of deducting either their state income tax or state sales tax on their federal tax return. Another tax break you may be able to take advantage of expires at the end of 2008. Known as a bonus depreciation deduction, it allows taxpayers who bought a new car this year and use their vehicle for business driving to deduct depreciation amounts of up to $10,960 (for cars) and $11,160 (for light trucks and vans).
A new limited-time tax break signed into law this year is the housing bailout bill, which makes first-time home buyers between April 9, 2008 and June 30, 2009 qualified for a tax credit of up to $7,500. This credit, however, is considered an interest-free loan that must either be repaid over the span of 15 years or is due immediately if you move, so don't use it if you don't need it. Also, it only applies to single taxpayers making no more than $75,000 per year or joint filers making no more than $150,000 per year. Finally, homeowners who don't itemize can deduct an additional $1000 (for joint filers) or $500 (for single taxpayers) from the standard property tax deduction through 2009.
Ask a Question