Chase is now in California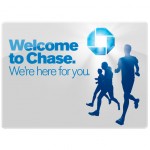 Chase, via the acquisition of WaMu, is now in California. In order to retain WaMu's customers, they are entering this market with a big educational campaign to highlight their products and services. Check out the new chase landing page for California customers.
About Chase: Chase is a large financial institution that provides many products and services to suit just about any personal or business customer's needs. The supply mortgages, credit cards, savings and checking accounts among other financial products and services.
WaMu had financial trouble via the credit default swaps that plagued many large banks and insurance agencies, such as AIG.


Ask a Question