My Bank Tracker Launches iPhone Web App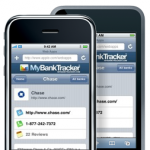 The My Bank Tracker team is proud to announce the launch of their mobile, iPhone web app. Recognizing the large scale of detail and offerings our site brings to the average web browser, a simpler version was needed for our mobile web users. Quietly rolled out last Thursday, it has already scored a Staff Pick from the Apple Team. You can check it out by typing mybanktracker.com into the iPhone Safari browser to experience a mobile friendly version of the site that offers top rates across CDs, Savings, Mortgages, and Checking.
Users can also search for every bank we track to get a snapshot of their current rates, user ratings as well as the customer service number and website information.
So, if you own an iPhone or iPod Touch make sure to visit us and let us know what you think. Much like the site we are constantly making upgrades to better serve you the user and any insights you may have or want to share are always welcomed.
Ask a Question