Banks Are Catching the Twitter Bug
Sure, you've heard about Twitter. You've most likely heard about famous celebrities all a-twittering, blogs and websites having their own Twitter following, and you're probably a big fan of Twitter yourself. Practically everyone has jumped on the bandwagon of this year's social networking phenomenon called Twitter. But…banks on Twitter?
Update: To follow banks on twitter, check out: Bank Twitter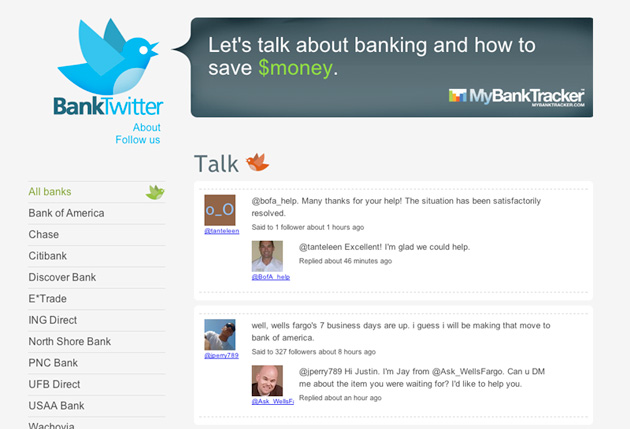 For the few of those who may have not been kept up-to-date on the latest big thing to hit the Web 2.0, Twitter is basically a micro-blogging site. A person on Twitter sends out "tweets" of 140 characters or less, telling others what he is up to, and at the same time pointing to an URL in the internet using tinyurls. A simple concept yet truly powerful.
But if you think that Twitter is just good for personal updates, and has no place in the financial and business industries, you'd be in for a neat surprise. Politicians, business executives, big companies, yes, even banks, are now making their presence felt in Twitter.
Data from Online Banking Report dated March 13, 2009 shows that as of that time, there were 15 US banks and 22 credit unions actively using Twitter. And that's not counting the rest of the banks who may have set up their own Twitter feeds within the past couple of months.
Among the big banks which have joined the foray into Twitter are:
| Bank | twitter nickname | Notes |
| --- | --- | --- |
| Wachovia | @wachovia | Great for customer service and resolving issues |
| Bank of America | @bofa_help | Great for customer service and quickly reacts to customers' issues and questions |
| Wells Fargo | @ask_wellsfargo | Help with basic banking questions and give advice |
| ING Direct | @ingdirect | Used for customer service and is very social and responsive to the tweets |
| North Shore Bank | @northshorebank | Used for announcing latest deals and news |
| Chase Bank | @chasebank | Mainly used to announce fixed loan rates |
| First Federal | @firstfederal | Annouce tips, facts, and events announcements |
| Citi Bank | @citi_forward | Used to post tips and to promote volunteering for your community and going "green" |
| Fidelity Bank | @fidelity_bank | Used to announce news, latest deals, and music events |
| Banco Popular | @BPNA | Inactive |
| Webster Bank | @wesbterbank | Announced a few deals but mostly insactive |
| Etrade | @etradebaby | Used mainly for the marketing of the ETrade Baby |
| USAA Federal Savings Bank | @usaa_news | Customer service and news for the military community |
| UFB Direct | @ufbdirect | Announce latest CD rates |
| Discover Bank | @discovercard | Post financial news and Discover Deals |
| RBC Bank | @rbcbank | Protected updates and mostly inactive |
| Zions Bank | @zionsbank | Inactive |
| PNC Bank | @pncbank | A few announcement but has been inactive for over a month |
| Ever Bank | @everbank | Inactive |
| Citizens Bank | @Citizensbanker | Used mainly to socialize but has been inactive for half a year due to lay-offs by the bank |
| UBS Bank | @ubs | Used to post banking and financial articles |
| UMB Bank | @UMBFinancialCor | Used to post news and articles |
| Goldman Sachs | @GS_NEWS | Used for posting latest financial headlines and links |
| Silicone Valley Bank | @svb_financial | Financial blogs posts and news feeds |
| Royal Bank America | @SpurTheEconomy | News, updates, and advice |
A quick check of these banks' Twitter sites show that some of them are using their Twitter accounts purely to promote bank products and announce updates on the latest bank deals, and some are also actively using the social networking site as a way of keeping in touch with and responding to customers' concerns.
While many bank customers still have to get used to the idea of "twittering" with their bank representatives, the few who do may actually find the service helpful. Wachovia, Bank of America, and Wells Fargo, which are using the micro-blogging media as an extended customer service platform, are enjoying larger numbers of followers.
Wachovia (now owned by Wells Fargo) was the first among these banks to use Twitter as a customer support channel (August 2008) and now enjoys a following of more than 3,000. Bank of America and Wells Fargo have over 1,000 followers each. Chase and Citibank on the other hand, which utilize the site purely for marketing purposes, just have a few hundred following their Twitter updates.
Due to the limited number of characters allowed however, solving customers' problems sometimes require more than just shooting tweets back and forth. Some of the customer service interaction will involve the client giving out his contact info to the bank representative, and then waiting for that call. Not as quick a response as others may want but then again, that still beats listening to elevator music while being put on hold.
Ask a Question