The New Citi Forward Credit Card: Great Rewards for the Responsible Cardholder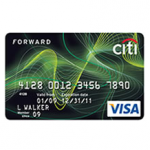 Citibank very recently came out with its Citi Forward credit card, a VISA branded card that's loaded with sign-up bonuses, reduced rates, and a new twist that's only been heard of now – bonus points for good paying habits. In fact it's being promoted as "the first credit card of its kind — the only credit card that rewards consumers for using credit wisely."


Here are the basic features of the Citi Forward cards:
6,000 bonus points when you make $50 worth of purchase within 3 months;
5,000 bonus points when you switch to paperless statements within 3 months;
0% APR for the first 6 months – applicable to purchases and balance transfers (although there's a 3% balance transfer fee);
No annual fee
5 rewards points for every $1 spent on books, movies, music, and dining out in restaurants
1 rewards point for $1 spent on all other purchases.
And here are the bonus incentives for the wise and responsible consumers:
100 bonus points for every billing cycle that you stay within the credit limit and pay at least the minimum amount on time;
A 0.25% quarterly reduction of APR for staying within the credit limit and paying on time for three billing cycles in a row.
*Note: The interest rate reduction is limited to 8 times, for a total of 2% possible reduction in APR for the duration of the card.
Partnering with MySpace, Citi also presents the Citi Forward by MySpace which offers the same perks as the regular Citi Forward cards plus additional bonus points for doing socially responsible tasks such as volunteering, sharing canned goods to local food drives, switching to energy efficient lighting, and the like.
Ask a Question