FDIC Insurance Limit of $250,000 Extended Until 2013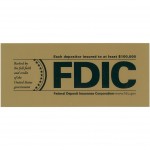 Even as the FDIC oversaw the closures of two more banks last Friday (the 35th and 36th for this year), it also made a special announcement a few days ago regarding consumers' insurance coverage. The actual text from the FDIC website reads:
"May 20, 2009
Deposits at FDIC-insured institutions are now insured up to at least $250,000 per depositor through December 31, 2013. On January 1, 2014, the standard insurance amount will return to $100,000 per depositor for all account categories except for IRAs and other certain retirement accounts which will remain at $250,000 per depositor. (This supersedes the October 3, 2008 changes.)"
It can be recalled that the rise in insurance coverage from $100,000 to $250,000 was made effective last October 3, 2008 in light of the successive bank closures that hit the country last year. While the new insurance cap of $250,000 per deposit account is supposed to expire come December 31, 2009, this notice effectively extends the raised limit for another four years.
Ask a Question