Top CD Rates For The Week June 29, 2009
For the most part, bank CD rates went down last week, although some banks did up their rates by a few percentage points. On the whole however, CD rates have continued their steady decline as has been the trend for the past weeks.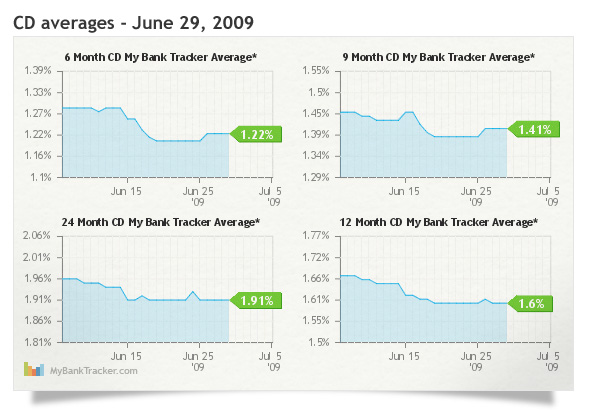 As you may notice below, none of the country's biggest banks appear on our best CD rates list. Smaller banks and online CD rates are giving consumers the best yields for their money today in an otherwise bleak savings scenario.
Here's a rundown of some of the highest CD rates currently being offered nationally:
6-month CD
Of the banks featured here in MyBankTracker, those giving out CD rates above 2% for a 6-month term are practically non-existent. The closest that you can get is the 1.90% APY both offered by ADB Bank and Corus Bank. Note however, that to avail of these rates, you need to deposit a minimum of $5,000 and $10,000 respectively.
Other good options would be Ascencia Bank with 1.86% APY for at least $500 and Ally Bank, offering 1.85% APY with no minimum deposit required. On a side note, Ally Bank's 9-month no-penalty CD available at a rate of 2.15% APY and $0 minimum is also worth waiting another 3 months for.
12-month CD
While our national average for 1-year CD rates is also well below 2% APY, there are still some pretty decent rates available if you look closely enough. Amboy Direct is offering 2.35% APY for a $10,000 deposit. Ally Bank and Discover Bank come in at close second with both giving 2.30% APY but requiring much lower minimum amount – $0 for Ally and $2,500 for Discover.
24-month CD
Discover Bank's 2.65% APY for a $2,500 deposit is the best CD rate for the 2-year term. It's also worth mentioning though, that for just $1,000 minimum deposit, Capitol Federal Bank also gives a good deal at 2.60% APY.
36-month CD
Of all the banks we track here, only few are able to breach the 3% APY mark when it comes to bank CD rates for a 36-month terms. Intervest National Bank gives the highest return at 3.10% APY for at least $2,500 deposit. Discover Bank and Capitol Federal Bank are way above the average CD rate as well, at 3.05% APY.
48-month CD
New York-based Intervest National Bank again gives the best CD rate for this long term CD, offering 3.55% APY for a $2,500 minimum deposit.
To know your bank's rates, or find other good CD deals just right for the amount and term you have in mind, check out our CD rates page.
Ask a Question