CD Rate Averages Continue To Slide But Top Bank CD Rates Hold Steady
It remains to be a dismal week for CD savers with CD rates resuming their descent towards even lower levels. Of the banks monitored daily by My Bank Tracker, the CD rate average for all CD terms went down, albeit by only a few basis points.
The 6-month CD rate average had the lowest decrease, going down only by one basis point from 1.22% to 1.21%.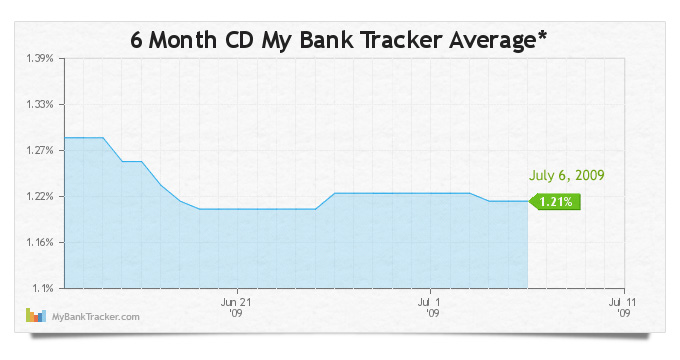 The 12-month CD average fell by 3 basis points from 1.60% last week to 1.57% this week. This could be due to the fact that Ally Bank and Discover Bank both decreased their rates from 2.30% to 2.25% APY for Ally and 2.20% APY for Discover.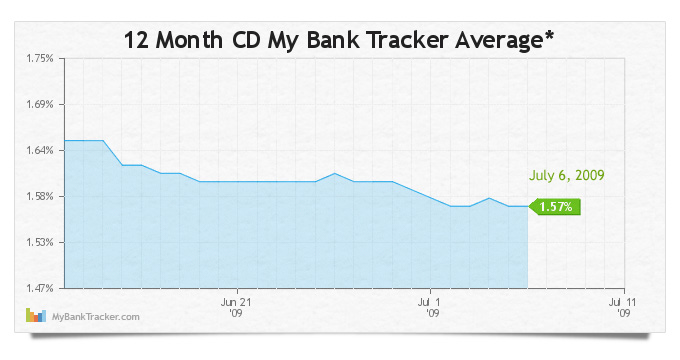 The 24-month CD rates also dipped slightly from 1.90% to 1.88%. One factor that may have contributed to this slight decrease could be Discover Bank's lowering of their 24-month rate from 2.65% APY last week, holding the top CD rate spot, to 2.50% this week.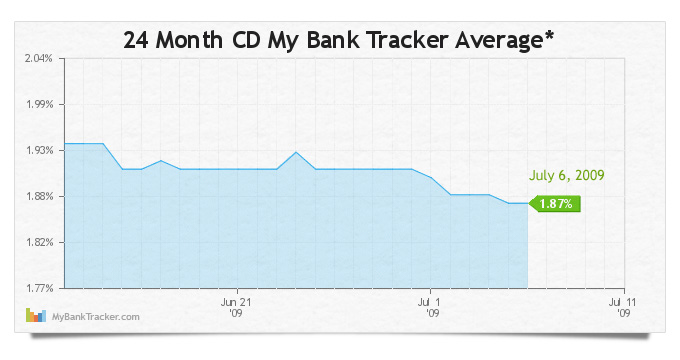 CD rate averages for 36-month CDs and 48-month CDs also went down from 2.20% to 2.16% and 2.50% to 2.47% respectively.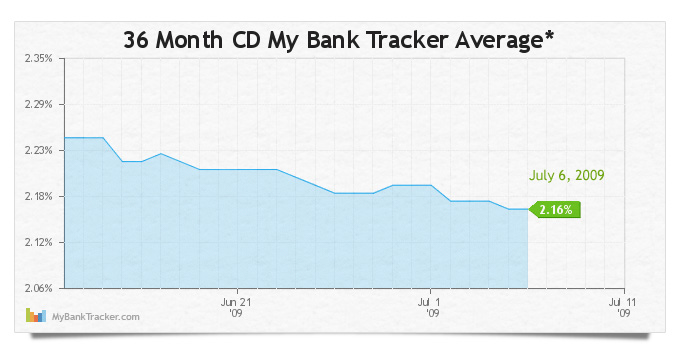 The Federal Reserve is bent on keeping interest rates very low until the country is clearly out of recession. Under this scenario, the Fed may opt to continue lending banks at near-zero interest rates in the next few months. This also means banks won't be in need of much cash from consumers and can therefore give as low savings and CD rates as they want to.
On a more positive note, despite the downward trend of CD rate averages, banks which have been giving the highest CD rates have held on steady to their rates this week with only a single exception.
For 6-month CDs, ADB bank continues to give way above the national average with an APY of 1.90% for a minimum of $5,000.
Amboy Direct still gives the highest 12-month CD rate of 2.35% APY. To avail of this rate however, you do need to put in at least $10,000.
The best 24-month CD rate for this week is Capitol Federal Bank's 2.60% APY, unseating Discover Bank which dropped its CD rates. Only $1,000 minimum is needed to open.
Intervest National Bank and Discover Bank tie for highest CD rates for the 36-month CD, both of them offering 3.10% APY for a minimum deposit of $2,500.
For 48-month CDs, Intervest National Bank again is giving the highest yield, maintaining its 3.55% APY, which is way higher than the 2.47% APY national average as computed by My Bank Tracker.
Ask a Question