Best CD Rates For July 13, 2009 – Same Banks, Some New Rates
With the exception of Onewest Bank which joined ADB as the banks with the highest CD rates for the 6-month term, and Discover Bank which dropped off the list after lowering its CD rates (mostly) by 0.10% last week, My Bank Tracker's roster of banks with the highest CD rates for the week starting July 13 remains largely unchanged.
This week's CD rates, at least for the banks included here, also saw relatively minor changes with yields for the 6-month, 12-month, and 24-month CDs staying put at 1.90% APY, 2.35% APY, and 2.60% APY respectively. For the 36-month and 48-month terms, the top CD rates both went slightly downwards from 3.10% to 3.05% for the 3-year CD and 3.55% to 3.50% for the 4-year CD.
Here's the complete list for this week with a graphical comparison of how the CD rates match up against the national CD averages as followed by My Bank Tracker.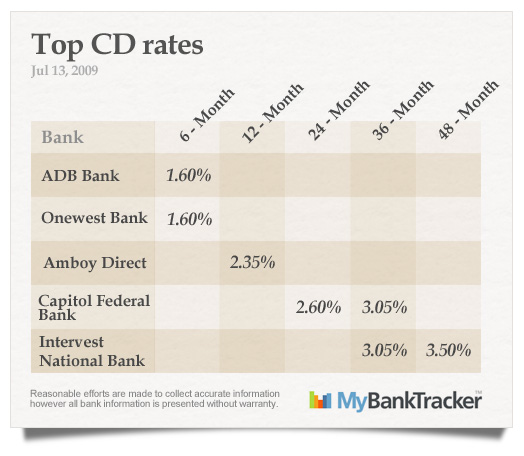 For more choices of the best CDs vailable in your area and online CD rates, check out our CD rates page.
Ask a Question