ING Direct Vs Ally Bank: Comparing Two of Today's Top Online Banks
Pitting ING Direct vs Ally Bank should yield some interesting results. ING Direct has been one of the pioneers in the online banking industry and has been consistently named as one of the top online banks since it started operations in the country.
UPDATE (8/8/11): Click here for an updated comparison of ING Direct and Ally Bank.
On the other hand, then-GMAC Bank (now Ally Bank) was converted into a bank holding company only last year. Then last May, GMAC Bank rebranded itself into Ally Bank in an attempt to move away from the less-than-impressive image of troubled automaker General Motors. Since then, it has touted itself as being a bank that has no "fine print" or the hidden fees and penalties that has been the source of much consternation from bank customers lately.
Interest Rates and Deposit Products
Some of the most recent feedback on ING Direct that we've come across lately has been a growing dissatisfaction for its declining interest rates. Many customers who have been banking with ING for years now would like to stay with ING as much as possible, but this isn't to say that they haven't been tempted by the higher rate offerings from other online banks, one of which is Ally Bank.
In a rate-for-rate comparison of ING Direct vs Ally Bank, the latter comes out ahead in all products: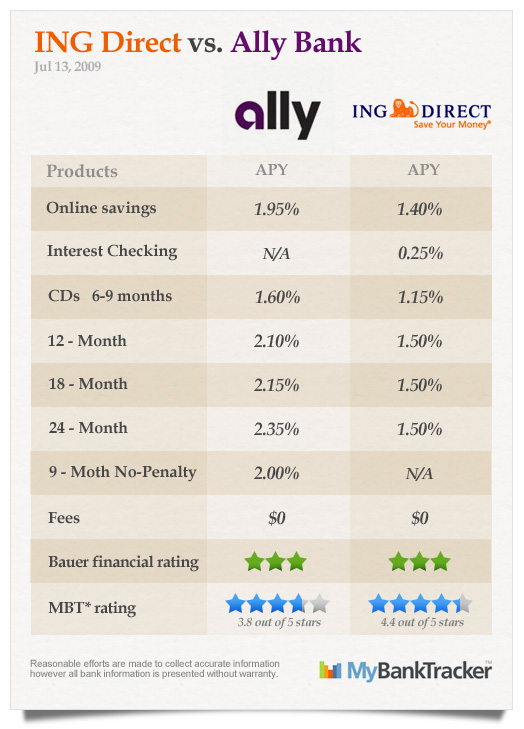 Note that Ally Bank doesn't actually offer any checking account but has a Money Market account that comes with a checks and a check card. As for ING Direct, its Electric Orange Checking is one of its most popular products and earns a respectable 1.65% APY for balances over $100k. Both banks require $0 minimum to open and charge no fees.
Stability
When we talk of choosing the right bank these days, a bank's stability always comes into play. While ING Direct's parent company ING Group N.V. is known as one of the world's largest companies, and there is no question as to how established this financial institution is, Ally Bank is still struggling from the stigma of being associated with the bankrupt automaker.
Some consumers are in fact, quick to assume that Ally Bank is in trouble simply because it used to bear the initials GM, but there is really no valid basis for this. The reality is, GMAC Financial, Ally Bank's parent company, has been operating separately from General Motors since 2006 when GM sold its majority stake in GMAC to Cerberus Capital Management.
Now that some light has been shed on that common misconception, it's also worthwhile to remember that you can still rest easy whether you go for any of these two banks because both are FDIC insured. As long as you keep your account within the $250,000 limit, there's no way you'll lose your money.
Customer Service and Overall Client Satisfaction
If there's one thing that can make up for ING Direct's recent low interest rates, it would be the bank's excellent service. ING depositors have nothing but praise for the bank's customer service support and the professionalism that customer representatives exhibit when handling client issues.
Feedbacks for Ally Bank's customer service on the other hand, were mixed. Many of Ally's long time depositors and even new ones have expressed satisfaction with the bank's service but there were some complaints of bank errors that were not immediately resolved. Notwithstanding the handful of Ally customers who weren't exactly happy with their interaction with the customer service support, many still feel that the bank is worth a try if only for its competitive rates.
Visiting the websites of both ING Direct and Ally Bank, you will be pleasantly surprised to see user-friendly interfaces that were designed for a simple, visually-appealing, and convenient banking experience.
ING Direct vs Ally Bank – Which Is The Better Online Bank?
Choosing the better bank for you would ultimately boil down to a tough choice: staying with a tried and tested institution or going for the higher rates.
ING Direct may no longer be offering the high interest rates that it has previously been known for but the no-nonsense banking and superb service is still there –something that ING patrons refuse to put a price on so they're sticking with the orange ball. However, if your priority is finding a bank where you can grow your savings fast with the assurance that there will be no "sneaky disclaimers" as they put it, Ally Bank should fit the bill nicely.
So, is it ING Direct or Ally Bank for you? Share your thoughts with us.
Ask a Question