Bank of Internet, FNBO Direct and ING Direct Compared
These three leading online banking sites all share in common well-designed, intuitive websites that give access to a wide range of banking services. While this strong online presence is shared between them there are clear differences in the variety of services offered and the rates.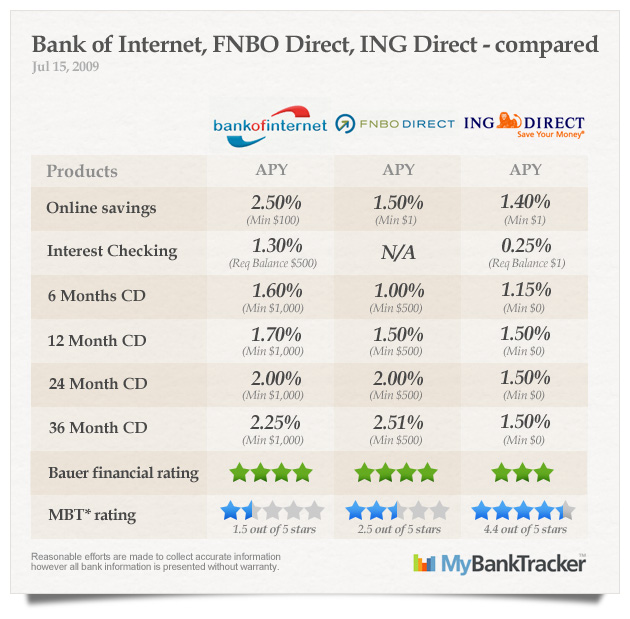 Interest Checking Accounts and Credit Cards
If you are primarily interested in having a checking account, the Bank of Internet offering with an APY of 1.3% seems to be the best option. ING Direct does offer a higher APY at 1.65% on a free bill pay and free ATM checking account but you need to deposit at least $100,000 to earn this rate. If you deposit less than $50,000 you can only expect 0.25% APY.
FNBO Direct offers customers a combined credit/ATM card for both savings and bill paying accounts, and an "extra-earnings" credit card where you accrue points with each purchase
Some customers might be attracted by the Bank of Internet's offer of overdraft protection against bouncing checks. This is offered free of charge as long as you do not actually need to make use of this service.
Investment and Business Services
If you are the sole proprietor of a business, a partner, or manage a limited company or a number of other specified business types, you may be drawn by ING Direct's Certificate of Deposit (CD) with an APY of 1.5%. Another interesting ING Direct service allows you to invest in stocks and mutual funds with purchase rates as low as $4 for automatic investing and $9.95 for buying and selling in real time.
The Choice is Yours
While there is significant common ground between these three banks' basic services there are sufficient differences to make the comparison worthwhile. The amount of money you plan on investing, how long you want to tie up your money, the API you can get on your checking account and your interests in buying stocks and shares are all going to influence the choice of which of these three is the best for you.
Ask a Question