My Bank Tracker Launches Finance Jobs Section
Got a background in banking and finance and need a job? Got a job opening in this field and need a qualified individual? Whether you're in search of employment opportunities or are offering one, you don't need to look any further than in the My Bank Tracker's Finance Jobs Section.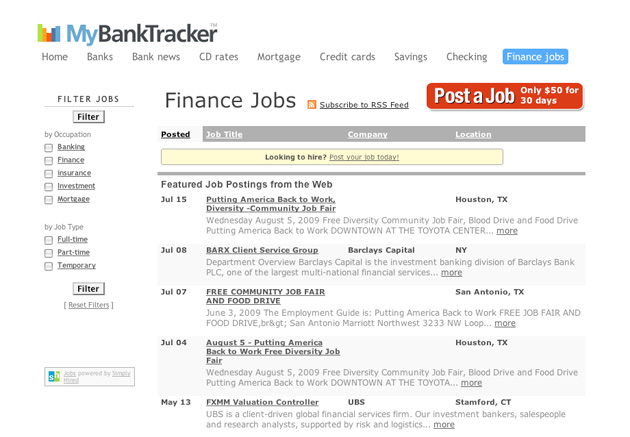 My Bank Tracker is pleased to announce that in addition to its current pages that cover the latest bank news, traditional banking products, and a comprehensive database of the country's top banks and financial institutions, it has also launched a new section – Finance Jobs. This page will cater to the site's visitors and members who are looking for career opportunities in the financial industry.
Powered by Simply Hired, our job posting section collates all the job openings in the finance sector as listed on various reputable online job sites including Career Builder, LinkedIN, the New York Post and many more. We've also made it easier for potential applicants to find the job that matches their qualifications as one can filter for specific posts in the areas of Banking, Finance, Insurance, Investment, and Mortgage. One may also opt to look for full-time, part-time, or temporary employment currently available.
And our new Finance Jobs section isn't just for the job hunters. Advertisers are also welcome to post their job openings for a reasonable fee of $50 a month. Our goal is to benefit both our readers and advertising partners by creating a user-friendly platform where work opportunities can be matched with competent people.
Ask a Question