Corus Bank Vs UFB Direct: A Close Look at What These Banks Can Offer
Corus Bank and UFB Direct are two online banks that have a wide range of banking services including savings, checking, money market, and CD accounts for both individuals and businesses. Let's see how these two banks fare in a Corus Bank vs UFB Direct comparison.
Interest Rates and Products
These are the interest rates currently offered by these two banks on different types of accounts.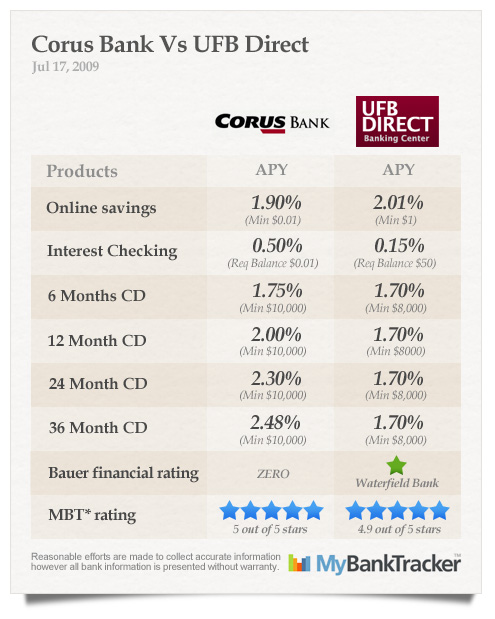 In the UFB Direct website, the bank gives the assurance that its US Savings Account rate is guaranteed to be "always on the top 10% of competitive accounts", and it does come out ahead of Corus Bank in that category. However, for all other deposit products, Corus Bank offers the higher interest rates. In fact, you could even earn up to 1.90% APY on its Ultimate Interest Checking provided you meet the minimum balance of $100,000.
Both Corus Bank and UFB Direct require close to zero minimum balances for their savings accounts and relatively lower amounts for the basic checking accounts, but you do have to save up a lot more to avail of their CDs.
Bank Fees
UFB offers reimbursement for ATM fees on withdrawals made from other ATM networks of up to $6 per statement cycle. Online bill pay is also available and comes free if you have direct deposit or maintain an average daily balance of at least $1,500. For Corus Bank, Internet Bill Pay is free of charge and so are ATM withdrawals if made within the bank's network or the STARsf ATM Program.
FDIC Insurance
While both banks are stable, reputable institutions, there is nothing more reassuring for a depositor than when a bank is FDCI-insured as well. When you open an account with either Corus Bank or UFB Direct, your funds are insured up to a limit of $250,000 until the end of 2013.
Banking Convenience
In comparing Corus Bank vs UFB Direct, it's interesting to note what advantages you may get in a brick-and-mortar bank with online banking operations as Corus Bank is, and an internet-only bank, as UFB Direct is.
Other than giving the higher yields, Corus Bank also lets you have the option of doing transactions through a branch if you're residing in the Chicago area where 6 of Corus Bank's 11 branches are found. The other branches are located in Calumet City, Niles, River Forest, and Wheeling, IL. At the same time, Corus Bank customers can access the bank's 24-hour Teller Phone to check for any updates on their accounts.
With UFB Direct, banking can also be done anytime and anywhere internet access is available. And even if its customer service line is not accessible round the clock, you do get to talk to a live Customer Relationship Manager.
Both banks offer competitive rates but Corus Bank clearly has the edge especially when investing in long term CDs. However, there are also other factors that may come into the picture when making your choice for an online bank. Try to visit these banks' websites and learn more about their products and services.
Ask a Question