No Relief In Sight Yet For Low CD Rates
CD rates this week continue to disappoint with more banks lowering their rates across all CD terms. As a result, weekly CD rate averages went down a few more basis points, with only the 36-month and 48-month CDs, hanging on to last week's average.
Below is a quick summary of how CD rates fared on the average from July 13-17, 2009 in comparison to last week's yields: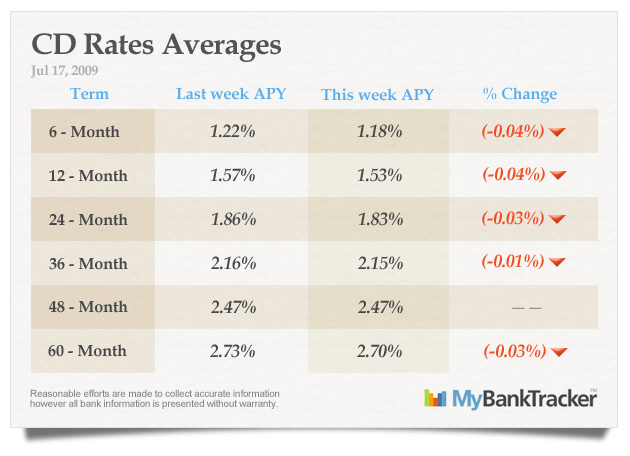 Notable among the banks which have dropped their rates this week are those which have been consistently appearing on our weekly top CD rates list. One is Capitol Federal Bank which has lowered its 24-month CD rate from 2.60% last week to 2.40%, and also decreased its 36-month CD past below the 3 percent mark to 2.90% from 3.05% last week.
Intervest National Bank, which has always offered some of the best CD rates for the long term CDs, also continued to make some rate cuts, dropping its APY for 36-month CDs down to 2.9% this week from 3.05%, and its 48-month APY to 3.30% from 3.50% last week.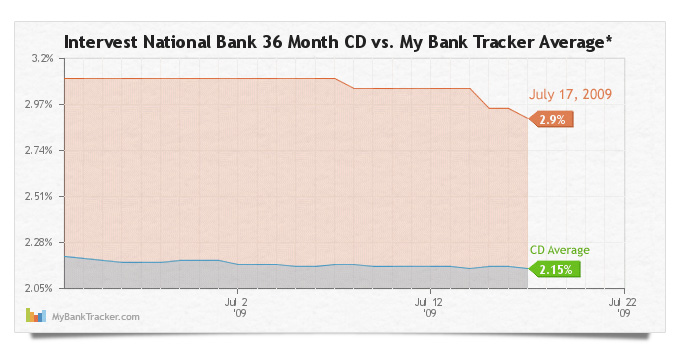 Looking at the CD rates through a graphical illustration, it becomes clearer that these rates are slowly but surely carrying on their steady decline.
Longer term CD rates don't look any more encouraging, maintaining the same low levels for the past weeks.
After a depressing unemployment report for June which has reached 9.5% and still expected to breach the 10% mark sometime this year, one can only expect that economic recovery will be slow in coming. And while the country is still right in the middle of this economic slump, it's unlikely that the Federal Reserve will raise its short term borrowing rates soon, giving banks the leeway to continue offering low yields to the saving public.
Still, for most consumers who know little about high-yield but high-risk investments, putting money in the bank is still the best option to see some growth on their savings. Take a look at our CD rates page for the best CD rates available today.
Ask a Question