Ally Bank vs HSBC Direct: A comparison
These two banks offer excellent online banking services with many shared features, yet there are sufficient distinctions in their offerings to help you choose which is best suited to meet your personal banking needs.
Common Ground
Both banks seek to draw customers with offers of freedom from minimum deposit amounts and banking fees. Ally Bank also adds a promise of freedom from sneak disclaimers. If you one of the many potential savers who are understandably concerned over bank stability, you will be reassured to know that they both offer FDIC insurance for deposits up to $250,000.
These two banks both have simple and well designed Websites. A welcome feature of Ally Bank's Website allows customers to open many savings accounts and certificate deposits from the same screen. HSBC Direct's Website includes smart online tools for calculating earnings and savings.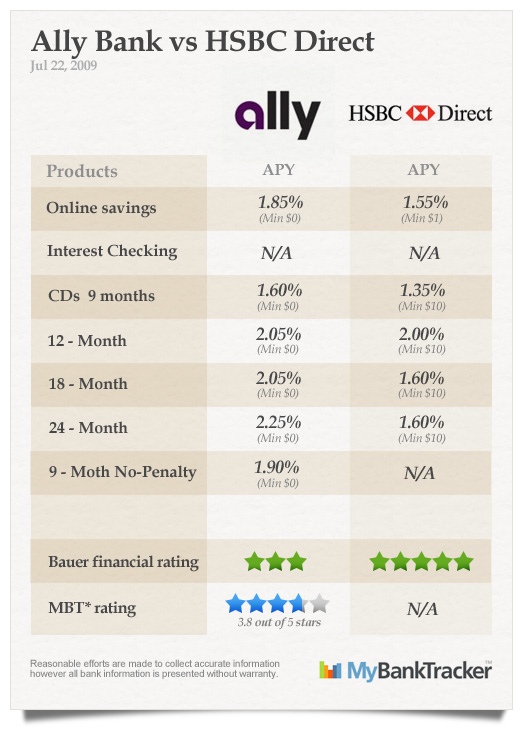 Annual Percentage Yields (APY) and Service Package Comparison
The APY is obviously going to be a key factor in choosing which bank to patronage, but sometimes earning a slightly lower APY can be counterbalanced by other elements in their services package. It seems on balance that while Ally Bank offers high APY rates, HSBC Direct has a more comprehensive services package.
Ally Bank offers the following products:
Classic 12 Month fixed rate CD yielding 2.05 APY
High yield online savings account with a 1.85% APY
No penalty CD with a 1.90% APY for a 9 months deposit plus a no fee early withdrawal option
Money market account with 1.70% APY and free access to your account online or with a check card.
HSBC Direct offers the following products:
Online savings accounts yielding 1.55% APY
Online CD account yielding a maximum 2% APY for a 12 month minimum $10 deposit
Online payments account yielding 1% APY, plus a debit card usable at almost 400,000 ATMS across the USA, convenient payment scheduling and speedily transfer of extra cash to an online savings account
HSBC Platinum Mastercard® with points redeemable for cash or airline tickets earned on every dollar spent, and a zero rate introductory APR on card purchases and balance transfers for the first year.
Ask a Question