Best CD Rates for July 27: More Banks Take the Plunge but Top CDs Stay
Save for last week's best 24-month CD from Amboy Direct which fell from a rate of 2.35% last week to 2.00% this week, banks with the best CD rates in the previous list retained the same yields and held on to their top spots on our weekly list of best CD rates.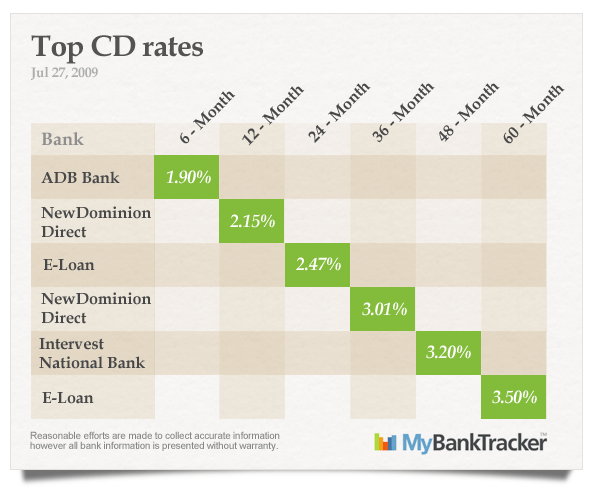 New top bank for 12-month CDs
Amboy Direct's place was taken over by another online bank which has been giving very competitive rates lately — newdominionDIRECT. Its 12-month CD rate at 2.15% APY however, is still slightly less than the past week's best 12-month yield.
Special Mention for the 36-month and 48-month CDs
One bank that has certainly caught our attention last week with the sudden rise in its long-term CD rates is Citibank. The bank's 36-month CD jumped from 1.25% to 2.25% APY, while its 48-month CD went from 1.75% to 2.75% APY.
Although these new CD rates are still nowhere near the best yields for these particular terms, the solid 1% raise for both CDs are still worth mentioning, especially given how most banks have made rate cuts. The full percentage increase though, has allowed the bank's 3-year and 4-year CDs to now rise slightly above the national average.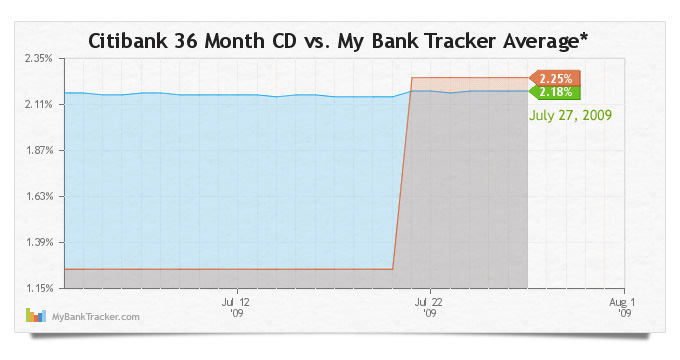 Will there be changes this week?
For those who are closely following the stock market, you have no doubt read of last Friday's (July 24) rally, where the Dow topped the 3,000 mark. But for the consumers who are understandably more concerned about how these developments will impact their investments, it still remains to be seen how banks will react to what financial analysts say is a clear indication of a recovering economy. Stay tuned.
Ask a Question