If you are an adult American citizen you probably have a checking account, but perhaps you are not aware of the different types of checking accounts available? It pays to explore the range of account options in all their various combinations.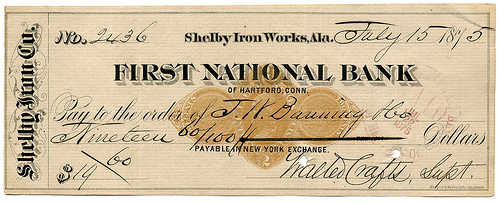 Basic or free checking accounts
The basic checking account is all the regular customer needs to conveniently handle regular income and expenditure. Usually enough money is kept in the account to cover regular transactions but substantial amounts do not remain here for long.
Commonly you receive a checkbook and a debit card for withdrawing cash from ATMs, and you receive regular account statements. As long as the account stays in balance you should in theory enjoy freedom from banking fees, but this cannot be taken for granted. Some banks are going to charge you if:
The balance falls below a certain amount
More than a specific number of checks are issued over a particular period
Each time you use your debit card.
Interest-bearing checking accounts
The interest-bearing checking account offers all the advantages of free use of checkbooks and debit cards combined with the earnings gained from a savings account. There is a clear relationship between the amount of interest earned and the minimum deposit and balance requirements, but with some careful research you can find checking accounts yielding a respectable APY for a low balance requirement, for example 1.25% APY for a balance of just $50.
An alternative to opening an interest-bearing checking account is to have linked checking and savings accounts. The bank regularly transfers surplus funds from your free checking account to your savings account.
Money Market accounts
Money market accounts are primarily intended as savings accounts but many of them include a check writing feature, albeit often limited to no more than three checks a month. The minimum deposit levels required exceed those of other checking account types; requirements for $1,500 or more are not unusual. To keep this account fee free you also need to maintain high balance levels. The big plus is the earning potential. Some money market accounts currently yield over 2% APY which is comparable to some of the best CD offerings.
Express accounts
Express checking accounts allow customers to do most of their banking online and via the telephone and ATM. Usually there are no limits to the number of checks you can write and the minimum balance requirements are at the lowest end of the scale, although higher fees are charged when you do need to do a transaction via the bank teller.
Online accounts
Checking accounts that operate only online have also become very popular. They bring the advantages of freedom from fees and the ultimate in convenient banking — the ability to pay bills and directly deposit funds from the comfort of your home or office. The chief concerns associated with this account type are security issues and the availability of technical support when required.
Checking accounts targeted at specific groups
Banks commonly design checking accounts to meet the needs of specific customer groups.
Small businesses
Small businesses may be able to open an account that allows them to issue a few hundred checks per month without incurring banking fees. They can also arrange for overdraft protection that gives them the security to continue to make their payments while their balance is low.
Students and senior citizens
Students and senior citizen custom is also sought by offering free banking and free travelers checks plus free gifts for new checking account openers.
Lifeline
Some states require banks to provide Lifeline checking accounts for low income groups. Typically these accounts have the lowest balance and opening deposit requirements. Only a limited number of checks can be issued each month but the fees are non-existent or minimal.
Second Chance
Another checking account type that hopefully you will not have to open is the Second Chance account. If you previously mishandled a checking account and were reported to Chex Systems you may need to make a fresh start by opening a Second Chance account. The higher than regular fees you will have to pay may seem a relatively small price for once again having the ability to issue checks that are going to be honored.