USAA Asks It's Consumers – What's On Your Mind?
This week USAA Bank launched what they are calling a "Conversation Site" entitled – What's On Your Mind. The micro/community website focuses helping those who are unsure what to do with such questions as: "Dealing with credit card debt?", "Considering buying a house or refinancing a mortgage?" and "Preparing for retirement in a down economy?"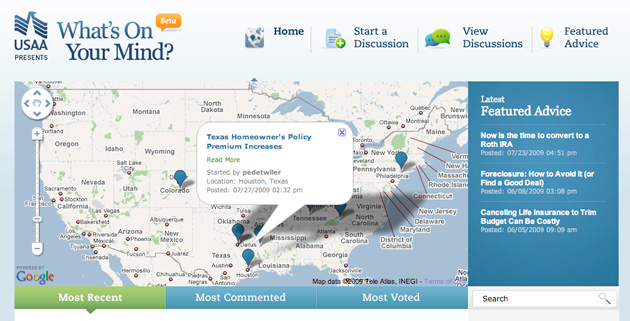 The website – www.whatsonyourmind.com, provides USAA's approximately seven million members a place to discuss the financial issues of the day, including unemployment. They also made the decision to leverage Facebook Connect to allow a seamlessly connection to the already existing 25,000 USAA fans.
Familiar faces on What's On Your Mind include June Walbert and J.J. Montanaro, financial planners with USAA, and Beth Wilson, a Navy spouse and syndicated blogger. More guest bloggers are being added.
Ask a Question