CD Rates End the Month Still At Dismal Lows July 31, 2009
Those who may be continually watching out for even the most tentative signs of economic recovery had a lot to be happy about this month – big banks reporting stellar 2nd quarter income (yes, even the most "troubled" ones), rise in home sales, the Dow Average seeing record highs again, and an expected decline in the number of job layoffs for this month.So, are happy days here again or coming soon at the very least?
If the rate at which the nation's savers are getting something back from their hard-earned money can be considered an indication, then the answer is still a definite no.
CD rates registered lower averages this July month-end than they did at the end of last month. Granted, the cuts may not be that significant especially for the longer term CDs, but if this keeps up, it's not such a far-off possibility that we'd be seeing 6-month and 12-month CD rate averages at less than 1% by the end of the year.
Compared to last week though, the changes were minimal and involved only a few ticks upward or downward, depending on the term. CD rate averages for 12-month and 36-month CDs showed no movements at all.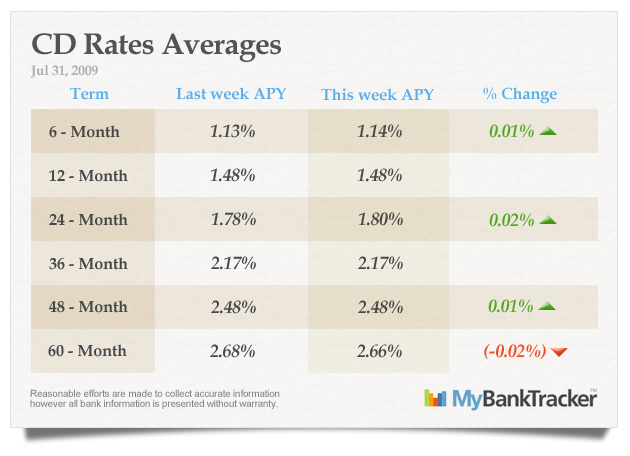 While the changes may have been negligible, some banks are still worth mentioning as a few of them have actually been raising their CD rates, making them more competitive with other banks and edging their rates up higher than or nearer to (as the case may be) the national CD averages as monitored by My Bank Tracker.
UFB Direct has added 0.30% to its 24-month, 36-month, and 48-months CDs, raising the uniform rate from 1.70% to 2.00% APY. While 2.00% is still somewhat on the low side for the 3-year and 4-year CDs, this rate is already very competitive for the 24-month term.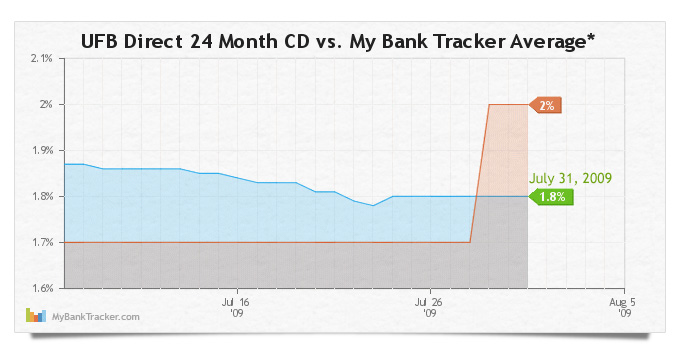 For a complete list of the highest CD yields offered at this time, check out our CD rates page.
Ask a Question