Credit cards offer people the power to purchase almost anything without having to deal out large amounts of cash. Credit card spending is, at times, tricky and wrong decisions could leave you with huge debts and interest payments.
Discipline with your finances and having the right credit card will help a long way in making your next shopping experience stress-free.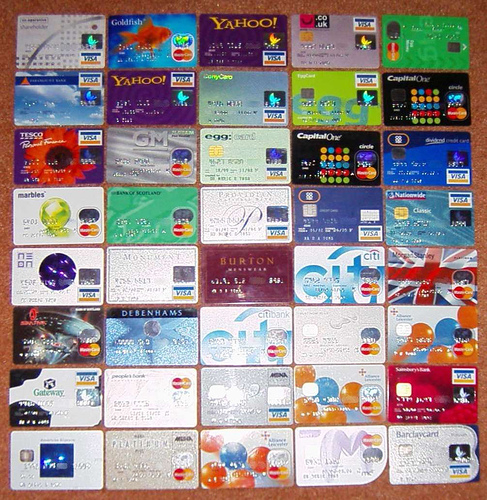 Banks offer multiple types of credit cards with various interest rates, charges and rewards. Each one can be tailored to your financial needs and maximize your credit options. So before you apply for a credit card it's important to know which type suits your finances and lifestyle.
Standard Credit Cards
Most popular of all types of credit cards, they are relatively easy to open and require a minimum deposit to open. Here are basic types of standard credit cards with different annual percentage rates here are two examples:
Balance Transfer Credit Cards
Often used as way of lowering payment on existing balances, this card allows you to shift your credit card balance to a lower interest card. Some Balance Transfer Credit Cards offer O% APR for the first year or months. This means that when you transfer your balance you won't be making interest payments on your balance for a pre-determined time.
Low Interest Credit Cards
This card offers low introductory APR which moves to a higher APR after a period of time. Low interest credit cards also come with a fixed low interest APR. This type of card is ideal for making big purchases as they allow holders the flexibility to pay debts within a year but with low interest rates.
Credit Cards with rewards
Ideal for credit card owners who make on-time payments, this card allows holders to earn reward points or incentives for using their credit cards. Rewards maybe awarded for every dollar charged with the card or how many times it is used. This card is usually offered to people having good credit standings for credit approval.
Cash Back Rewards Credit Card
This card offer cash rewards for every purchase used with the card. Giving cash back credits which are usually around 1% or total purchases. Rewards and cash credits may be availed through total amount of purchases made or where holders do their shopping.
General Reward Points Credit Cards
Similar to Cash Back Cards this is designed towards a reward point structure. Examples of these are flyer miles, gas credits or item credits. Points are given with every purchase and promotional gifts are awarded.
Bad Credit and Credit Repair Cards
This card offers an option for people with low credit scores or who want to restructure their credit ratings. Security deposits or collateral are needed for securing this credit cards. Bad Credit and Credit Repair Cards also have comparatively higher rates to other cards.
Prepaid Credit Cards
Similar to Debit cards, Prepaid Credit Cards require holders to load money into the card before use. Credit is only renewed after putting some money into the account. There are no charges or interests made with purchases as all purchases re made with the existing card balance.
Closing Credits
Credit cards give us opportunities to stretch our finances and an alternative to making loans. Proper credit management is important in maintaining good credit ratings. Huge interest payments on purchases may come to haunt you with improper management. Credit Cards are tools when properly used could help you in fixing difficult financial situations but could make matters worse if not.
For information on banks and the latest interest rates and rewards go to MyBankTracker Credit Cards site.