Mortgage rates relatively unchanged as banks show mixed results
Mortgage rates again failed to break the 5 percent rate for the second consecutive week—a far cry from April's record low rates. Rates remain steady as mixed news from the US economy has analyst guessing next market movements.
Here's a comparison of this weeks mortgage rates and the previous week:
30 Yr Fixed and 15 Yr Fixed
30 Yr Fixed and 15 Yr Fixed plans fell by a few basis points compared to last weeks rates. Bank of Hawaii with its 5.11% APR leads all banks for Fixed 30 Yr Rates. Chopping of a few basis points from its 5.12 APR last week it has replaced Bank of Internet for the top spot.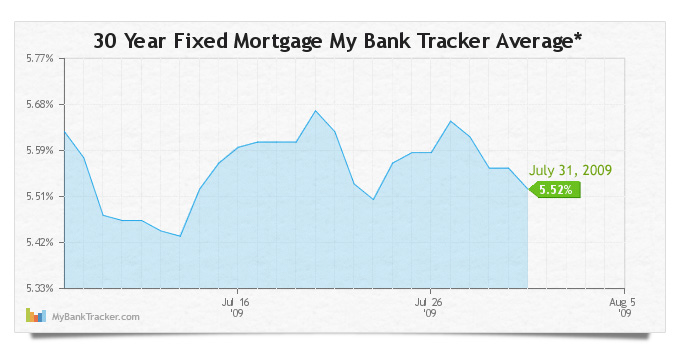 EverBank's 4.65% 15 Yr Fixed Rate APR remains the most competitive among banks for the second week in a row.
20 Yr Fixed and 10 Yr Fixed
APR rates for these plans spiked a few basis points in relation to last week's rates. These as banks move to offer better interest rates for investors.
Charles Schwab Bank's 5.38% APR for 20 Yr Fixed rates and its 4.95% APR for 10 Yr Fixed Rate continues to be higher than the averages set by banks being monitored at MyBankTrackerTMForecast
As the economy gains momentum and with the improving numbers in the housing sector expect mortgage rates to remain at its present levels.
For a better look at Banks and their latest mortgage rates click here
Ask a Question