Starting August with a Roundup of the Best Savings, Checking, and CD Rates
The month of July didn't end so well for the country's savers. While changes in CD averages for last week were minimal, it remains that interest rates are at their lowest levels ever seen in years. In hopes of having the country recover from this slump at a faster pace, the Federal Reserve is showing indications that it would be better if people went out and spent their money to stimulate the economy than keep them in banks.
Still, some banks are giving higher yields than others. Here are some banks worth considering while waiting for the rates to come around.
Best Savings Rate
Wachovia's Way2Save program is still tops with its 5% APY for savings accounts plus a bonus of up to $300, with only $1 for minimum deposit. You do have to open a checking account but this is free so this shouldn't be any problem.
Best Interest Checking Rate
Everbank's High Interest Checking Account offers a 3.01% APY 3-month starting rate, and then 1.96% for the first year. Minimum deposit to avail of this rate is $50,000.
Best CD Rates
For this week's top CD rates, new banks came out on the list while others stayed on the list but offered lower yields. Here's the complete list: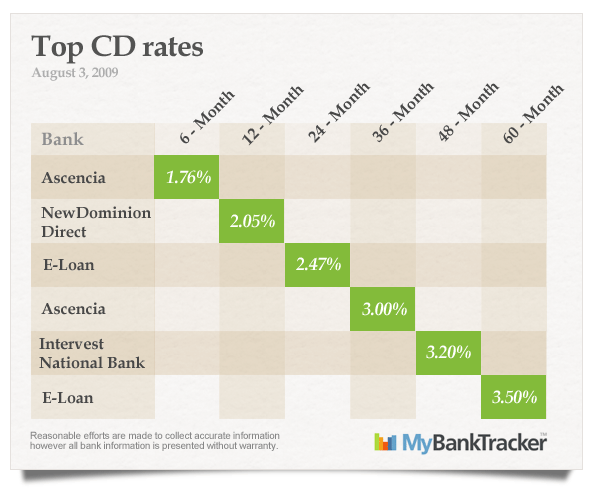 6-month CDs
ADB Bank was displaced as the best bank for 6-month CDs as it made some rate cuts, with last week's 6-month CD falling from 1.90% to 1.65%. Ascencia is now top bank giving 1.76% APY.
12-month CDs
NewdominionDIRECT retains the top spot for 12-month CD rates but lowered its yield to 2.05% from 2.15% APY last week.
36-month CDs
Ascencia also rose to the top of the list for 36-month CDs offering 3.00% APY, going just a basis point down from newdominionDIRECT's 3.01% last week.
No changes took place for the 24-month, 48-month, and 60-month CDs.
The upside of all these is that with rates so low, there's no other way than up. That plus the fact that some signs of economic recovery have shown themselves recently, hopefully, things could actually be looking up. Stick around for what this month brings.
Ask a Question