A penny saved is a penny earned
Encouraging your children to start saving early does not only give them basics in "finance" but also give them a significant amount of money for their college education and the bigger challenges of adult life.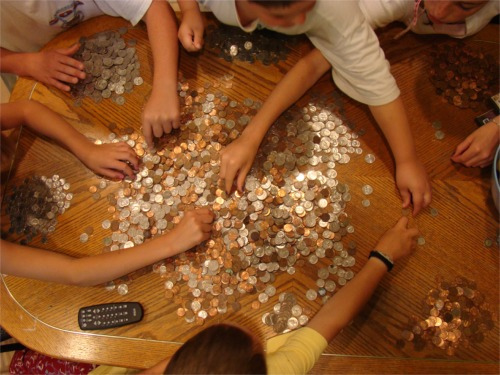 What to look for
Banks offer freebies such as calculators, piggy banks or even expensive items just to get your kids excited in opening an account. This is a good market strategy for banks but it also shows kids the benefits of saving at an early age.
As in any type of investment or any savings account the most important thing to consider are the interest rates. Children's accounts generally have higher interest rates. Shopping around for the best rates and the lowest opening deposit makes the best deal for your child's savings account.
Look for a bank that is readily accessible for your child. Making going to a bank an enjoyable experience for your child will give him a long-term positive attitudes in banking. Look for a local bank or a bank near a park or playground, so it will be easy for your child to walk in the bank. If you make it a habit-forming experience and this will go a long way later on in life.
Types available
Fixed Rate Saving Account
If you plan to put away your child's money for a prolonged period of time then fixed rate saving accounts are the best deal for you. Offering higher and stable interest rates, these accounts are designed as long term investments and provide "strategy" planning for the future.
Instant Access Saving Account
This account is the easiest to open and gives ready access to your child's account. The main drawback is that they offer the lowest interest rates. It is also a good way to find a balance with access of your child's account. It is important that you instill in him the discipline of only withdrawing money from his account only when needed.
Child Trust Funds
One of the most popular ways of saving for your child's future, Trust funds offers the best interest rates and comes insured. Considered as Long-Term investments, Trust Funds usually mature when your child reaches 18 and ownership of the funds is then transferred to your child.
Children's saving accounts are generally opened and maintained with parent supervision. When children reach higher ages or until they reach 16 they can only open accounts in their names with parents as signatories.
Children's saving accounts start at your child's early years. It's important that parents keep track of their child's savings. Interest Rates are dynamic and shift with the economy. Managing your child's finances is the responsibility of parents. Having a savings account is not only good for your child's future but can also help you ease future expenses such as sending your kid to college.